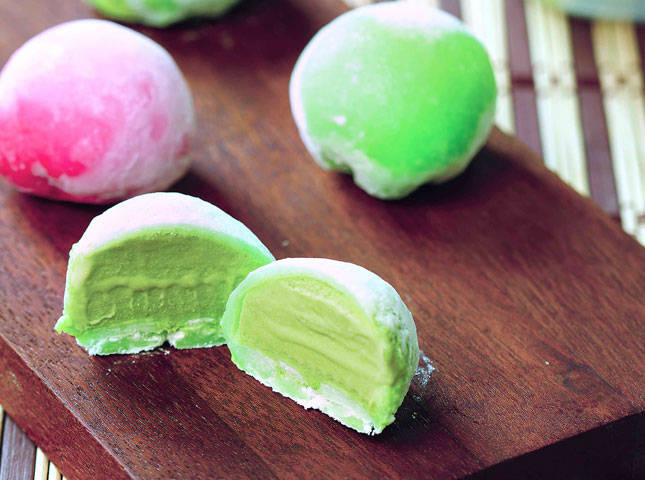 Is there anything yummier than sweet ice cream wrapped in pillow-soft dough? With this recipe, you can now make this frozen Japanese treat at home!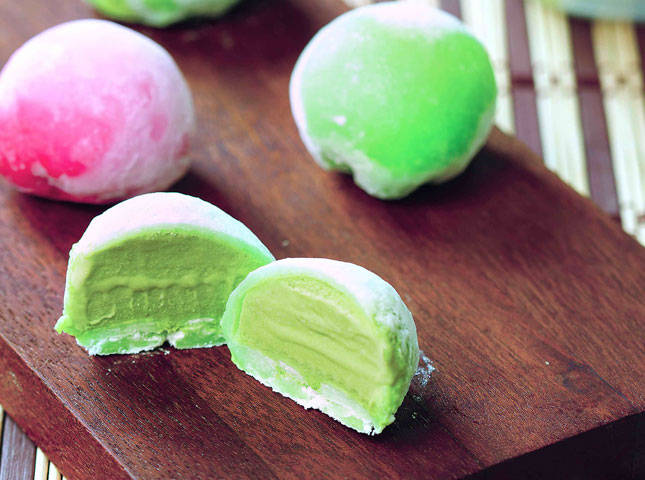 Mochi Ice Cream
Make these sweet ice cream wrapped in pillow-soft dough frozen treats at home!
Ingredients
Mochi Ice Cream
1

pint

ice cream

1

Cup

glutinous rice flour

1

Cup

water

1/4

Cup

sugar

4

drops

food coloring

cornstarch
Instructions
Using a #40 ice cream scooper or a scooper with a diameter of 1 1/2 inches, pre-scoop ice cream onto a prepared tray or baking sheet. Place in the freezer for at least 6 hours or overnight until thoroughly frozen. You should have 10 scoops.

Place glutinous rice flour in a microwavable bowl. Add water a little at a time, mixing continuously with a wooden spoon to prevent lumps.

Mix in sugar and food coloring until well combined.

Cover bowl with plastic wrap and microwave on medium for 2 minutes.

Using a wooden spoon dipped in water, mix dough and place back in the microwave for another minute. The mixture is ready when it is smooth and shiny.

Dust work surface with cornstarch and place mochi dough on top. Work quickly with dough while it is still hot.

Dust rolling pin and hands with additional cornstarch then roll out dough until 1/4-inch-thick. Using a 3-inch round cookie cutter, cut the dough into circles. If the dough gets too dry while you are working with it, mix in a few teaspoons of water and place back in the microwave for a minute.

Place mochi rounds between two layers of plastic wrap. Chill in the refrigerator for 30 to 45 minutes or until cool to the touch.

Working quickly, wrap pre-scooped ice cream in chilled mochi rounds. Seal the bottom securely and dust with additional cornstarch. Freeze until ready to serve. This is best made a day before serving.