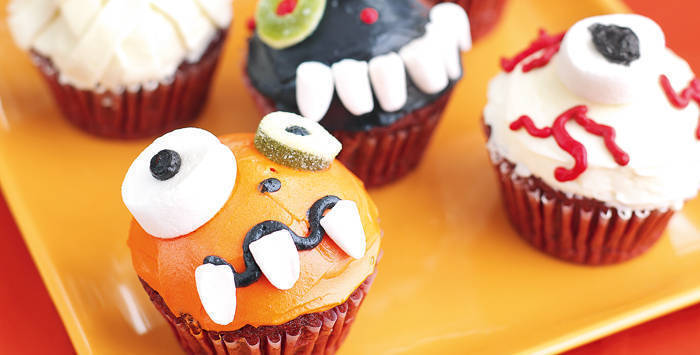 Making festive desserts that tie in with a theme or occasion can be easily done! Just look at these homemade monster cupcakes that you can make at home!
How To Make Monster Cupcakes
The base of these monster cupcakes can be any cupcake recipe you desire, including the no-bake chocolate cupcakes you made for some other occasion. It's really just made Halloween-worthy with their decorations on top! The way to do this is to prepare the cupcakes, let them cool, and make different colored frostings so you can decide how to use each color in a certain way. You can even make marshmallow frosting using 3 ingredients: egg whites, sugar, and the flavoring of your choice!
These cupcakes use a mix of colorful frosting, candy, marshmallows, dried fruit, and chocolate candies to create the monster faces that you see or envision.
How To Store Monster Cupcakes
What's really great about these Halloween treats is that you can bake these cupcakes about two days in advance. Just keep them in an airtight container once cooled completely and store them in a cool area. You can make the buttercream and frost them as desired on the day you make the cupcakes, too, and decorate and store until the day to serve it arrives.
Monster Cupcakes Recipes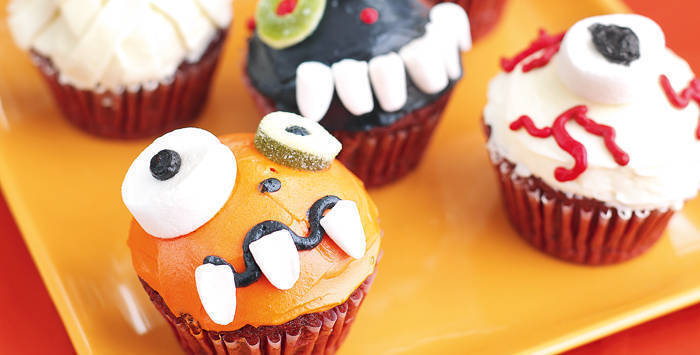 Monster Cupcakes Recipe
These adorable monsters are waiting to be presented at your Halloween party!
Ingredients
Monster Cupcakes Ingredients
2

cups

All-Purpose Flour

3

tablespoons

Cocoa Powder

1 1/2

tablespooons

Baking Powder

1

teaspoon

Salt

1 2/3

cups

Oil

1 2/3

cups

Sugar

3

Egg

2

teaspoons

Vanilla Extract

2

tablespoons

Red Food Coloring

1

Cup

Buttermilk

Marshmallows

Jelly Candies

Gummy Candies

Chocolates

1

Cup

Sugar

1/2

Cup

Egg

1 1/2

cups

Butter

Food Coloring
Instructions
Preheat oven to 350ºF or 180ºC. Line 2 (12-hole) muffin pans with cupcake liners. Set aside.

In a separate bowl, sift together flour, cocoa powder, baking powder, baking soda, and salt. Set aside.

In the bowl of an electric mixer or using a wooden spoon, combine oil and sugar. Mix on medium speed.

Add eggs one at a time, then add the vanilla and vinegar. Add the food coloring. Mix until the mixture turns red. Reduce speed to low.

Gradually add the dry ingredients to the batter alternately with the buttermilk. Mix the batter just until well combined.

Spoon or scoop the batter into the muffin pans, until about three-fourths full. Bake for 16 to 18 minutes or until a cake tester inserted in the center of a cupcake comes out clean.

Cool cupcakes completely on wire racks before frosting.

Make the buttercream icing: Place sugar and egg whites in the heatproof bowl of an electric mixer and set over a pan of simmering water. Whisk constantly until sugar is dissolved and mixture registers 140ºF on an instant-read thermometer. Transfer bowl to an electric mixer fitted with the whisk attachment. Whisk on medium-high speed until fluffy and cooled, about 10 minutes. Continue beating until stiff , glossy peaks form. Reduce speed to medium-low; add butter a tablespoon at a time, beating well after each addition. Add a couple drops food coloring as desired. Mix until uniform in color. Set aside until ready to use.

Once cupcakes are cooled, frost cupcakes with buttercream icing. Decorate with marshmallows, candies, chocolates, and sprinkles to make scary monsters as desired.