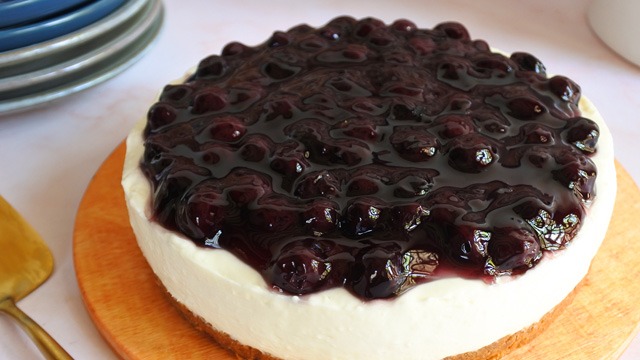 You do not have to bake cheesecake or use gelatin to make your cheesecake firm. We have tips to make sure your no-bake blueberry cheesecake is a success.
What Is A No-Bake Blueberry Cheesecake
A cheesecake is a luscious and super creamy dessert made from cream cheese, sugar, eggs, and a kind of cream with a graham cracker crust. A blueberry pie filling is commonly added on top of the cheesecake to make it into a blueberry cheesecake.
There are several kinds of cheesecake, and while the most basic is a baked cheesecake, there is also a version that is not baked. The no-bake cheesecake is commonly made with the same ingredients as the baked version with a big difference: it doesn't use eggs so it doesn't need to be baked.
To compensate for the lack of eggs, gelatin is often used to make the cheesecake firm. However, there are some people who do not like the texture of gelatin since it eliminates the creaminess of cheesecake. For those who do not like gelatin in their cheesecakes, some use cream and the cold so the cream cheese stays firm enough to keep it from melting in our tropical weather. It's still topped with blueberry pie filling and that addictive cookie crust so you won't miss the taste you are craving when you make this dessert.
How To Serve No-Bake Blueberry Cheesecake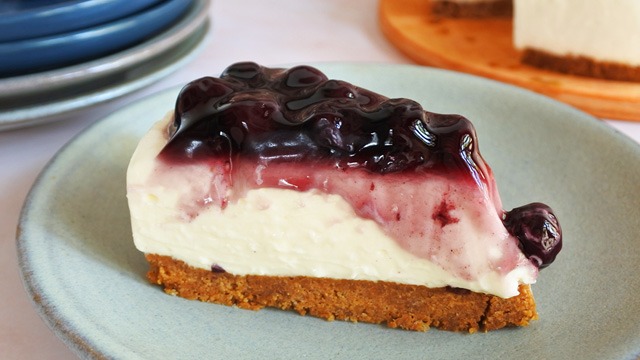 This cheesecake is best kept chilled until you need to serve it. Not only that but it is also a good idea to not top this cheesecake until you are ready to slice and serve the cheesecake so the blueberry filling doesn't dry out nor will it stain the cheesecake. This way, you get a picture-perfect slice every time.
How To Make No-Bake Blueberry Cheesecake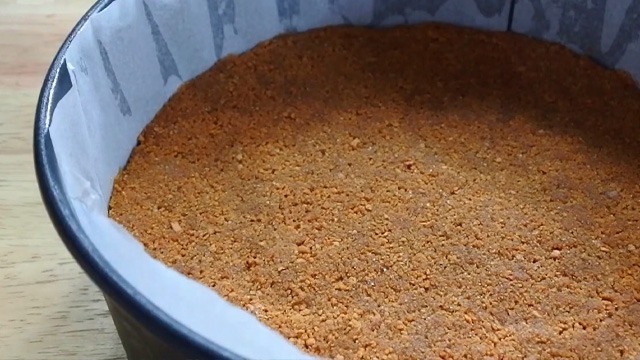 This no-bake blueberry cheesecake recipe starts off like many cheesecake recipes: with a crushed graham cracker crust. However, this must be pressed into a special baking pan called a springform pan. This springform pan is specially made for cakes like cheesecakes because the sides and bottom are removable from each other. This makes it extra easy to remove the cake from the pan without disturbing the crust or the cream cheese layer.
Once you press the crust into the pan, you can pour in the cheesecake batter made of cream cheese, sugar, and cream. Since this particular no-bake cheesecake doesn't use gelatin to keep the cheesecake firm, this cheesecake is best when kept chilled at all times. This prevents the cheesecake from becoming too soft but firm enough to keep its shape when sliced and served.
ADVERTISEMENT - CONTINUE READING BELOW
Recommended Videos
Tips to Make A Successful No-Bake Blueberry Cheesecake
1 Keep it chilled.
Not using gelatin means this cheesecake needs a reason to keep its shape, and one way is to keep it chilled. It has enough cream cheese and cream to be thick and luscious but it will still be soft if not chilled.
2 Use blueberry or another fruit pie filling.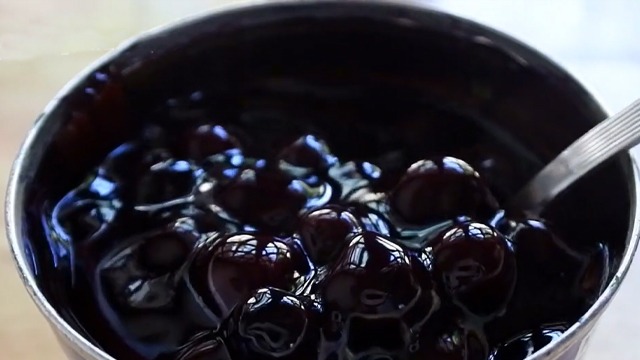 The most classic and popular fruit filling for a cheesecake is blueberry but you do not have to be confined to that fruit! You can use a cherry pie filling, a strawberry pie filling, or even a mango topping! The topping can be any fruit you want it to be and this cheesecake recipe makes it easy to flavor it the way you want.
3 Flip the bottom of cake pan over.
Check your springform pan and if the bottom of the pan is not level, you can flip it over so it is easy to remove from the pan.
How To Store No-Bake Blueberry Cheesecake
Cheesecakes are easy to store since these normally need to be chilled before being served. To maintain the integrity of your cheesecake, it's preferable that you store your cheesecake in a container that you can close or cover it so it doesn't absorb any odd flavors from the refrigerator. You can also wrap your cheesecake in plastic wrap.
Keep the blueberry topping separate as well until ready to serve.
No-Bake Blueberry Cheesecake Recipe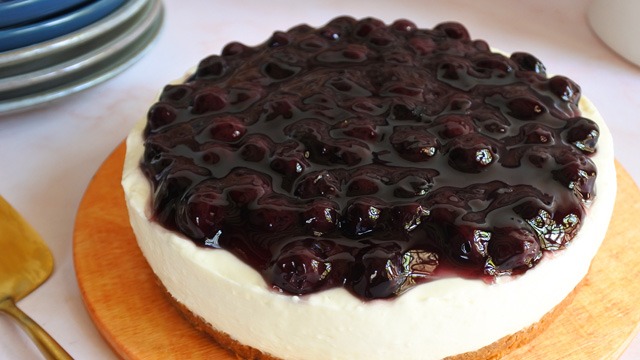 No-Bake Blueberry Cheesecake Recipe
This is going to be your new favorite dessert to make at home.
Ingredients
No-Bake Blueberry Cheesecake Ingredients
3/4

Cup

graham cracker crumbs

2

tablespoons

white sugar

1/4

teaspoon

Salt

1/4

Cup

unsalted butter

melted

1

227-gram block

cream cheese

softened

1/3

Cup

white sugar

1/2

Cup

All-purpose cream

Chilled

1

teaspoon

Calamansi Juice

1

Cup

canned blueberry pie filling
Instructions
Prepare a 6-inch springform pan: lightly oil or butter the sides and place pieces of parchment against the sides. Leave the bottom of the pan ungreased and unlined. Flip the removable bottom of the pan over so the bottom sits higher up against the pan. (This makes releasing the cake later easier.)

Make the cracker crust: Mix cracker crumbs, sugar, and salt in a bowl. Mix and make a well. Add melted butter and mix until the mixture looks like wet sand. Transfer to the prepared pan and using a spatula, measuring cup, or even a spoon, press the crumb mixture firmly and evenly over the bottom of the pan. Chill in the refrigerator until ready to use. 

Make the cream cheese filling: Beat the softened cream cheese in the bowl of a stand mixer set to medium until softened and smooth. (You can also use a big bowl and an electric mixer, whisk, and a big spoon.) Add sugar and cream well. Scrape the sides as necessary. 

Pour and beat in the all-purpose cream and calamansi juice. Mix until well-blended. 

Transfer the cream cheese mixture into the prepared crust. Smooth out the top then cover with plastic wrap or silicone cover. Chill overnight or at least 4 hours until firm. Top with blueberry filling.

When ready to serve, remove the cover and unlock the springform pan. Remove parchment paper from around the cheese. Use a large metal spatula to transfer the cake to a serving plate and slice. (Use a knife dipped in hot water for the cleanest slice.)