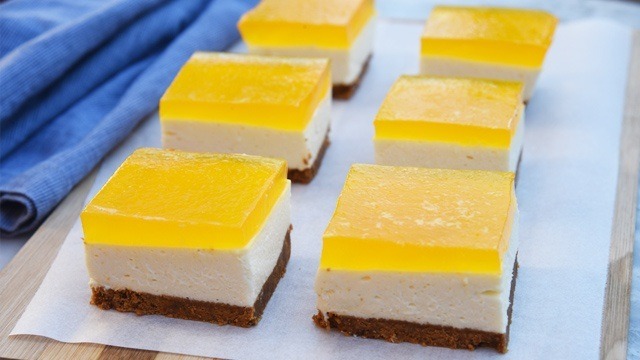 Top your basic no-bake cheesecake off with a sweet and tropical mango gulaman! Remember to freeze this no-bake cheesecake for at least one hour before topping it off with hot gulaman. Otherwise, the cheesecake layer will melt.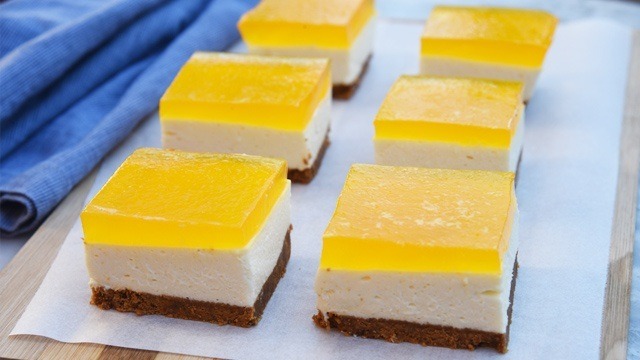 No-Bake Mango Cheesecake Squares Recipe
Mango gulaman meets cheesecake squares, and it's delicious.
Ingredients
No-Bake Mango Cheesecake Squares Ingredients
1/4

Cup

salted butter

melted

3/4

Cup

crushed graham crackers

1

teaspoon

sugar

1

8-ounce bar

cream cheese

softened

1/2

Cup

Powdered SUgar

sifted

1/2

teaspoon

vanilla extract

1/2

Cup

heavy whipping cream

2

tablespoons

water

1 1/2

teaspoons

unflavored gelatin

1

95-gram pack

gulaman

mango flavored

1

Cup

water
Instructions
In a small bowl, mix the melted butter, crushed graham crackers, and white sugar together until you get a sandy mixture. Press onto the bottom of a 4-by-4-inch dish with a rim at least 3 inches high. Let set in the refrigerator until firm.

In a medium-sized bowl, beat cream cheese with a hand mixer or stand mixer until light and fluffy. Add the powdered sugar and vanilla, and beat until combined. Add the whipping cream, and mix on low speed to combine. Increase the speed to medium and beat until light and fluffy. Set aside.

In a small bowl, mix the cold water and unflavored gelatin, and set aside for 3 minutes to bloom. Transfer into a small saucepan, and heat over low heat, stirring, until the gelatin dissolves. Alternatively, microwave for 20 seconds or until the gelatin dissolves. Let cool for 5 minutes.

Add the gelatin into the cream cheese mixture, and beat for 30 seconds until thoroughly combined. Pour over the cold crust, and let set in the refrigerator overnight or for at least 2 hours.

Freeze the cheesecake for 30 minutes to 1 hour.

Once the cheesecake is frozen, start to make the mango gulaman: Make the gulaman according to package directions, but using half the amount of water indicated (1 cup) for a firmer gulaman layer. Once ready, immediately pour the gulaman mixture on top of the frozen cheesecake layer. (Remember to move quickly since you cannot remelt gulaman once it is made in a saucepan.) Let the cheesecake set for 2 hours. Slice once set and completely cold. Serve cold.