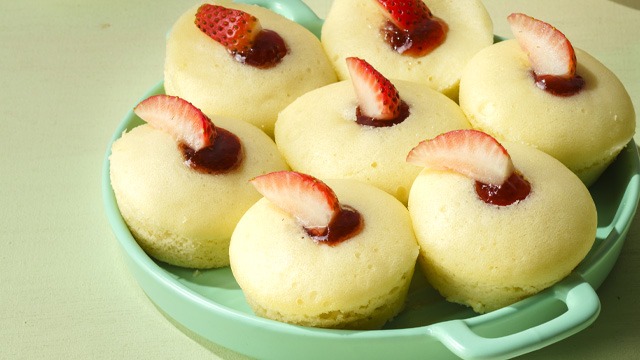 There are many ways to make puto, or little steamed rice cakes. However, have you ever had one that was stuffed with strawberry jam? These little cupcakes made of finely ground rice are decadent little snacks that can rival a cupcake with its simplicity and burst of strawberry flavor courtesy of the jam. 
If you love the taste of earthy coconut with the sweet-tart flavor of strawberry, this jam-stuffed puto is the dessert to make to satisfy the craving for this unique and delicious flavor combo. 
This is one of six new dessert recipes under the September digital cover recipes so we can satisfy all your sweet cravings here on Yummy.
What is puto? 
Puto is a popular Filipino steamed rice cake or kakanin. It is normally made from rice ground finely into flour and gata or coconut cream but it can also be made from all-purpose flour made from wheat and even the gata can be substituted with other kinds of milk such as evaporated milk or fresh milk. Puto can even be flavored with bottled flavorings or extracted into the liquid ingredients and added to the batter. 
How To Serve No-Bake Strawberry Jam-Stuffed Puto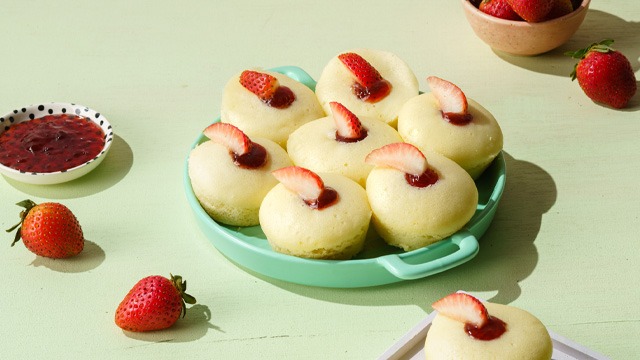 Normally, puto can be eaten as is as a snack or merienda meal or as a side dish of savory dishes such as dinuguan or pancit. It gives a contrasting sweetness that Filipinos love to complement the other flavors of the meal. However, this particular puto recipe is best served as is with an accompanying beverage of choice. A cool iced tea or a hot coffee sound perfect served with this jam-filled puto! 
How To Cook No-Bake Strawberry Jam-Stuffed Puto
One of the best reasons to make this puto recipe at home is the ease with which it can be made. Even beginner bakers can try to make these rice cakes! Since these are steamed rice cakes, it's a no-bake recipe that anyone with a stove can make. What you will need however are small or medium individual puto molds. These are usually made of aluminum or plastic and are common enough to be readily available in many supermarkets and department stores where you can find cooking and baking utensils. 
Tips to Make Easy No-Bake Strawberry Jam-Stuffed Puto
The puto is an easy recipe that many can and have made successfully at home. To ensure your version emerges perfectly fluffy and irresistible, here are tips to note down when you make it: 
• Lightly butter or oil the puto molds well after every use. Don't make yourself regret not doing it right every time since little cakes can stick to the molds in between batches. 
• Simmer, do not boil, the water in the steamer. The most likely mistake many make is not adjusting the heat of their stove when using the steamer. This can result in puto that unevenly puffs up on one side but not enough on the other. 
• Wrap the lid with a cloth to prevent water droplets from inadvertently watering your puto as these puff up in the steamer. Nobody wants soggy puto. 
• Remove the puto while still warm. Contrary to some beliefs, the puto are easily removed and even tumble out from the molds with a little nudge when still warm. 
• Puto are best eaten immediately. While you can gently steam these little rice cakes to be soft and tender again, puto are best on the day or even within minutes of taking them out of the steamer. 
 • To easily stuff these puto with strawberry jam, use the tip of a knife to carve out the centers of the puto and either spoon or pipe the jam in. Top with a piece of fresh strawberry. Easy! 
How to Store No-Bake Strawberry Jam-Stuffed Puto
Similar to cakes and other desserts, puto are best when stored in air-tight containers. In fact, it's better if tightly sealed individually with an extra layer of plastic wrap since steamed desserts have a tendency to dry out faster or more easily than baked goods. Storing these are best when placed in the refrigerator since rice more easily spoils, but these are best eaten at room temperature or even warm. 
ADVERTISEMENT - CONTINUE READING BELOW
Recommended Videos
No-Bake Strawberry Jam-Stuffed Puto Recipe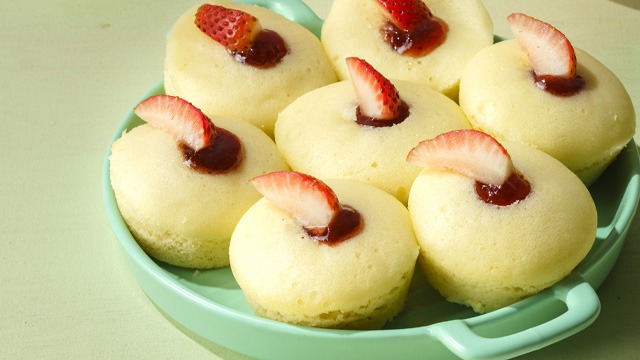 No-Bake Strawberry Jam-Stuffed Puto Recipe
Make puto extra by adding strawberries to it.
Ingredients
No-Bake Strawberry Jam-Stuffed Puto Ingredients
1

Cup

white sugar

2

large

eggs

1

Cup

coconut cream (kakang gata)

1/4

Cup

salted butter

melted

1

Cup

all-purpose flour

1

Cup

rice flour

1

tablespoon

baking powder

1/4

teaspoon

Salt

1/4

Cup

strawberry jam

fresh strawberries

Chopped, for garnish

melted butter or margarine

or oil, for greasing molds
Instructions
Prepare a steamer. Brush melted butter or oil all over about 18 medium puto molds or a 6-cup cupcake baking pan that will fit in your steamer. Set aside.

In a large mixing bowl, beat together sugar, eggs, coconut cream, and melted butter with a whisk until smooth. Add the two kinds of flour, baking powder, and salt.

Pour the mixture by the 1/4 cupful into the prepared molds and steam over low heat, about 7 minutes, in the prepared steamer. (Cover the lid of the steamer with a kitchen towel to prevent water droplets from dripping onto your puto.)

Remove the puto molds from the steamer. (Puto should spring back when the tops are gently pressed to test for doneness.) Steam any remaining puto batter as needed. Let cool.

When cool to the touch, use a knife to cut out the center of the puto and spoon or pipe in strawberry jam into the hole. Place a piece of fresh strawberry on top as desired. Serve as is or warmed up slightly as desired.