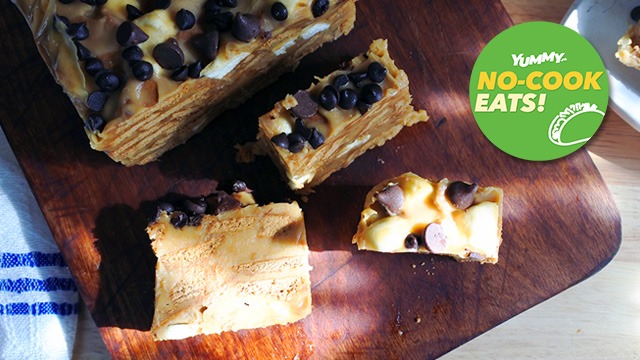 There's no cooking involved when making these bars! This recipe is like a refrigerator cake but instead of a cake, this is easier to make since there's no gelatin you need to cook or let set. Instead, the butter just needs to firm up so you can slice a chunk off and take a bite.
Want a small portion only? This easily divides in half and you can even play around with the mix-ins and toppings, too!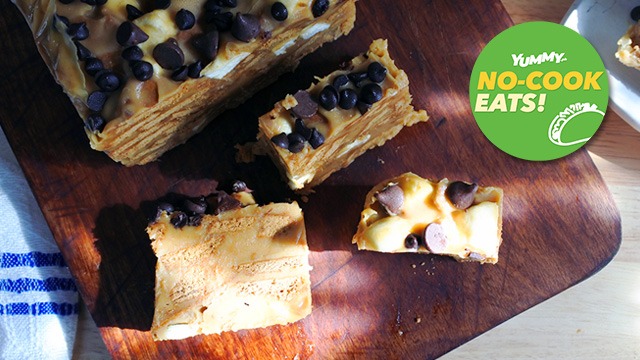 No-Cook Graham Cracker Bars Recipe
This is buttery, super crunchy, and not too sweet!
Ingredients
No-Cook Graham Cracker Bars Ingredients
1

Cup

salted butter

softened

1

Cup

peanut butter

crunchy

1

Cup

confectioners' or powdered sugar

1

200-gram bag

graham crackers

lightly broken, some crushed

1

Cup

Marshmallows

small or cut into small cubes

1/4

Cup

chocolate chips

semisweet (optional)

1/4

Cup

dry roasted salted peanuts

(Optional)

rock or sea salt, plus more

(Optional)
Instructions
Lightly grease then line with plastic wrap with an overhang a 360-ml rectangular plastic or glass container with a lid. (We used 6x4.5x2-inches high plastic container.) Set aside. 

In a large bowl, beat softened butter and peanut butter together until creamy. (You can heat the mixture to melt the two kinds of butter if necessary.)  

Sift the powdered sugar over the butter mixture. Stir until well mixed. Add the graham crackers and marshmallows, and stir until the graham crackers are well coated with the butter mixture. (Add in whole peanuts and chocolate chips, if desired.) 

Press this mixture into the prepared container, tapping on the counter as needed to fill in any air pockets. Top with chocolate chips. (Top with more peanuts and flaky or rock salt, if using and desired.) 

Fold the plastic wrap over the graham cake, cover with the lid, and refrigerate until completely firm, about 1 to 2 hours.   

When ready to serve, remove from the container using the plastic wrap and slice as desired. Serve immediately. Keep chilled.