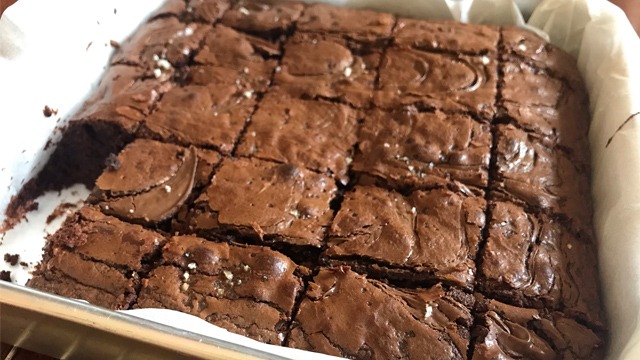 These decadent brownies have an irresistible ingredient stirred into its batter: Nutella. In place of traditional baking chocolate, the famous chocolate hazelnut spread is the ingredient that makes these brownies extra thick and fudgy.
What Are Nutella Brownies?
First, you have to know what Nutella is. Nutella is a chocolate hazelnut spread made in Italy. The spread is basically a sweet spreadable paste made from finely ground hazelnuts, sugar, and cocoa powder. This is what replaces the melted chocolate that makes brownies incredibly fudgy and gooey. There's no doubt that Nutella is delicious so we can't imagine anyone being able to resist a slice of these brownies!
Table of Contents
• How to Serve Nutella Brownies
• How to Bake Nutella Brownies
• Tips to Make the Best Nutella Brownies
• How To Store Nutella Brownies
• Watch: Nutella Brownies Recipe Video
How to Serve Nutella Brownies
To be honest, these squares are incredibly seductive, even straight from the oven but you'll have to practice patience. Since these are fudgy brownies, they do need a little time (just a few minutes!) to cool, firm up, and be more readily sliced into squares.
Once sliced, these decadent and intensely delicious chocolate bars are fine on their own. However, if you truly want to prolong your love affair with these brownies, save a few to top an epic ice cream sundae, heat one up in a small cast iron skillet and make a brownie ala mode, or crumble it up and make the best tasting brownie balls.
How to Bake Nutella Brownies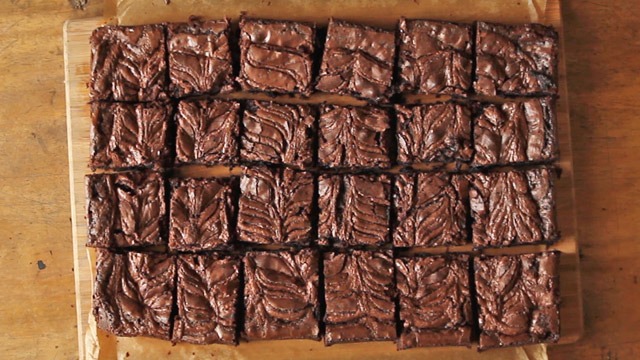 These brownies may be super indulgent but the brownie batter itself is easy to make. You just need to mix traditional brownie ingredients together with a good glob of Nutella stirred into the batter. Once transferred into the brownie baking pan, you can opt to pipe more Nutella on top so every bite screams nutty and chocolate-y! A little sprinkle of salt, whether rock salt, specialty sea salt, or trendy Himalayan pink salt, on top of the brownies before baking gives these brownies a touch of enhanced flavor courtesy of the sweet-salty pop when you bite into a square.
Tips to Make the Best Nutella Brownies
Baking brownies from scratch, not from a mix, can be easy and delicious. Plus, a simple decoration on top can transform the look of a simple brownie into a stunning dessert that no one will be ashamed to serve for special occasions like a Christmas party. But if you're fretting over how to make these brownies perfect, here are essential brownie-baking tips to know:
ADVERTISEMENT - CONTINUE READING BELOW
Recommended Videos
• No matter what baking pan you use for brownies, lining your pan with parchment paper is a crucial and important step to ensure easy removal later on.
• For a little sweet and salty action, top these with a generous drizzle of Nutella and sea salt.
• Add coffee! Coffee and chocolate are awesome together and actually enhance each other's flavors!
• Stir in nuts! Walnuts, almonds, cashews, or even peanuts break the sometimes over-whelming chocolate taste that you can get if you overindulge. Break it up with some real nuts stirred into the batter.
• Always underbake, never overbake, brownies. If you're unsure, consider removing the brownies from the oven. You can always put it back in if it's a bit too underdone.
• Use restraint and let the brownies cool off before slicing. Because of its underbaked nature, these can be too soft to slice properly so soon from the oven.
How To Store Nutella Brownies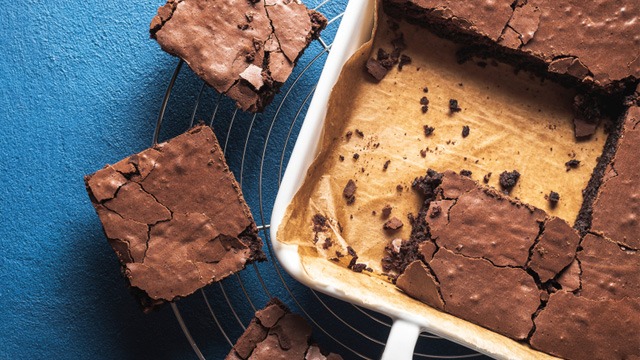 Brownies are like cookies. In fact, brownies are considered bar cookies and since these are extra chewy and fudgy, brownies are best stored at room temperature in air tight containers, especially if you know you can't resist a bar (or three!) every day until they're all gone.
If you're planning on storing these for longer, wrap these in plastic wrap or parchment paper and place these in the refrigerator. You can actually freeze brownies but remember to tightly wrap them so it doesn't absorb off flavors in the freezer.
Watch: Nutella Brownies Recipe Video
Nutella Brownies Recipe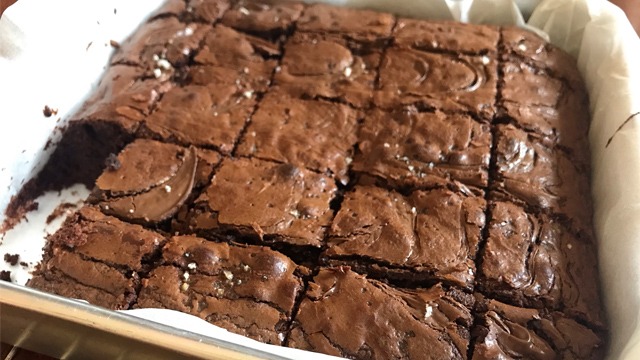 Nutella Brownies Recipe
This is the easiest fudgy brownies you'll ever make!
Ingredients
Nutella Brownies Ingredients
1

Cup

all-purpose flour

3/4

Cup

cocoa powder

1/2

teaspoon

baking powder

1

Cup

salted butter

melted

2

cups

brown sugar

4

large

eggs

1

Cup

Nutella or any chocolate hazelnut spread

1/2

Cup

Nutella or any chocolate hazelnut spread

Salt

to taste
Instructions
Preheat oven to 350 degrees F (180 degrees C). Lightly grease and line a 9x13-inch (23x33 cm) pan with parchment paper with an overhang. (Alternatively, use a 9x9 inch or 23x23cm pan for a thicker brownie.) Set aside.

In a large bowl using a whisk, combine flour, cocoa powder, and baking powder. Set aside. 

In another large bowl, mix butter and sugar. Beat on High speed until well combined. Add eggs, one at a time, beating well after each addition.

Add the flour mixture to the egg mixture. Stir in Nutella. 

Transfer brownie batter into the prepared pan. Spread to the edges using a silicone spatula. Pipe more Nutella across the top of the brownie batter. Using a knife, score the batter in alternating directions. Sprinkle salt on top. 

Bake the brownies for 45 minutes or until the brownies separate from the sides and is just set in the center. Cool completely on a wire rack. 

Release the brownies from the pan by running a knife along the edge where the brownie meets the pan only. Grasp the parchment overhang using both hands and lift the brownies from the pan onto a cutting board. Slice and serve.