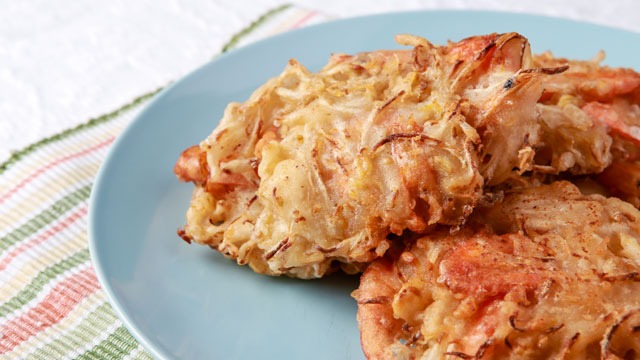 Okoy (also spelled as ukoy) is a Filipino appetizer that is simple and easy to make. It requires only a few ingredients, which you could find at your local supermarket. Some of these ingredients include: shrimp, cornstarch, and peppercorn. The batter made is then deep-fried in a pan until crispy. It is usually served with vinegar as the dipping sauce. This dish is perfect to eat on its own or with rice!
READ THESE: MORE OKOY RECIPES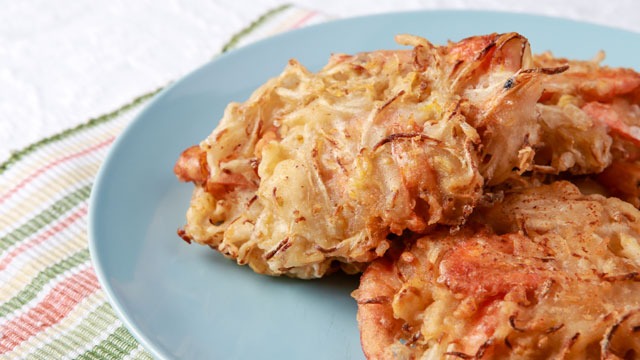 Okoy Recipe
A simple appetizer made with shrimp and deep-fried until crispy.
Ingredients
Okoy Ingredients
6

tablespoons

all-purpose flour

1 1/2

Cup

cornstarch

1/2

teaspoon

Salt

1/2

teaspoon

peppercorns

1

large

Egg

1 3/4

Cup

water

2

cups

mung bean sprouts (togue)

1 1/2

cups

dried shrimp (hibe)

2

cups

cooking oil

for frying
Instructions
In a bowl, combine flour, cornstarch, salt, pepper, egg and water. Beat with a whisk or fork until ingredients form a smooth batter.

Add shrimps and bean sprouts and mix thoroughly.

In a deep frying pan, heat cooking oil.

 

Using a ladle, slowly drizzle the mixture onto the pan until it forms a round disk. Cook each side for 3 to 5 minutes or until golden brown and crispy. Repeat process until you finish cooking the shrimp batter.

READ THESE: MORE OKOY RECIPES