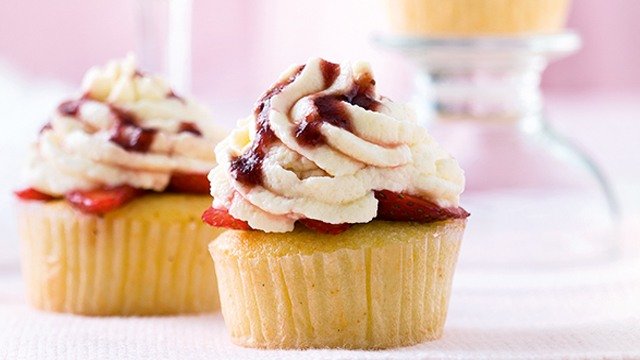 This cupcake recipe combines these flavors: light savory notes from the olive oil and a rich custard cream.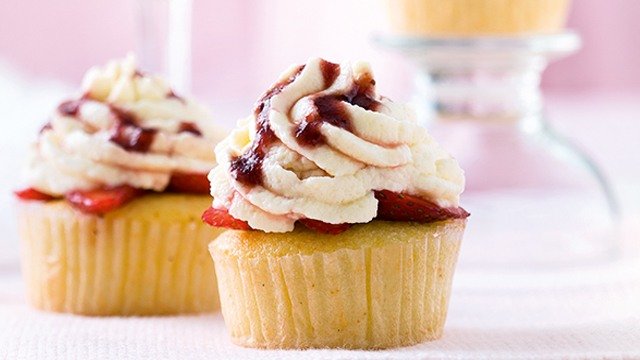 Olive Oil Cupcakes Recipe
These cupcakes have light savory notes and a rich custard cream!
Ingredients
Olive Oil Cupcakes Ingredients
2/3

Cup

olive oil

2/3

Cup

Whole milk

2

large

eggs

4

teaspoons

lemon juice

zest from 1 lemon

2/3

Cup

all-purpose flour

1/2

Cup

sugar

plus 1/3 cup

1/2

teaspoon

Baking soda

1/2

teaspoon

baking powder

1

teaspoon

Salt

fresh strawberry slices

to garnish

strawberry jam

to garnish

egg yolks

from 9 large eggs

3 1/2

teaspoons

cornstarch

1/8

Cup

sugar

Salt

1/8

Cup

whipping cream

1/2

Cup

Whole milk

1

tablespoon

Butter

1/2

teaspoon

vanilla extract

1 1/3

cups

whipping cream

2 1/3

tablespoons

sugar

4 3/4

teaspoons

truffle honey

(use regular honey if you dont like the truffle flavor)

lemon zest

from 1/4 lemon
Instructions
Preheat oven to 375°F. Line a regular 12-cup muffin pan with cupcake liners.

In the bowl of an electric mixer fitted with the whisk attachment, combine oil, milk, eggs, and lemon juice and zest.

Sift together flour, sugar, baking soda, baking powder, and salt into a bowl.

Slowly add dry ingredients to wet ingredients and mix on low speed. Once wet ingredients are partially absorbed by the dry ingredients, increase speed to medium. Mix until combined.

Portion batter evenly among cupcake liners, filling until ¾ full. Bake for 20 to 25 minutes or until a toothpick inserted in the center of a cupcake comes out with a few moist crumbs. Remove from the pan and let cool.

Make the custard: Whisk together egg yolks, cornstarch, sugar, and salt in a bowl until well combined; set aside. Combine remaining ingredients in a saucepan over medium heat, mixing occasionally, until mixture comes to a simmer. Pour half of the hot milk mixture into the egg yolk mixture, mix using a wire whisk, then pour mixture back into the saucepan. Mix until mixture thickens, about 3 minutes. Dip a spoon into the mixture and run a finger across the back of the spoon; if your finger leaves a trail mark, the mixture is done. Turn off heat and allow mixture to cool.

Make the whipped cream: Pour whipping cream and sugar into the chilled bowl of an electric mixer fitted with the whisk attachment. Mix on medium speed until soft peaks form. Using a spatula, fold in truffle honey and lemon zest then fold in the prepared custard. Chill for a few minutes if custard cream is too soft.

Place strawberry slices on cooled cupcakes. Pipe custard cream on top then drizzle with strawberry jam.