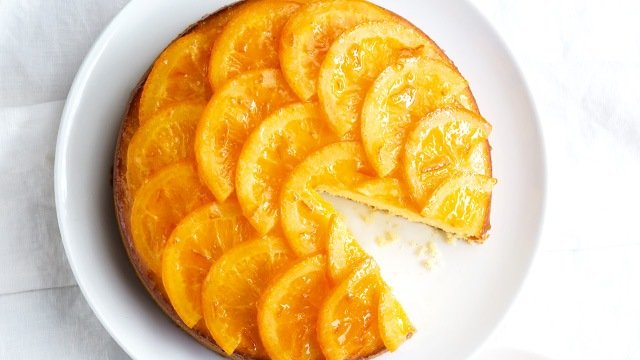 Indulge in a dessert with bright, tangy orange flavors. The cake is moist and buttery, and is perfect with a cup of tea or a scoop of vanilla ice cream.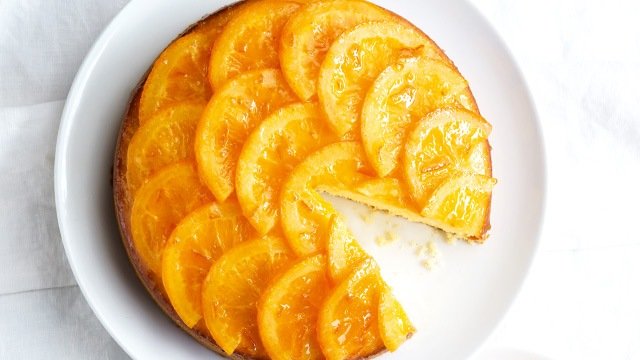 Orange Butter Cake Recipe
This butter cake recipe is made with a tangy addition: orange!
Ingredients
Orange Butter Cake Ingredients
1 1/2

cups

all-purpose flour

plus more to coat the pan

1

teaspoon

baking powder

1/4

teaspoon

sea salt

1/2

Cup

Whole milk

at room temperature

1

teaspoon

vanilla extract

1/2

Cup

unsalted butter

1

Cup

sugar

2

seedless

navel oranges

zest only

2

large

eggs

room temperature, beaten

2

navel oranges

juice only

1/2

Cup

sugar

1/2

Cup

water

2

navel oranges

sliced into thin rounds using a mandoline

3

tablespoons

orange marmalade

2 to 3

tablespoons

hot water
Instructions
Grease an 8-inch round cake pan. Line bottom with parchment paper. Coat pan with flour and shake off excess.

Sift together flour, baking powder, and sea salt into a medium bowl. Repeat twice. Set aside.

Combine milk and vanilla in another bowl. Set aside.

In the bowl of an electric mixer fitted with the paddle attachment, cream butter, sugar, and orange zest on medium speed until light and fluffy, about 3 to 4 minutes, scraping down the sides of the bowl.

With the mixer on medium speed, add eggs one at a time, scraping the sides down once both eggs have been added. Beat for 1 more minute.

Turn speed to low. Alternately add flour mixture in 4 additions and milk mixture in 3 additions.

Pour batter into prepared pan and bake for 20 to 25 minutes or until a toothpick inserted in the center comes out clean. Cool completely on a wire rack before unmolding cake.

While cake is baking, make the candied orange slices: Place all ingredients in a nonreactive saucepan over low heat. Bring to a simmer then cover. Simmer until pith is tender and translucent, about 20 to 25 minutes. Transfer slices to a wire rack and cool completely.

Arrange candied orange slices on top of the cooled cake in an overlapping pattern, covering the entire cake.

Make the glaze: Combine marmalade and hot water in a small saucepan over medium-low heat. Cook until smooth. If your marmalade is still chunky, add 1 more tablespoon of water. (Glaze should be used while warm.) Brush candied orange slices with the warm orange glaze.

To cut the cake, use a sharp chef's knife (not a serrated knife) and slowly saw through the orange slices then push down through the cake. Clean the knife after cutting each slice.