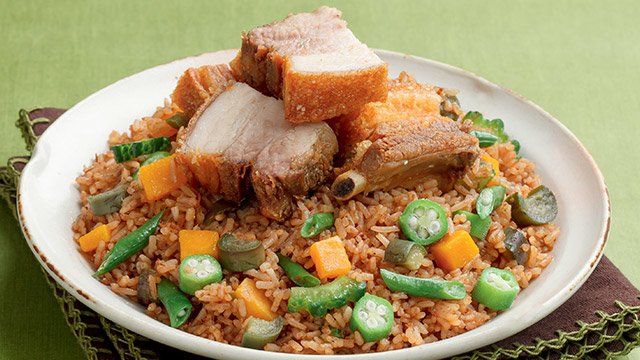 Perfect for Sunday lunch with the family, this dish combines two Pinoy favorites: pinakbet and lechon kawali!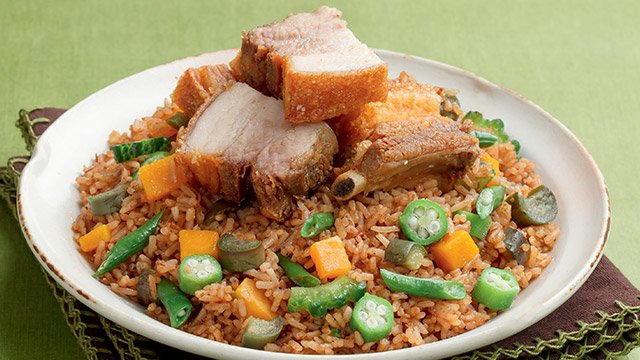 Pakbet Fried Rice with Lechon Kawali Recipe
This pork dish combines pinakbet and lechon kawali into one.
Ingredients
Pakbet Fried Rice with Lechon Kawali Ingredients
2

bay leaves

crushed

2

teaspoons

whole black peppercorns

1 1/2

tablespoons

rock salt

divided

750

Grams

whole pork belly

vegetable oil

to deep-fry

2

tablespoons

vegetable oil

1/2

Cup

white onion

chopped

2

teaspoons

ginger

minced

2

teaspoons

Garlic

minced

1/2

Cup

native tomatoes

chopped

3

tablespoons

fish paste

or to taste

1/2

Cup

squash

sliced into 1/2-inch cubes

1/3

Cup

eggplant

sliced into half-moons

1/3

Cup

sitaw

sliced diagonally into 1/2-inch lengths

1/3

Cup

ampalaya

sliced into half-moons

1/4

Cup

okra

sliced into rounds

4

cups

jasmine rice

cooked, cooled
Instructions
Prepare the lechon kawali: Place bay leaves, peppercorns, and 1 tablespoon salt in a large pot. Fill with enough water to cover pork. Bring water to a boil. Add pork and reduce to a simmer. Cover pot partially. Simmer for about 1 hour or until meat is fork tender. Drain on a wire rack and set aside.

Make the pakbet fried rice: Heat oil in a wok. Sauté onions until translucent. Add garlic and ginger; sauté until fragrant. Add tomatoes and cook over medium-low heat until very tender. Add bagoong and sauté for a few seconds.

Add squash and cook for 2 minutes. Add eggplant and cook for 1 minute. Add sitaw, ampalaya, and okra; cook until tender.

Add cooked rice and toss until fully coated. Season to taste. Turn off heat, set aside, and keep warm.

In a deep pot, heat enough oil for deep-frying. Pat pork dry with paper towels. Season with remaining salt, making sure to distribute evenly on all sides. When the oil is hot enough, add boiled pork belly and deep-fry until all sides are golden and crisp, about 8 to 10 minutes on each side. Drain on paper towels and let cool slightly. Slice into bite-sized portions.

To assemble, place rice on a serving platter and top with lechon kawali.