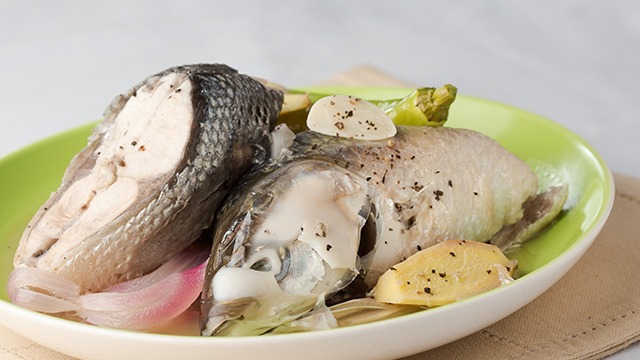 Updated as of March 29, 2023 by Jasper Castro.
What is Paksiw na Isda?
Paksiw is a traditional Filipino style of cooking and simmering protein in vinegar. It can be done on fish such as milkfish or dilis, a fresh cut of pork, or leftover lechon. The style produces a strong sour sauce with a good shelf life thanks to the strong acidic property of vinegar and the applied heat. This particular classic paksiw na isda recipe uses milkfish (bangus) which has its own distinct flavor that melds so well with the tart broth. This delicious, homey dish is especially tantalizing for those cold rainy days!
Table of Contents
• Tips to Make the Best Paksiw na Isda
• How to Make Paksiw na Isda Recipe Video
How to Serve Paksiw na Isda
Paksiw na isda should always be served hot or warm! Warmth brightens up the piquant flavors and makes it more aromatic. You can serve this dish with a choice of classic Filipino veggies on the side. To complement the sour flavor, go for something creamy like laing, or earthy-sweet like pinakbet. Its strong flavor makes this dish extremely delicious served with rice.
How to Cook Paksiw na Isda
There's only three steps for a fragrant, warm, serving of paksiw na isda. It's that easy! First, in a medium sized pot, heat up vinegar, water, salt and whole peppercorn. Once it's boiling, arrange your fish, ginger, garlic, onion, and finger chili in the pot, making sure everything is submerged. Then, cover your pot and continue to simmer at medium heat for twenty minutes.
Tips to Make the Best Paksiw na Isda
1 Listen to your own taste buds
To make the best possible paksiw, before serving, make sure you taste and adjust! As with every classic dish, the one way to make sure it's perfect for you is to listen to your own taste buds. Use this recipe as more of a template for possibilities but feel free to make it more sour, more spicy, or maybe even add coconut cream for a rich variant of paksiw.
You can even tweak the souring agent according to your taste. Add lemon for some fruitiness, black vinegar for that distinct aged flavor, or calamansi for some freshness. Use this basic recipe as a stepping stone to finding your own home classic recipe that's tailored to you and your family's specific palate.
2 Choose fresh
Fresh spices and fresh protein always makes a difference. Simpler recipes also means you are complimenting the existing freshness and goodness of your current ingredients. The better your ingredients, the better the dish will be.
3 Explore other kinds of fish
Try pampano, tilapia, or a fish that keeps showing up at your local wet market you've never tried before. Different kinds of fish lend different kinds of flavor that can change your paksiw dramatically.
How to Store Paksiw na Isda
1 Paksiw na isda can be refrigerated, but it's best eated immediately.
Once the stew is at room temperature, it can be refrigerated in an airtight container for 3-4 days. However, seafood is best consumed immediately. Yes, you can store them, but nothing beats the experience of eating it fresh.
ADVERTISEMENT - CONTINUE READING BELOW
Recommended Videos
2 Separate the fish from the broth if freezing paksiw na isda.
The best way to store fish stews like paksiw na isda is to separate the fish from the broth before freezing. Leaving the fish in the broth will cause the fish to disintegrate or have a less than appealing texture. You can freeze this dish for 10 days. You can put them back together once you're reheating.
Watch: How to Cook Paksiw na Isda Video
Paksiw na Isda Recipe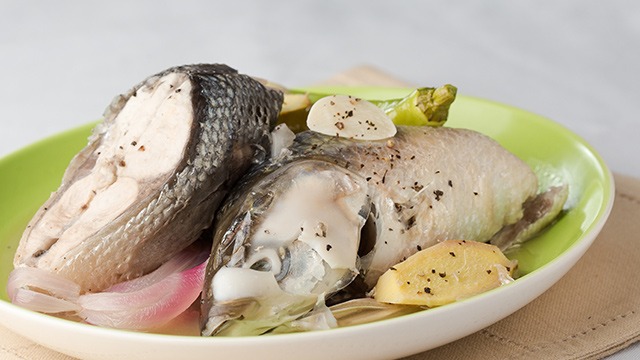 Paksiw na Isda Recipe (Fish in Vinegar Recipe)
This Filipino fish dish is comfort food to many—just let it simmer in a vinegar-garlic mixture!
Ingredients
Paksiw na Isda Ingredients (Fish in Vinegar Ingredients)
1/2

Cup

Vinegar

1

Cup

water

2

teaspoons

Salt

1

teaspoon

peppercorns

1

medium

milkfish (bangus)

cleaned and sliced into 4

1

knob

ginger

sliced and pounded

6

cloves

Garlic

skin removed

1

medium

onion

sliced

3

pieces

finger chilies (siling pangsigang)
Instructions
Heat a medium-sized pan and cooking pot then add vinegar and water.

Add salt and whole peppercorn then stir. Bring to a boil.

Arrange the fish in the pan and add the ginger, garlic, onion, and finger chili. Cover and simmer over medium heat for 20 minutes. Serve hot with steamed rice.