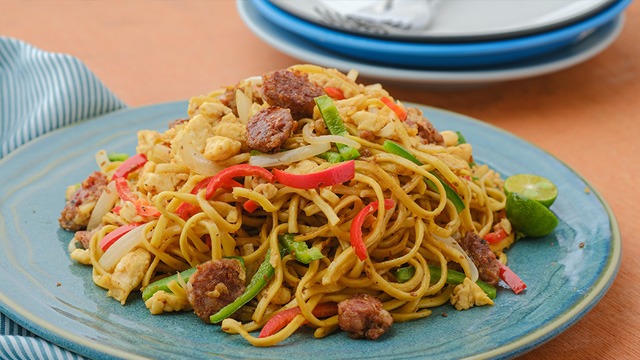 There's something interesting about this stir-fried noodles recipe! This pancit recipe from Ilocos up north tastes extra special and delicious. At first look, this may look like any pancit canton dish you may have already tasted but it's not.
The secret to this Ilocano pancit canton is in the main seasoning. While patis or fish sauce is a common ingredient in other pancit recipes, it's not what makes this dish flavorful. Instead of patis, this pancit uses bagoong. Chunks of local Laoag longganisa is another ingredient that makes it even better. 
Give it try! This recipe should bring back memories or make new ones of a new pancit recipe.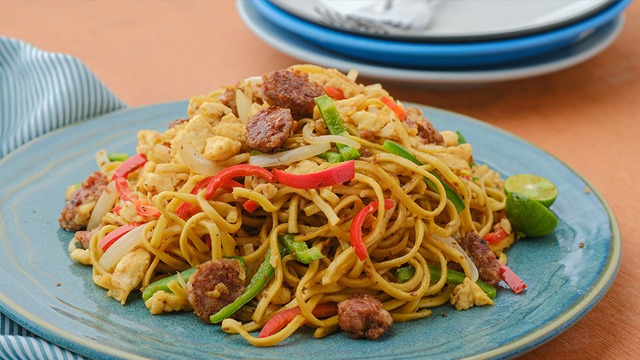 Pancit Lusay Recipe
This unique pancit is seasoned with an ingredient you'd never think to use!
Ingredients
Pancit Lusay Ingredients
300

Grams

fresh pancit miki noodles

2

tablespoons

Oil

4

pieces

longganisa

use Vigan or Laoag longganisa, chopped

1

Small

red onion

chopped

2

cloves

Garlic

chopped

3

large

eggs

beaten

1

Small

red bell pepper

seeded, sliced

1

Small

green bell pepper

seeded, sliced

2

tablespoons

shrimp paste (bagoong alamang)

Salt

to taste

ground black pepper

to taste

1

tablespoon

spring onion

chopped

calamansi

to serve
Instructions
Cook noodles according to package directions. Set aside.

In a frying pan over medium heat, place oil the longganisa. Cook for 3 to 5 minutes.

Add and saute onion and garlic. Push longganisa to the side then add the beaten egg. Once the egg is cooked through and set, add the bagoong.

Add the red and green bell peppers, then stir fry for another minute before adding the noodles. Toss everything together until all ingredients are well incorporated. Season with salt and pepper. Serve with calamansi.