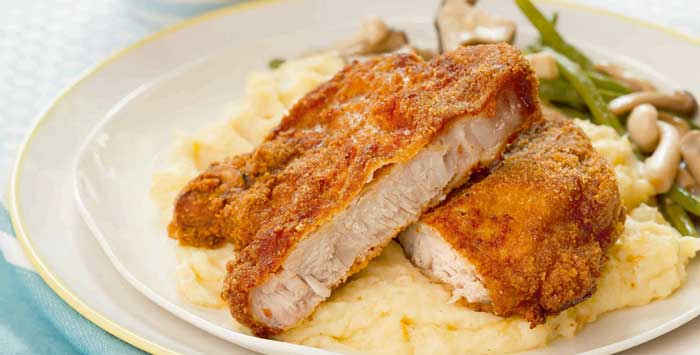 Serve this homey dish on a bed of mashed potatoes and sauteed mushrooms. Up your pork chop game with this quick and simple recipe of Parmesan Breaded Pork Chop. Enjoy!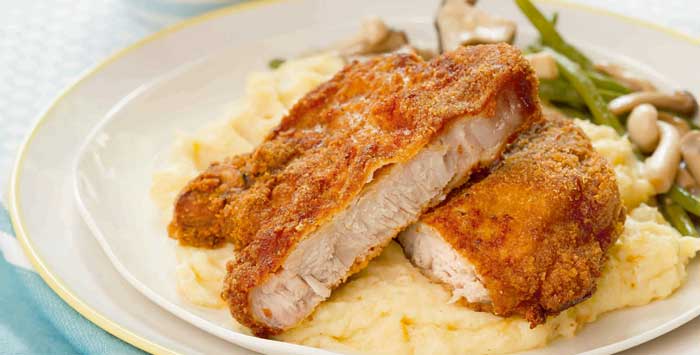 Parmesan Breaded Pork Chops
Serve this homey dish on a bed of mashed potatoes and sauteed mushrooms.
Ingredients
Parmesan Breaded Pork Chops
6

150 gram pieces

pork

(use pork chops), sliced 1/2-inch thick

1/2

teaspoon

Salt

1/4

teaspoon

black pepper

1/2

Cup

parmesan cheese

finely grated

1

Egg

beaten

1

tablespoon

water

1

Cup

fresh breadcrumbs

1/4

teaspoon

dried basil leaves

1

pinch

dried oregano

Oil

for frying

mashed potatoes

to serve
Instructions
Season pork chops with salt and pepper.

Place Parmesan cheese in a shallow bowl. In a separate bowl, beat eggs and water together. On another plate, combine breadcrumbs and herbs.

Working on one pork chop at a time, dredge each piece in cheese. Dip in egg and water mixture, ensuring all sides are coated and letting excess liquid drip back in the bowl. Next, dredge both sides in breadcrumbs.

Place on a tray and chill for at least 30 minutes or up to 3 hours before frying in oil to keep the coating firm.

When ready to serve or fry, heat oil over medium-high heat. Working in batches, add chops and cook, turning once, until well browned on both sides and thoroughly cooked in the middle. Monitor the heat, lowering it when needed, as it may burn the crust on the outside and leave the meat inside still raw.

Place on top of a wire rack to drain excess oil and blot dry with paper towels. Serve with mashed potatoes and beans, if desired. How to make homemade, fresh breadcrumbs: First, use day-old bread. Warm the slices in an oven until toasted, remove sides, and pulse in a food processor to form crumbs. You can also use leftover melba toast. If unavailable, use japanese breadcrumbs or panko instead.