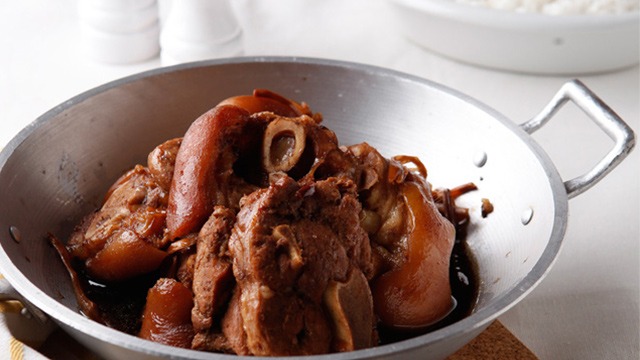 Feeling a little fancy? This home-cooked classic pork pata hamonado can make weekday meals feel like a party. Serve this delicious pork recipe in four easy steps! Basic cooking methods such as sautéing and searing make this dish a winner at the dinner table. Letting the pata simmer for some time also makes it juicy, tender, and fall-off-the-bone. To add a touch of color, garnish your pata hamonado with some green onions. This dish is best paired with hot steamed white rice!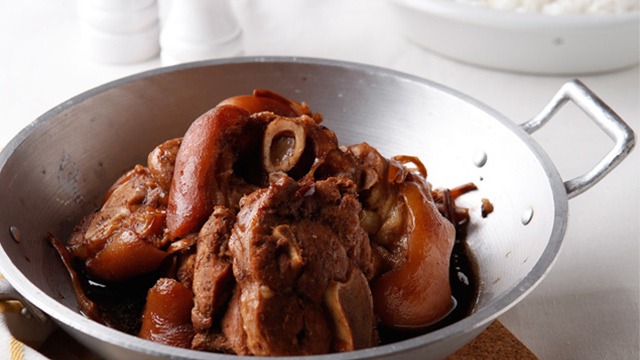 Pata Hamonado
This home-cooked classic can make weekday meals feel like a party.
Ingredients
Pata Hamonado
2

tablespoons

vegetable oil

1

teaspoon

Garlic

minced

1

medium

red onion

diced

1

teaspoon

peppercorns

1

kilo

Ham Hock (Pata Front)

sliced into 2-inch thick pieces

3

cups

pineapple juice

2

cups

water

3

tablespoons

Soy Sauce

3

pieces

bay leaf

3

tablespoons

brown sugar

1

teaspoon

Salt
Instructions
 Heat oil in a deep pot. Saute garlic and onion until garlic is fragrant and onion is translucent. Add peppercorns; mix well.

 

Add pata; sear on all sides for about 5 minutes. Pour in pineapple juice and water; bring to a boil.

 

Once boiling, add soy sauce and bay leaves. Lower heat, cover, and simmer for 60 to 90 minutes. Add more water, if needed.

 

Add brown sugar, stirring well to combine; season with salt. Allow some of the liquid to evaporate until sauce is thick and fat from pata has been rendered.