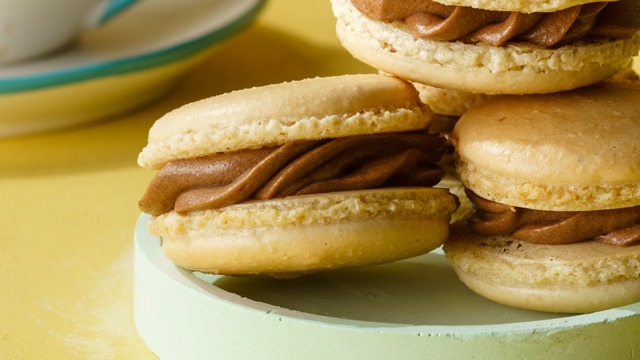 Macarons do not need to be difficult to make nor does it need to be too expensive. The swap from almond flour to another kind of nut flour is an easy one, especially if the nut is easy to find and source such as the peanut.
The rest of the ingredients are just like other macaron recipes, complete with an easy creamy buttercream that makes this sandwich cookie a delight to eat every time.
This is one of six new dessert recipes under the September digital cover recipes so we can satisfy all your sweet cravings here on Yummy.
What is a macaron?
A macaron, not to be confused with the macaroon which is a coconut, condensed milk, and egg white confection, is a French cookie made with almond flour, whipped egg whites, and powdered sugar. These are unique in that these are basically meringue cookies with smooth round tops with signature "feet".
Unlike your usual meringue cookies, however, these are chewy and moist, not dry and crumbly, which is courtesy of the nut flour in the cookie recipe. These can be eaten as is but the macaron cookies that catapulted it to popularity several years ago are commonly sandwiched with buttercream between two macaron cookies or shells.
How to Serve Peanut Macaron Cookies
Since these cookies have buttercream, these are best served thawed to room temperature to ensure that the buttercream is not too hard nor too soft to be eaten with delight as a sandwich cookie without the buttercream spilling out the sides too readily.
These are fantastic served with tea, coffee, or any beverage of your choice or as part of a dessert spread at an occasion you want to make extra special.
How to Make Peanut Macaron Cookies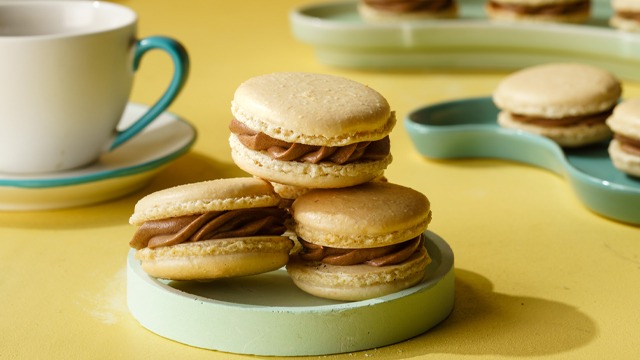 The most basic macaron recipe is made with whipped egg whites, sugar, and nut flour which are whipped together into a paste.
While almonds are the classic nut to use for these cookies, these can be hard to find. For this recipe, if you can't afford or find almond flour, here's the next best thing that is just as delicious in a different way but still yields perfect macarons: ground peanuts or peanut flour. We found a shop on Lazada that sells peanuts finely ground with a dry texture that isn't oily at all. (Peanuts are high in fat which is why it's considered a good source of nut oil.)
ADVERTISEMENT - CONTINUE READING BELOW
Recommended Videos
The resulting paste is then piped into shapes, normally round ones, onto a silicone mat or parchment paper, set aside to dry the paste, and then baked at a low oven temperature. These are cooled before being piped with buttercream filling and topped with another macaron cookie.
Tips to Make Easy Peanut Macaron Cookies
The macaron can be intimidating to make but it doesn't need to be! Here are tips you might find helpful if you challenge yourself to make these at home:
• Use a thermometer when whipping the egg whites so you know exactly when it's hot enough to take off the stove. That would be around 70 degrees F or 21 degrees C.
• Use your fingers to check if the sugar has melted into the egg whites. There's nothing like your sense of touch to really know when every single granules has dissolved.
• After piping, gently tap the abking sheet to release bubbles that may be in the cookies. These can easily be popped with a toothpick and you can even even out the tips left by the piping back with it, too.
• Let the cookie paste dry even for 30 minutes after piping. You'll notice this makes a big difference in creating the signature macaron feet.
• Let the cookies cool completely before trying to remove from the parchment paper or silicone mat. Macarons have a tendency to stick so letting these cool to set those edges is a wise decision.
• Pair up the macaron cookie shells before piping on the buttercream. You'll find its easier to find like sized and shaped one when you can flip these over this way and that if there's no buttercream on one of the cookies.
How to Store Peanut Macaron Cookies
Macarons are actually best stored in the refrigerator. The dry environment ensures the macarons do not become stale or dry out. Plus, it keeps the buttercream from going bad if it needs to be stored for a long time.
Peanut Macaron Cookies Recipe with Milo Buttercream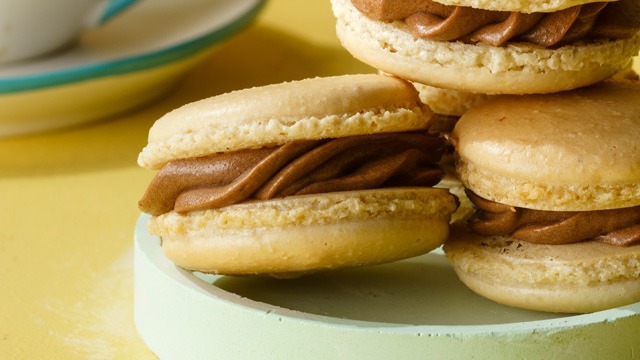 Peanut Macaron Cookies Recipe With Milo Buttercream
These chewy-crispy cookies use more affordable peanuts.
Ingredients
Peanut Macaron Cookies Ingredients With Milo Buttercream
3

large

egg whites

about 100 grams

3/4

Cup

white sugar

about 100 grams

1 1/4

cups

ground peanuts

about 100 grams

1

Cup

Powdered SUgar

about 100 grams, sifted

1/2

Cup

unsalted butter

softened

3/4

Cup

Powdered SUgar

sifted

1/2

Cup

powdered chocolate drink (we used Milo)

1

tablespoon

cocoa powder

sifted

1/4

teaspoon

Salt

1

tablespoon

fresh milk
Instructions
Create a template made of 1-1/2-inch circles with about 1 inch space between each one on parchment paper. Flip over, place on a baking tray, and set aside. TIP: You can also use a silicone mat with a macaron template like this one from Shopee. Avoid those with circle ridges or a mat that are too thick. Instead, choose those with the templates drawn on the silicone itself for the best baking experience for your macarons.

Make the meringue: In a double boiler, add egg whites, sugar, and salt. Using a silicone spatula, stir ingredients over the simmering water until the sugar and salt granules have dissolved and egg whites are warmed (To pasteurize the egg whites, heat to about 160 degrees F (or 70 degrees C) on a candy thermometer).

Remove egg whites from heat and place in a stand mixer. With the whisk attachment, whisk the egg whites on Medium until it has cooled enough to the touch and has become stiff peaks.

Add the sifted ground peanuts or peanut flour and the powdered sugar. Using a large silicone spatula, fold the sugar and nuts into the whipped meringue until combined and the mixture is loose enough to write the number "8" in the batter. To do this, use the whisk to get some batter and then lift the whisk to write the number in the batter. If you can write the number easily before it merges back into the batter, it s ready.

Transfer the meringue batter into a pastry bag with the tip cut to create a 1/2-inch round tip. Using the macaron template, pipe 1-1/2-inch macaroons on the prepared parchment paper in the baking sheet.

If necessary, use a toothpick to remove pointed tops and pop bubbles on the surface. Lightly tap the baking sheet on the counter to release more bubbles to pop. Set aside for 30 minutes up to 1 hour. The tops of the macaron shells should be dry.

Meanwhile, preheat oven to 300 degrees F or 150 degrees C.

When the tops of the macaron shells are dry to the touch, bake in the preheated oven for about 15 minutes or until the feet are set. Remove from the oven and set aside to cool completely.

Meanwhile, make the Milo buttercream: In a stand mixer with the beater attachment, cream softened butter until light and fluffy. Add powdered sugar, Milo, and cocoa powder. Slowly beat into the butter until light and fluffy. Add milk and beat again to lighten the buttercream.

To assemble, transfer the buttercream to a bag with a 1/2-inch or 1 cm cut from a tip or piping tip, and pipe filling into 1 macaron shell. Top with another macaron shell.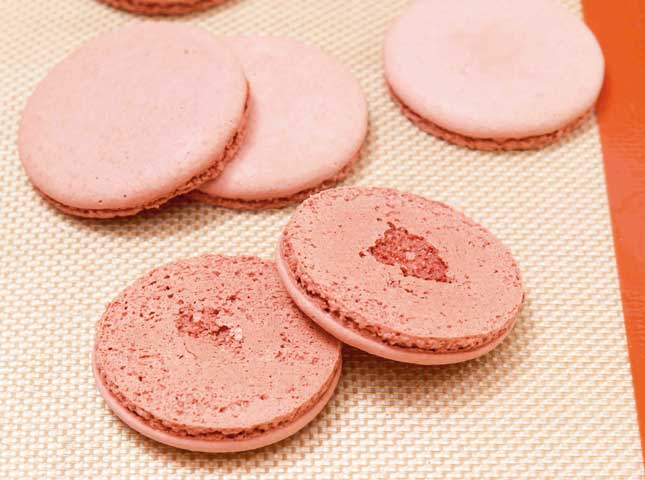 Basic Macaron Shells
Posted in:
Recipe