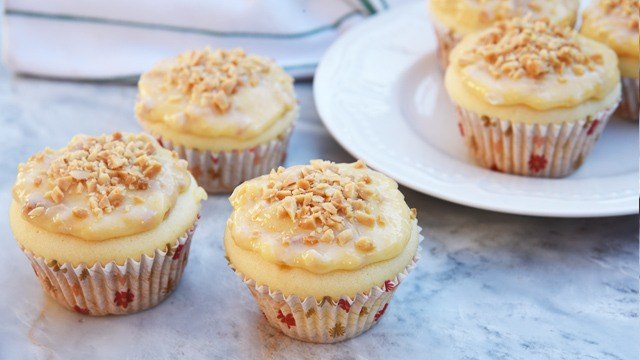 Add texture to your classic sweet and chewy yema cake recipe by adding chopped and toasted peanuts into the mix. It's a treat that adds a salty kick to a sticky-sweet Filipino classic. You can also use this yema spread to top simple butter cupcakes for weekend merienda with the family.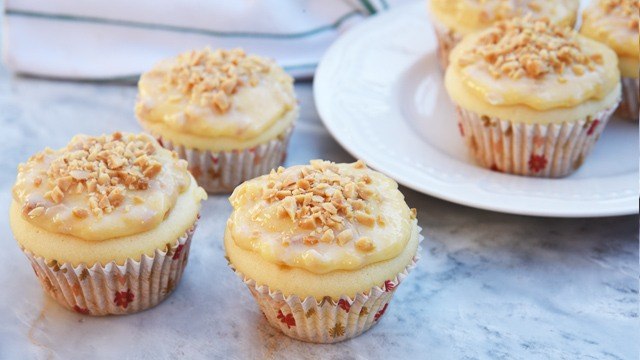 Peanut Yema Cupcakes Recipe
A classic yema cake made smaller and more nutty with the addition of peanuts.
Ingredients
Peanut Yema Cupcakes Ingredients
1 1/2

cups

cake flour

sifted

1/2

teaspoon

baking powder

1/2

teaspoon

Baking soda

1/2

tesapoon

Salt

1/2

Cup

unsalted butter

1/2

cup plus 2 tablespoons

sugar

2

medium

eggs

1/2

Cup

full-cream milk

1/2

teaspoon

vanilla extract

1

tablespoon

unsalted butter

1/2

(150-gram) can

condensed milk

2

medium

egg yolks

1/3

Cup

peanuts

roasted, greaseless, chopped finely

3

tablespoons

peanuts

roasted, greaseless, chopped, for topping
Instructions
Preheat oven to 350 degrees F (180 degrees C). Line a cupcake tin with parchment paper or 10 cupcake liners. Set aside.

In a bowl, sift together the cake flour, baking powder, baking soda and salt.

In the bowl of an electric mixer fitted with the paddle attachment, cream the butter on medium-low speed for 2 minutes. Set the mixer on Low and then gradually add the sugar. Set the mixer on medium speed, and beat the butter and sugar for 4 to 5 minutes or until the mixture becomes a pale yellow and the texture is creamy and soft.

Add eggs, one at a time, and scrape between each addition. Add in the vanilla, and mix until combined. Add the dry ingredients then the milk in alternating additions, starting with the dry ingredients. Mix between each addition. Mix on low-medium speed until well combined.

Scoop into tins until 3/4 full and bake for 22 minutes or until a toothpick inserted at the center of each cupcake comes out clean. Immediately transfer onto a cooling rack, and let cool to room temperature.

Mmeanwhile, make the yema spread: Melt the butter in a medium-sized nonstick saucepan or nonstick frying pan. Add the condensed milk and egg yolks, and mix constantly for around 5 to 6 minutes or until thickened. Add the chopped peanuts and stir until combined. Spoon into a bowl, and set aside to cool completely.

Spread around 1 to 2 tablespoons of yema spread over each cupcake, and top with 1/4 teaspoon chopped peanuts for garnish before serving.