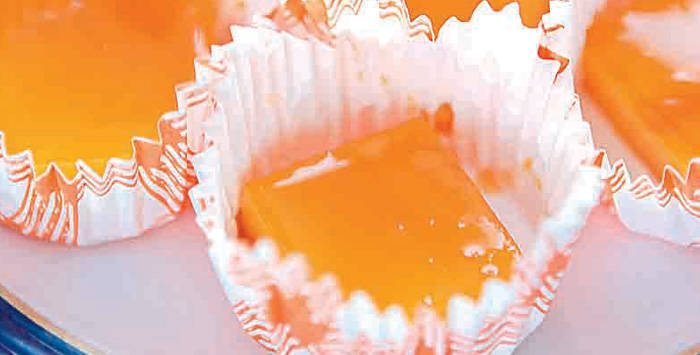 This sweet dessert recipe is ready until the custard sets and just barely jiggles. You may cut them into one-inch squares and put them in small paper cups before serving. This recipe is from Pette Jorolan, who is featured along with her children Poch and Namee in the story "Muses of cookery" in the May 2011 issue of Yummy.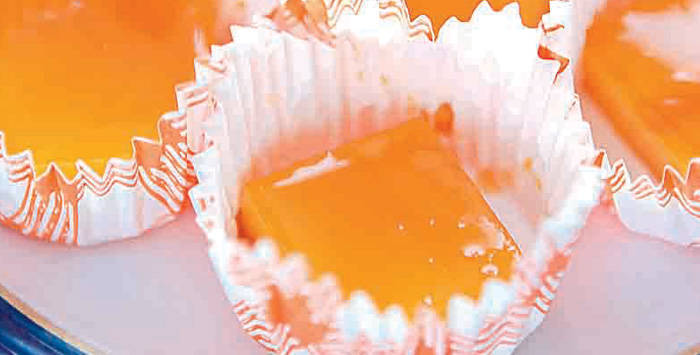 Tocino Del Cielo Recipe
This sweet dessert is ready until the custard sets and just barely jiggles.
Ingredients
Tocino Del Cielo Ingredients
3

cups

sugar

1/3

Cup

Butter

3/4

Cup

water

16

Egg

(yolks only), lightly beaten

lemon rind

Optional
Instructions
Caramelize 1 cup sugar over medium heat until melted.

Line bottom of desired molds. Butter the side of the molds.

Make the syrup: Boil 2 cups sugar with 3/4 cup water until it spins a thread. Cool for 2 minutes. Pour over the lightly beaten egg yolks.

Mix well and then add the softened butter. Strain and pour on molds.5 Place molds in a bain marie (water bath) filled with water to 2/3 the height of the pan. Cook in an oven preheated 350°F for 50 to 52 minutes. When firm, they are done.Alternative cooking tip: You can make this recipe using siopao steamers, but it will take longer, around 75-90 minutes.