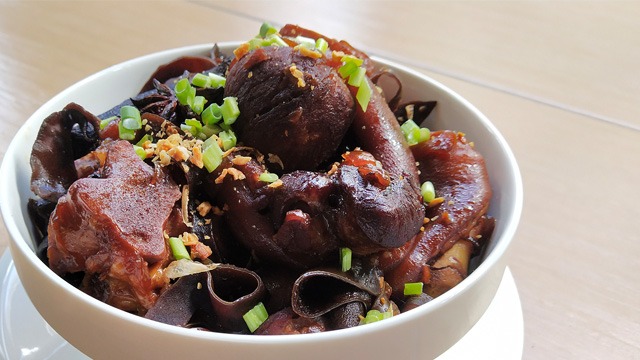 What makes pork adobo so delicious? The classic version of this ulam Pinoy recipe is a combination of succulent pork pieces, soy sauce, black peppercorns, a few dried bay leaves or laurel, lots of garlic, and a generous amount of vinegar. It's the vinegar that makes this preservation method, which is also a cooking method, delicious. 
That's why vinegar is an important ingredient in adobo. The vinegar not only preserves the meat for longer storage but also flavors it. The result of cooking meat in vinegar is a tamer yet still tangy flavor that is unique to the vinegar. When soy sauce is added, instead of just plain salt as in the case of adobong puti, to balance out the sharpness of the ingredient, the resulting dish is the dish many of us know as a adobo. 
In the case of this pork adobo recipe, the vinegar used is what makes it so delicious as well as unique. Sinamak, a spiced vinegar from Iloilo, is cane vinegar seasoned with various spices including siling labuyo. It's actually the same vinegar used in the marinade of Bacolod's famous chicken inasal. 
So just imagine how delicious this adobong baboy recipe is if you're a fan of chicken inasal. Those same tangy and spicy flavors infuse the pork as it simmers and becomes tender. Since the pork pieces in this recipe include a good portion of the pata, you'll create sticky, gelatinous pork pieces when you're ready to serve. 
Hungry yet?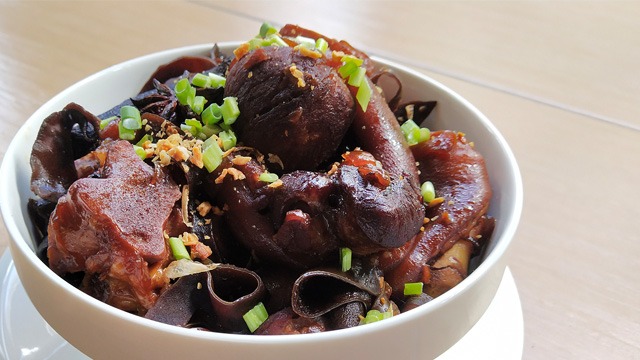 Pork Adobo Recipe With Sinamak
This pork adobo gets its tang from this local vinegar.
Ingredients
Pork Adobo Ingredients With Sinamak
1

kilo

Pork Leg

sliced

1

piece

cinnamon stick

2

pieces

star anise

4-5

pieces

wood ear mushrooms (tenga ng daga)

1

teaspoon

whole black peppercorns

10

pieces

rock sugar

1/2

Cup

Soy Sauce

1

medium

red onion

quartered

4

cloves

Garlic

smashed

3/4

Cup

sinamak vinegar

water

as needed

spring onions

Chopped, for garnish

fried garlic bits

for garnish
Instructions
In a large pot, bring water to a boil. Blanch the pork hocks for a few minutes to remove residues. Strain and clean the pork pieces with fresh water.

In a pressure cooker, add pork hocks, cinnamon sticks, star anise, black fungus, peppercorns, rock sugar, soy sauce, vinegar, onion, and garlic, and cover with enough water to just cover the pork.

Bring water to a boil, lower the heat to simmer, then close and seal the pressure cooker. Cook for 1 hour. (If using the traditional method, cook for 1 to 2 hours or until the meat is soft and starts to fall off the bone. Add more water while simmering, if necessary.

After 1 hour, release the pressure pin, and wait for 5 to 10 minutes before unsealing the lid and opening the pressure cooker. Do not immediately open or force the lid to open.

Transfer pork to a serving bowl and garnish with spring onions and fried garlic when ready to serve.