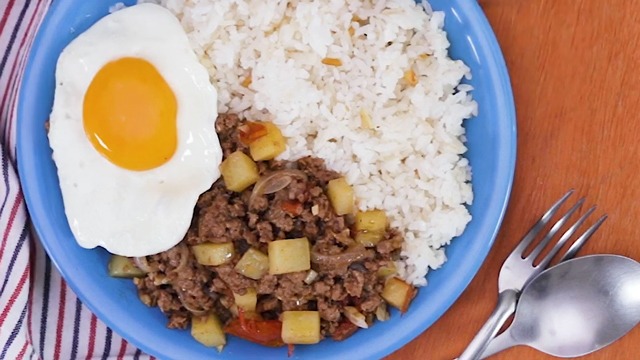 What Is Pork Giniling With Patatas?
We just leveled up your favorite go-to pork giniling recipe with a flavorful and heartier version: pork giniling with patatas. This recipe uses not the usual frozen mixed vegetables, but fresh patatas or potatoes. The fresh ingredients plus the oyster sauce amps up the flavorful salty taste that makes this Filipino ulam recipe the perfect pairing with rice. 
How to Serve Pork Giniling With Patatas
We highly suggest this giniling dish be served with fried eggs  (with crispy edges or scrambled) and garlic fried rice but you can also try it in these delicious ways:
Serve with java rice: You know those mounds of yellow rice served with pork barbecue sticks? it's called java rice and we have a great recipe hack it. 
Serve stuffed in pandesals: Rice isn't always the carb of choice but you can serve this ulam dish stuffed in pandesals which is an excellent idea, especially for breakfast.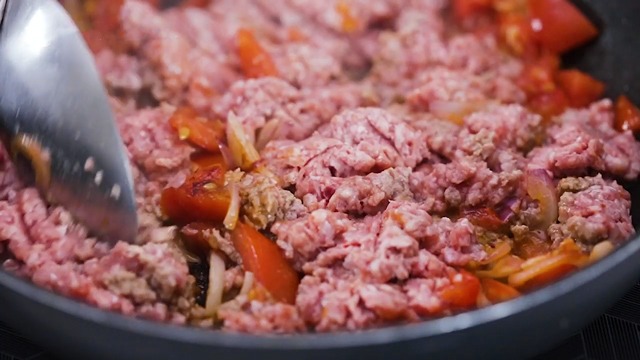 How To Cook Pork Giniling With Patatas
This ulam dish is fairly easy to make. The hardest part is prepping the ingredients because it requires the trinity of Filipino cooking: onions, garlic, and tomatoes. This dish has potatoes so you'll need to prep those, too, and remember to store cut potatoes in water to prevent them from turning brown. 
Once you have all your ingredients prepared, time to cook! Sauté your trinity then sear the ground pork. Once seared, season with salt, pepper, and a touch of oyster sauce to elevate its flavor. The potatoes are next together with a little water to help the cubes simmer and become tender. Once the potatoes are tender, this is ready to serve!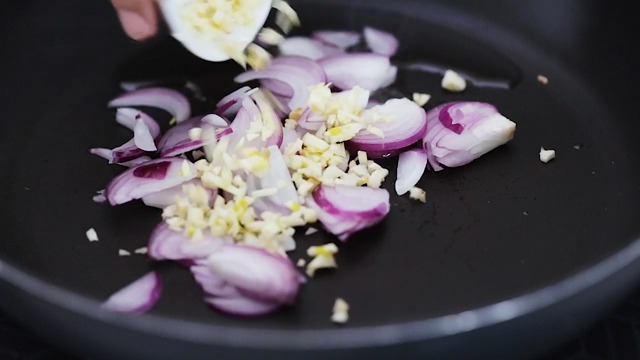 Tips To Make The Best Pork Giniling With Patatas
1 Fry the potatoes. 
Know how browning meat makes it taste better? The same goes for potatoes! There is something magical about fried potatoes that make them taste super delicious. To make this giniling better, try frying the potatoes first before adding to the dish. 
2 Use other ground meat. 
This uses ground pork but you can easily swap out the pork for another kind of meat or even use crumbled tokwa for a plant-based option. 
3 Use more vegetables. 
Potatoes are delicious but you can also use other veggies or even add other veggies to this meat-heavy dish. Try adding kamote or sweet potatoes to add sweetness to this dish as will sweet kernel corn. Broccoli and cauliflower florets would also be an excellent addition as will chopped cabbage, green beans, carrots, and even bell peppers, too.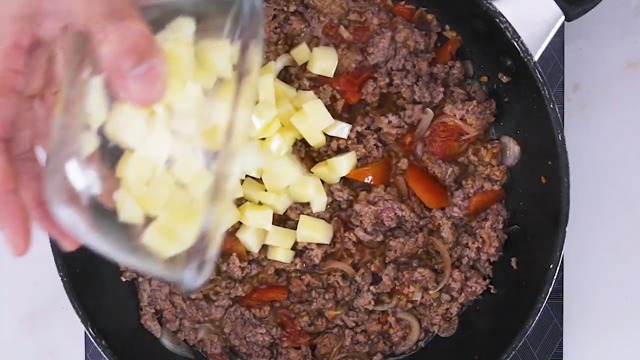 Pork Giniling With Patatas Storage Tips
Refrigerate or freeze any leftovers. 
This dish is very versatile so leftovers are perfect for fast and easy meals. This ulam dish stores well. Just transfer to a container with a lid or in a resealable bag and store, whether in the refrigerator or the freezer.
When ready to eat, thaw and reheat on the stovetop. You can even add eggs and make a tortang giniling as another ulam option. 
Watch: How to Make Pork Giniling With Patatas Recipe Video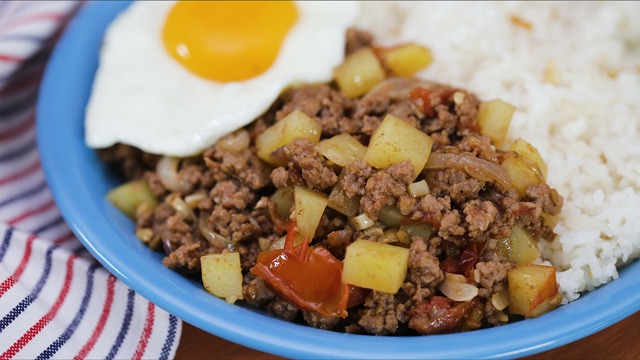 Pork Giniling Recipe With Patatas
Ditch the frozen mixed vegetables; use potatoes instead.
Ingredients
2

tablespoons

oil

1

large red onion

peeled, sliced thinly

3

cloves

garlic

peeled, chopped

2

medium native tomatoes

chopped

1/3

kilo

ground pork

1

medium potato

peeled, cubed small

2

tablespoons

oyster sauce

1/2

cup

water

salt

to taste

ground black pepper

to taste
Instructions
In a wok over medium heat, heat oil. Add onions then garlic, cooking just until aromatic and onions are translucent. Add tomatoes, and cook until softened.

Add ground pork, and spread into a single layer. Let pork sear before crumbling and then sauté until cooked through and no longer pink. Add potatoes and water. Simmer until potatoes are cooked through.

Add oyster sauce, season to taste with ground black pepper, and stir to mix. Cook until mixture simmers and liquid has reduced. Remove from heat.

Serve immediately with garlic rice and fried eggs.
Notes
Leftovers make a fantastic tortang giniling! Just add eggs and make omelets.  This is excellent too stuffed into pandesals. 
More Lessons About Giniling or Ground Meat:
ADVERTISEMENT - CONTINUE READING BELOW
Recommended Videos