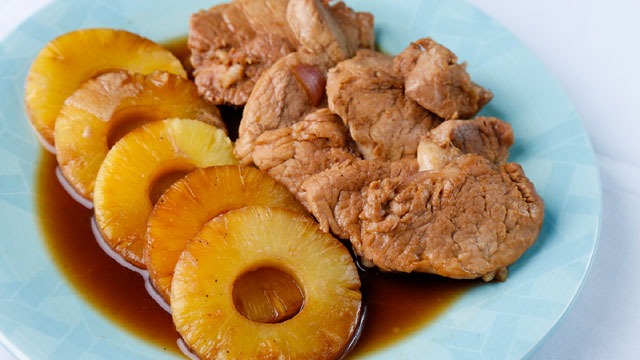 Pork hamonado is a sweet and savory dish that is typically enjoyed during the holiday season.
What are the ingredients for pork hamonado? 
This Filipino-style pork stew is made of pork loin, soy sauce, sugar, and other delicious ingredients. Pineapple juice is most often used to sweeten the flavor of the stew, but other fruit juices such as orange, apple, or even a light grape juice may be used as a substitute. Serve with a side of steamed rice or turbo-baked sweet potatoes. This stew is bound to be an easy favorite!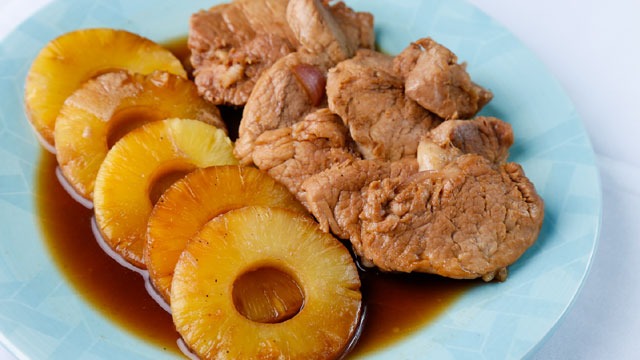 Pork Hamonado Recipe
This sweet pork recipe is bound to be an easy favorite!
Ingredients
Pork Hamonado Ingredients
2

cups

pineapple juice

3

tablespoons

Soy Sauce

5

tablespoons

brown sugar

1

kilo

pork

use tenderloin or butt (pigue), sliced into large, thin slices (tapa)

3

tablespoons

cooking oil

1

large can

pineapple

(sliced), drained (around 20 ounces)

1

Cup

water

1

teaspoon

Knorr SavorRich Pork

Salt

to taste
Instructions
Make the marinade: combine pineapple juice, sugar, and soy sauce in a large bowl.

Marinate pork with the pineapple-soy sauce mixture for 1-3 hours.

Remove the pork from the marinade and set the remaining marinade mixture aside.

Heat the oil in a pan and fry the marinated pork until the meat turns light brown (approximately 3 to 5 minutes).

Pour in the remaining marinade mixture together with the pineapple slices, water, and Knorr Savorrich pork and simmer for 45 to 60 minutes.

Add salt and pepper to taste.

Slice the pork loin before serving and serve with pineapple slices and sauce.