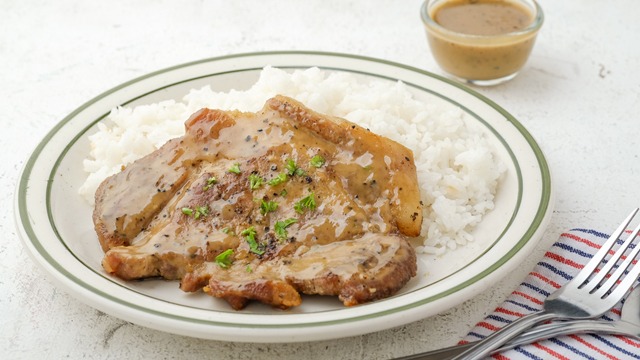 Black pepper is delicious! it's an underestimated spice that has a wonderfully warm flavor with a bite that increases in sharpness the more you use. It's a fantastic complementary seasoning that is usually paired with salt to enhance flavors. Here, a simple pork steak is seasoned generously with salt and ground black pepper to give not just the pork flavor, but the gravy, too.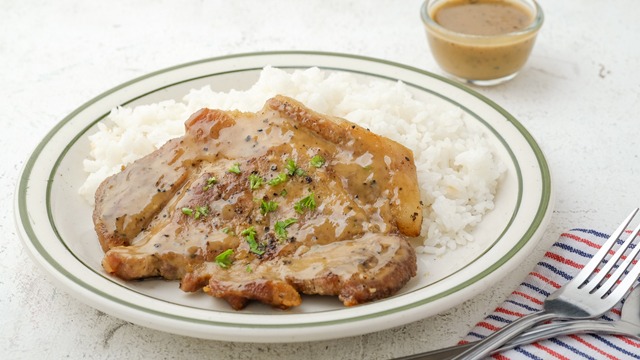 Peppered Pork Steak Recipe
Black pepper makes this delicious pork aromatic with a bite.
Ingredients
4

pieces

pork steaks

Salt

to taste

1/2

tablespoon

coarsely ground black pepper

divided, or to taste

2

tablespoons

canola oil

1

tablespoon

all-purpose flour

1/4

pork bouillon cube

1

Cup

water
Instructions
Season pork steaks with salt then season generously with ground black pepper on both sides. Set aside

Heat a cast iron pan with enough oil for pan frying over medium heat. Add pork steaks one at a time and cook until cooked through on both sides. Set aside.

Remove excess oil from the pan, leaving only about 1 1/2 tablespoons left in the pan. Add about 1 teaspoon black pepper to the pan. Cook, stirring, until aromatic, about 30 seconds. Add bouillon cube and stir to dissolve. Sprinkle in flour and stir to mix with the oil. Pour in water while stirring to mix the flour and dislodge the fond on the bottom of the pan to mix into the sauce.

Cook until sauce has thickened. Place fried pork steaks into the gravy and simmer until just heated through. Remove from the pan and served immediately while hot with steamed rice and more gravy on the side.