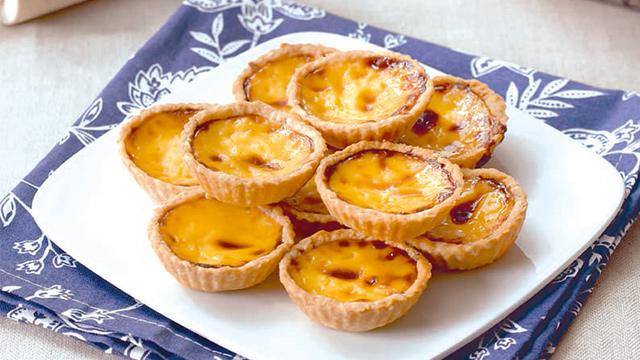 We suggest: pair this dessert with black Chinese tea or black tea with milk. Make your own version of these delectable Portuguese egg tarts dessert at home.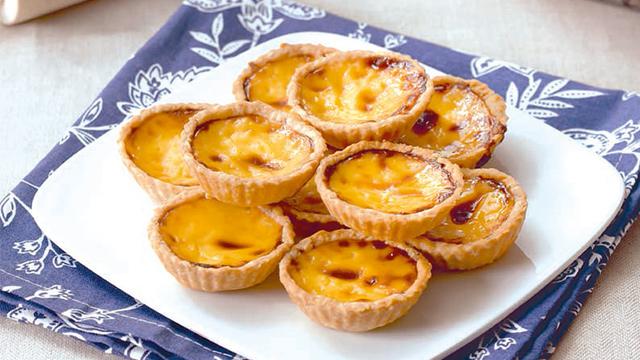 Portuguese Egg Tarts
We suggest: pair this dessert with black Chinese tea or black tea with milk.
Ingredients
Portuguese Egg Tarts
2/3

Cup

all-purpose flour

1/4

teaspoon

Salt

1/4

Cup

Butter

cubed

1

tablespoon

Shortening

1

tablespoon

water

ice-cold

4

Egg

yolks only

1/4

Cup

condensed milk

1/4

Cup

heavy cream

1/4

Cup

milk

1

teaspoon

vanilla extract
Instructions
Make the pie pastry: preheat oven to 375°F. Combine flour and salt in a large bowl; stir to mix. Scatter butter and shortening over the flour mixture. Using a pastry blender or fork, toss flour to coat, then cut in butter and shortening. The mixture should form large, coarse crumbs that are the size of large peas.

 

Drizzle ice-cold water over the mixture. Toss with the pastry blender until the dough is evenly moist and begins to come together in a mass, but does not form into a ball.

Transfer the dough to a clean work surface. Roll dough to form a disc. Wrap disc tightly in plastic wrap and refrigerate until well chilled, about 1 hour to overnight.

Roll the dough: Let the dough sit at room temperature for at least 10 to 15 minutes to soften. Roll dough between two sheets of parchment paper until 1/8-inch thick and 5 inches in diameter. Divide the dough among 2-inch individual tart pans and allow the dough to take the shape of the molds. Press the dough into the edges. Gently prick the bottom of the tarts using a fork. Cover the dough with plastic wrap and chill in the refrigerator for about 20 to 30 minutes.

Place aluminum foil over the dough and gently mold it to the dough in the pans. Add pie weights (dried beans work well). Bake at 375°F for 15 minutes. Remove the foil and weights; bake for another 10 minutes or until golden. Transfer tarts to a wire rack and let cool completely.

Make the filling: Combine all filling ingredients in a separate bowl. Whisk until well combined, then strain. Fill tart pans with the egg mixture until about 80-percent full.

Bake egg tarts for about 15 to 20 minutes or until the filling has set and has turned golden brown.