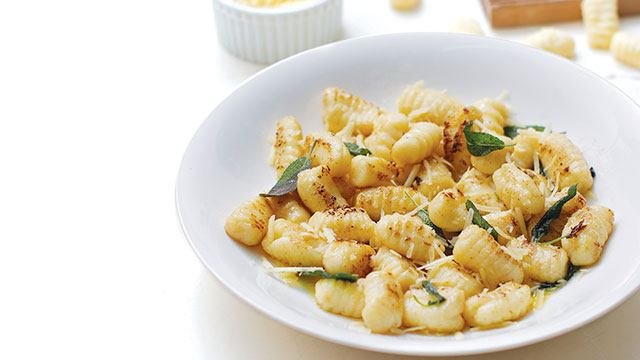 Gnocchi is a type of pasta that is made from potatoes instead of the usual wheat grain. These potato dumplings are soft, fluffy, and are delicious paired with a simple brown butter sauce with sage.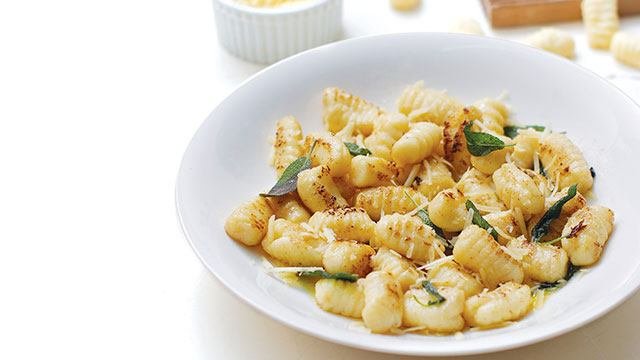 Potato Gnocchi with Brown Butter Sauce Recipe
This classic Italian pasta dish has a simple brown butter sauce and a touch of sage.
Ingredients
Potato Gnocchi with Brown Butter Sauce Ingredients
500

Grams

Potatoes

peeled and quartered

1

Cup

all-purpose flour

plus more to dust

1/2

teaspoon plus 1/2 tablespoon

Salt

divided

1

large

Egg

beaten

1/2

Cup

Butter

cubed

1/4

Cup

fresh sage leaves

Salt

to taste

ground black pepper

to taste

grated parmesan cheese

to garnish
Instructions
Place potatoes in a medium pot. Add enough water to submerge potatoes. Bring to a boil and cook until potatoes are fork-tender. Drain well. Allow potatoes to dry slightly before pressing.

Place potatoes in a potato ricer. Press potatoes into strings. (You can also use a box grater.)

Transfer potatoes to a large bowl. Add flour and ½ teaspoon salt; stir with a wooden spoon.

Make a well in the center then add egg. Gently mix the ingredients. Gently knead, like you would bread dough, just until combined.

Transfer dough to a floured work surface. Divide dough into 4 portions using a dough cutter or a knife. Carefully roll each into a 1-inch-diameter rope. Cut into 1-inch pieces.

Roll gnocchi, one piece at a time, on a gnocchi board or fork to make ridges. Place gnocchi on a floured sheet pan.

Boil water in a medium saucepan. Add ½ tablespoon salt. Drop in gnocchi and cook until they float to the surface, about 3 to 4 minutes. Scoop out using a strainer or slotted spoon and place in a bowl. Drizzle with olive oil, if desired.

Make the sauce: Heat butter in a large saucepan over medium-high heat until golden and nutty in fragrance. Add sage leaves and let them sizzle a little.

Toss gnocchi in sauce. Stir after a few seconds. Season with salt and pepper. Place on a serving plate and top with Parmesan cheese.