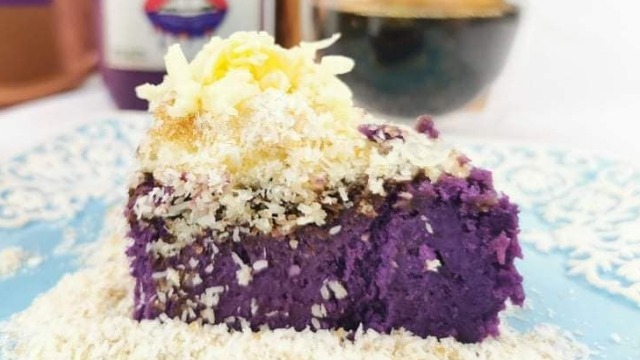 The puto bumbong cheesecake is a Basque burnt cheesecake version made with ube halaya, shredded coconut, and coconut milk. It's topped with cheddar cheese and muscovado sugar for a sweet and savory taste. This flavor is a "Simbang Gabi" Filipino kakainin incorporated into a cheesecake.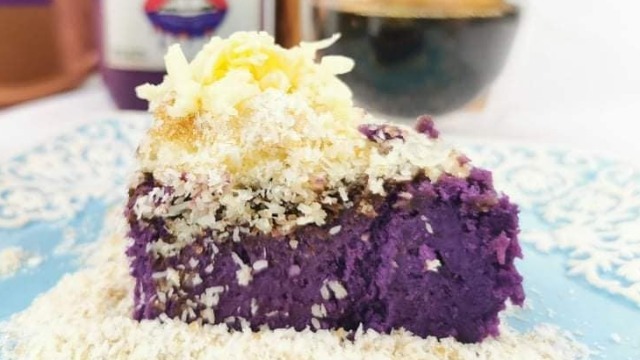 Puto Bumbong Cheesecake Recipe
Bring in the Christmas feels!
Ingredients
Puto Bumbong Cheesecake Ingredients
450

Grams

cream cheese

at room temperature

1

Cup

white sugar

3

large eggs

1

teaspoon

vanilla extract

1/2

Cup

coconut milk

1/2

Cup

heavy or all-purpose cream

1/8

Cup

all-purpose flour

1/4

Cup

ube halaya

1/8

Cup

ube flavoring

1/4

Cup

shredded coconut

(for topping)

1/3

Cup

muscovado sugar

(for topping)

1/2

Cup

cheddar cheese

(for topping)
Instructions
Preheat the oven at 400 degrees F/200 degrees C. Line a 6x2-inch springform pan with parchment paper. Set aside.

Beat cream cheese and sugar in the bowl at low speed until smooth and free of lumps. Add 1 egg at a time while continuously mixing at medium speed. Add vanilla extract. Mix again at low speed.

In a bowl, mix flour, coconut milk, and heavy cream or all-purpose cream.

Slowly add this coconut milk mixture into the cream cheese mixture. Add ube halaya and ube flavoring. Mix at medium speed, making sure not to overbeat.

Pour the cheesecake mix into the pan. (Do not fill past the brim.)

Bake for 45 minutes. Cool completely then and refrigerate overnight.

Top with shredded coconut, muscovado sugar, and cheese before serving.