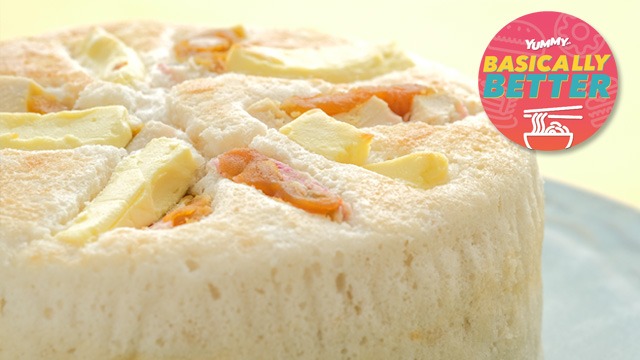 Why make little bite-sized cupcakes when you can make a much more impressive and easy to make puto cake? Puto are Filipino steamed rice cakes that are soft, fluffy, and mildly sweet. But in this basically better recipe, we're turning these classic Filipino merienda treats into a sweet and savory bite with salted egg and cream cheese! 
Remove the hassle of having to make each individual puto and make this easy puto cake instead. Learning how to make puto cake is easy, especially because there's more than one way to make it: by steaming or baking! Topped with slices of cream cheese and salted egg, this steamed or baked puto cake recipe is just as inviting and appetizing as any individually-sized rice cake.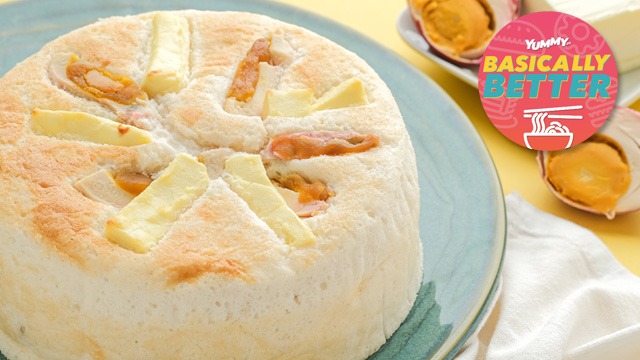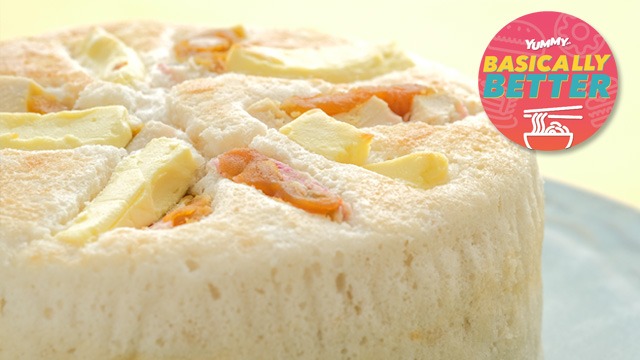 Puto Cake Recipe with Cream Cheese and Salted Egg
Make puto in one big pan that you can slice.
Ingredients
Puto Cake Ingredients with Cream Cheese and Salted Egg
3

cups

all-purpose flour

1

Cup

sugar

1

tablespoon

baking powder

1

teaspoon

Salt

1 1/2

cups

water

1

teaspoon

vanilla flavoring

8

large

egg whites

1/2

teaspoon

cream of tartar

1/2

Cup

sugar

3

pieces

itlog na maalat (salted eggs)

1

227-gram block

cream cheese

sliced

sugar

for sprinkling
Instructions
In a large bowl, sift together the flour, sugar, baking powder, and salt three times.

Create a well in the center. Pour water and vanilla flavoring into the center. Mix until just combined. (Do not overmix.) Set aside.

Using a stand mixer or electric mixer, beat egg whites with cream of tartar until soft peaks form. Gradually add sugar. Beat until it reaches the meringue stage (glossy, stiff peaks).

Add the meringue to the batter in three batches. Use a large spatula, cutting into the center and then folding the batter over the meringue until just mixed.

Pour mixture into greased 9"X3 -inch round pan. Top with cream cheese and salted egg. Sprinkle with sugar.

Boil water for steaming. Put the pan in the steamer. Cover the steamer with a cloth covering the cover. Steam for 25 to 30 minutes or until the puto is cooked through. Remove and let cool until warm before serving. NOTE: Puto cake can be baked, too. Preheat oven to 300 degrees F (150 degrees C) and bake puto cake for 30 to 45 minutes or until top springs back when touched. BASICALLY BETTER is a recipe series that features a well-loved and familiar dish elevated with an added ingredient or an ingredient swap.