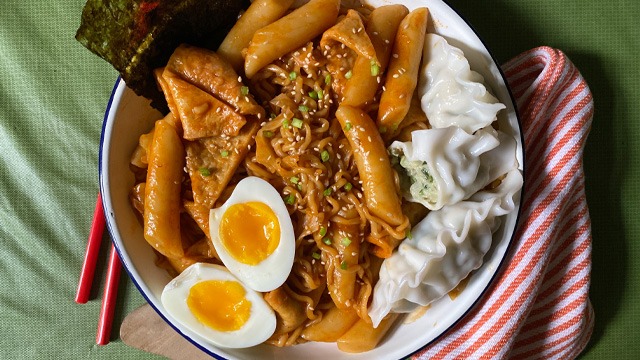 It may not be a dish that needs a recipe, but for those who are curious as to what goes into a delicious bowl of this loaded noodle dish, a recipe of how to make rabokki is exactly what is required. 
What is rabokki? 
A popular Korean street food item, a rabokki is actually a mishmash of two other popular Korean dishes: the tteok-bokki and the ramyun. A tteok-bokki is made of rice cakes or tteok that have been stir fried or bokki, hence "tteokbokki". The dish "tteokbokki" is a saucy dish made with a sweet and spicy gochujang or red pepper paste sauce with the rice cakes, eomuk or fish cake slices, egg, scallions, and garlic added. However, when it's mixed with ramyun or instant ramen, it becomes a new dish called rabokki. 
This too can be served just like the tteokbokki: as is or served with nori sheets, sesame seeds,  and a soft-boiled egg. To level it up even more, add an ajitsuke tamago or ramen egg. You can make these at home! Boil 4 large eggs for 6 minutes. Cool and peel. Then dunk it a mixture made of 1 tablespoon brown sugar, 1/4 cup soy sauce, 1 cup chicken stock,1 small red onion, and 1 smashed garlic. Refrigerate overnight or up to 3 days! You'll get a jelly yolk when you slice into it.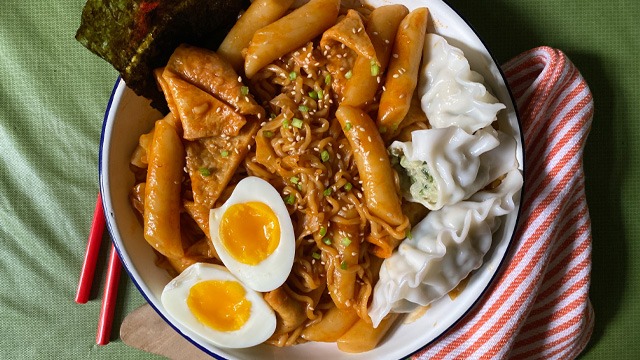 Rabokki Recipe
This Korean street food is a combination of two dishes.
Ingredients
200

Grams

tteok (Korean rice cakes)

about 18 pieces

150

Grams

eomuk (Korean fish cake)

about 3 sheets, sliced into triangles

1

Pack

instant ramen noodles

Korean version

200

Grams

cabbage

sliced

1

tablespoon

green onions

chopped

2

teaspoons

toasted sesame seeds

2

pieces

soft boiled eggs (add more if preferred)

halved

4

pieces

dumplings

korean mandu, optional

3

tablespoons

Korean red pepper paste (gochujang)

1

tablespoon

Soy Sauce

2

teaspoons

fish sauce (patis)

2

cloves

Garlic

minced

1

tablespoon

sugar

hot water

as needed
Instructions
Soak tteok or rice cakes in hot water for 10 minutes. Drain and set aside.

Soak fish cakes in hot water for 1 minute. Drain and set aside.

Make the sauce: Combine all ingredients in a bowl: gochujang, soy sauce, fish sauce, garlic, and sugar. Mix well.

Bring 3 cups water to a boil in a pot over medium heat. Add prepared sauce and mix well.

Add instant Korean noodles (discard packaged flavorings) and cook for 3 minutes. Add rice cakes, fish cakes, and cabbage. Simmer for 5 minutes.

Turn off the heat. Transfer rabokki to serving dishes. Sprinkle green onions and sesame seeds and top with eggs, dumplings, and nori sheets. Serve while hot.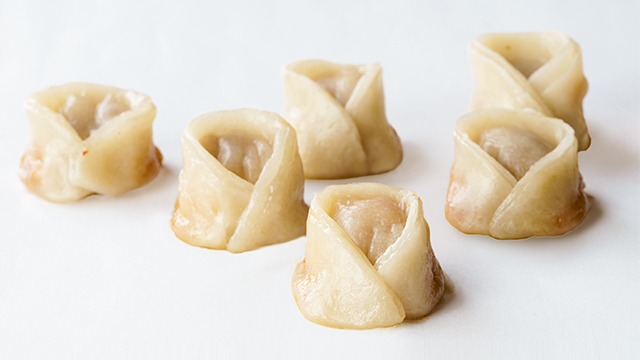 Meaty Dumplings (Korean Mandu) Recipe
Posted in:
Recipe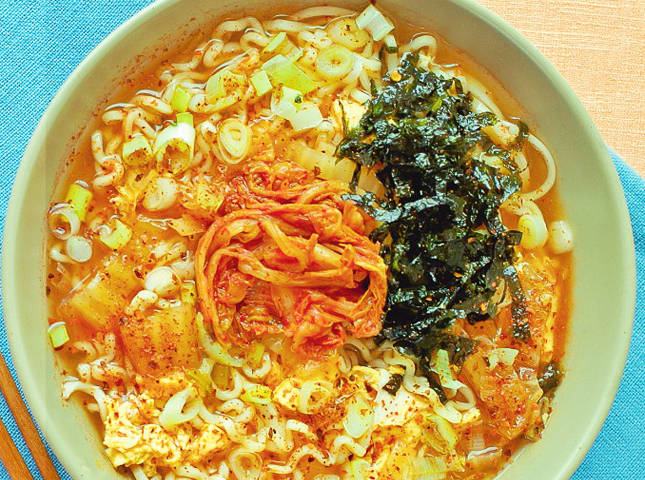 Kimchi Ramyun
Posted in:
Recipe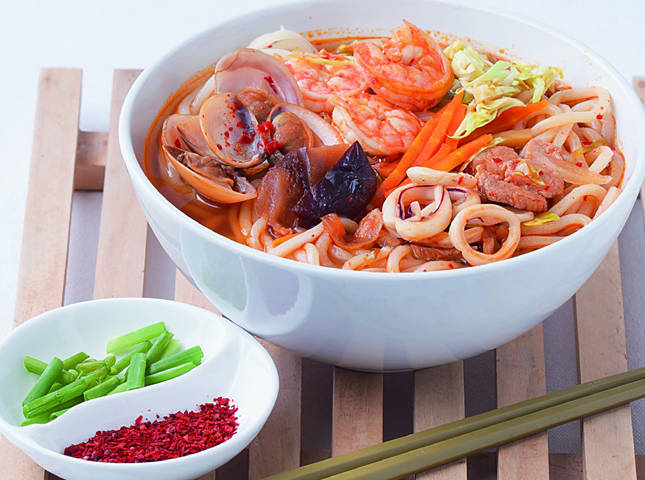 Jjambong (Korean seafood noodle soup)
Posted in:
Recipe