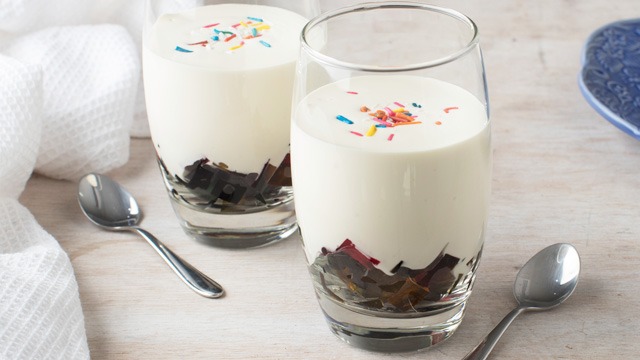 If you love cathedral windows, then this rainbow jelly mousse dessert recipe is the easy version that doesn't require you to wait very long. In fact, it's more like a coffee jelly mousse recipe. This rainbow jelly version is a fruity gulaman topped with a creamy whipped cream with a slight tang.
You will taste the tang when you get a spoonful and you'll taste the surprise ingredient: yogurt. You'll love how it's slight tanginess brightens the fruity flavors of the gulaman chunks. 
If you always worry about whether you can use all-purpose cream instead of whipping cream, you certainly can for this recipe. Just note that the whipping cream gives the mousse a lighter texture that we think will make you love it even more.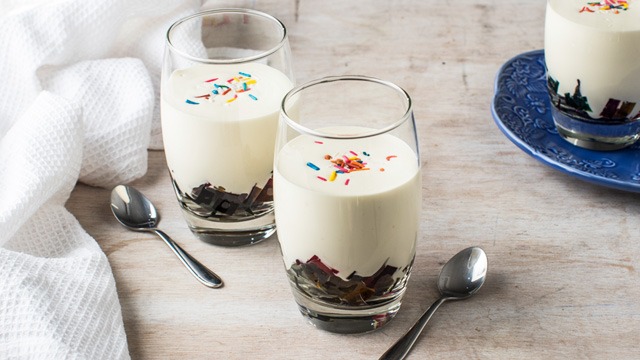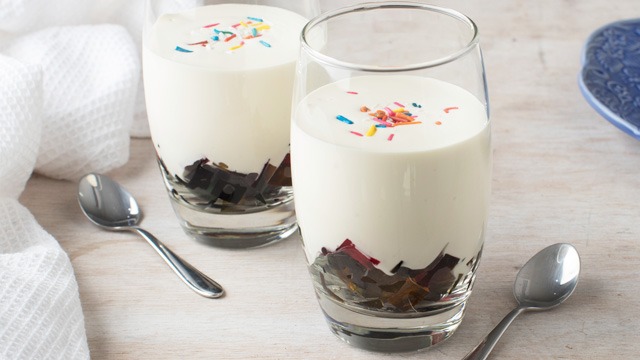 Rainbow Jelly Mousse Recipe
This is the easy cathedral window recipe that you don't need to wait to wait to set.
Ingredients
Rainbow Jelly Mousse Ingredients
1 1/2

teaspoons

gulaman powder

strawberry flavored

1 1/2

teaspoons

gulaman powder

mango flavored

1 1/2

teaspoons

gulaman powder

grape flavored

1 1/2

teaspoons

gulaman powder

orange flavored

1 1/2

teaspoons

gulaman powder

buko pandan flavored

2 1/2

cups

water

divided

5

teaspoons

sugar

or to taste, divided

1 1/2

cups

whipping cream

Chilled

1/2

Cup

Powdered SUgar

sifted

1/2

Cup

plain yogurt

rainbow sprinkles

for garnish
Instructions
In a small saucepan, mix strawberry gulman powder, 1/2 cup water, and 1 teaspoon sugar. Place over medium heat and bring to a boil, stirring. As soon as it comes to boil, let simmer for 10 seconds then remove from or turn off the heat. Immediately pour into a plastic container. Set aside to cool completely. Repeat process with remaining gulaman until you have differently flavored gulaman.

Meanwhile, in a large bowl, pour in cold whipping cream. Use an electric mixer with the whisk attachment to whisk the cold cream to soft peaks. Gently sprinkle in powdered sugar then whisk again until stiff peaks. (Alternatively, use a jar to whip cream.) Add yogurt and using a rubber or silicone spatula, gently fold in the yogurt into the sweetened whipped cream. Set aside in the refrigerator until ready to assemble.

When ready to assemble, using a small knife, slice the different flavored gulaman into small chunks or slivers. In a large bowl, combine the five flavors and gently toss to mix the flavors. Scoop the gulaman chunks by the tablespoon into glasses. Scoop the prepared whipped cream on top. Sprinkle with rainbow sprinkles. Serve immediately or chill until ready to serve.