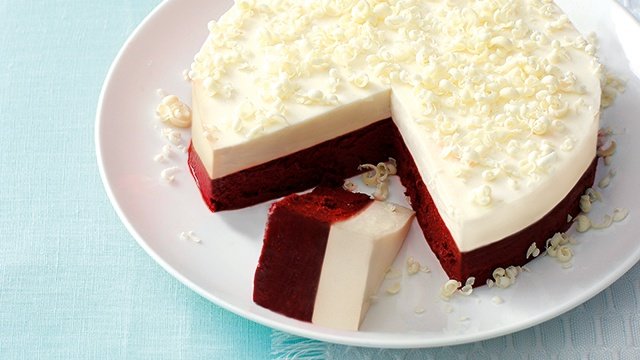 This cheesecake is a dessert combination of our dreams: one layer of soft red velvet cheesecake, and another layer of creamy, luscious plain cheesecake. It's a treat worth making for all your loved ones!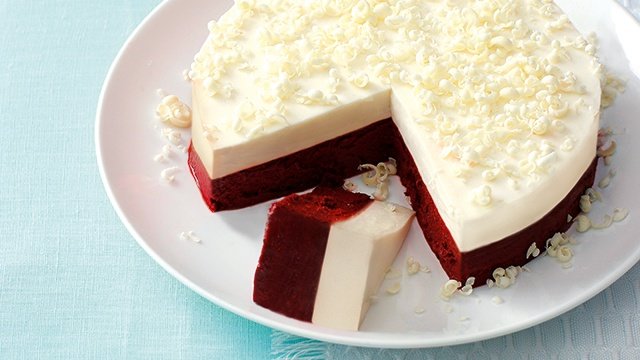 Red Velvet Cheesecake Recipe
This dessert is a combination of creamy plain cheesecake and chocolate red velvet cheesecake.
Ingredients
Red Velvet Cheesecake Ingredients
1

Cup

cream cheese

softened

1/2

Cup

sugar

3

tablespoons

Dutch-processed cocoa powder

2

tablespoons

red food coloring

liquid

2

large

egg yolks

1

large

Egg

1/2

Cup

whipping cream

1

teaspoon

vanilla extract

1

tablespoon

unflavored gelatin powder

3/4

Cup

cream cheese

3/4

Cup

plain yogurt

1/3

Cup

sugar

2

tablespoons

lemon juice

white chocolate

grated, to top
Instructions
Preheat oven to 300°F. Grease the bottom of a 7-inch round springform pan with shortening and line with parchment paper.

Make the first layer: In the bowl of an electric mixer fitted with the paddle attachment, combine cream cheese, sugar, cocoa powder, and red food coloring. Beat until sugar has dissolved. Add yolks one at a time, mixing well after each addition. Add whole egg and mix well. Add cream and vanilla. Mix on medium speed until light and fluffy, 3 to 5 minutes.

Pour batter into prepared pan. Place pan in a large, deep baking pan and pour in boiling water until halfway up the sides of the round pan. Place pans in the oven and bake for 1 hour. Remove pans from oven and let round pan cool on a wire rack. Cover with foil and refrigerate overnight.

Make the second layer: Dissolve gelatin in ¼ cup cold water; bloom for 2 minutes.

In the bowl of an electric mixer fitted with the paddle attachment, beat cream cheese until softened.

Heat gelatin in the microwave or in a small saucepan until melted. Cool for 2 minutes.

Add gelatin, yogurt, sugar, and lemon juice to cream cheese; mix until well incorporated.

Pour cream cheese mixture over the first layer in the round pan. Cover pan with foil and refrigerate for 3 to 4 hours before unmolding.

Top with grated white chocolate. Serve chilled.