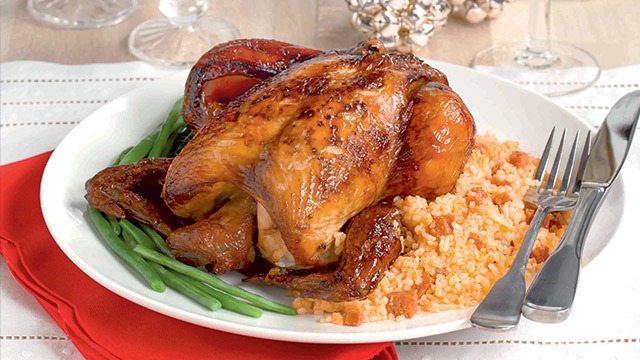 This roast chicken recipe has very tender meat that goes well with the flavorful chorizo rice. Serve this delicious chicken dish to your family for a sumptuous lunch meal that will surely enjoy by your love ones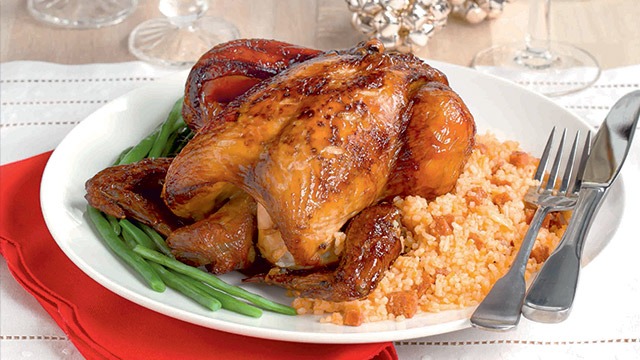 Roasted Spring Chicken with Chorizo Rice Stuffing
This roast chicken has very tender meat that goes well with the flavorful chorizo rice.
Ingredients
Roasted Spring Chicken with Chorizo Rice Stuffing
2

tablespoons

olive oil

1/4

Cup

Garlic

minced

150

Grams

Spanish chorizo

150 grams Spanish chorizo (el ray chorizo de bilbao, pamplona or chistorra), sliced into cubes

4

cups

white rice

cooled or cooked a day before

Pepper

2

whole

Chicken

use spring chicken

lemon juice

1/2

Cup

Butter

softned

Salt

green beans (sitaw)
Instructions
Make the chorizo rice: heat oil in a wok and sauté garlic until fragrant. Add chorizo and sauté until lightly browned and fat has been rendered. Lower heat and add rice. Toss until combined. Season to taste with salt and pepper. Transfer to a tray or bowl; let cool.

Preheat oven to 350°F. Wash chickens and pat dry with paper towels. Drizzle lemon juice all over the chickens, including the cavities.

Stuff chickens with chorizo rice. Close the opening by skewering the skin with a 3-inch barbecue stick and tying the legs with kitchen twine. Rub butter all over chickens, making sure to cover the skin and underneath. Season with salt and pepper.

Place chickens on a rack set on top of a baking pan. Cover loosely with foil. Bake for 30 to 40 minutes. Remove foil during the last 10 minutes of roasting to achieve a golden brown color. You can also roast the chicken in a turbo broiler set at 150°c. Transfer to a serving dish and serve with buttered green beans, if desired.