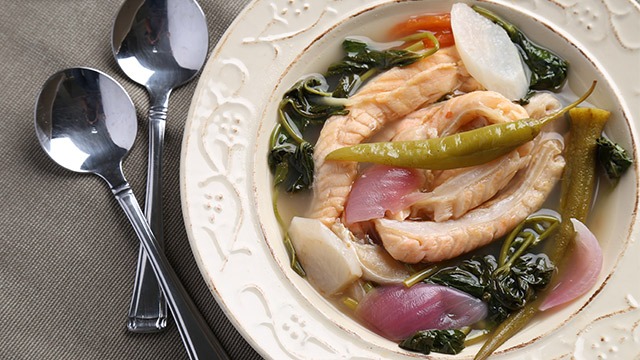 This seafood sinigang recipe is a must-try, especially if you love salmon. That's because this recipe takes your usual sinigang na hipon recipe and swaps out the shrimp for salmon. But that's not all that's different with this sinigang recipe. 
How do you make salmon belly sinigang? 
Since we're cooking salmon belly in a broth, the chances of the sinigang becoming too oily from the salmon are high. That's because the salmon is a naturally oily fish. It's loaded with Omega 3 fats and while that's a great quality, it can also leach into the soup, making it too fishy to sip. 
This is where the changes to your typical sinigang are made. To help combat the fishy flavor that may be overpowering in a typical salmon sinigang, some garlic and ginger are added to the soup to minimize this. It's the same thing you do when making any soup that has seafood.   
With this little tweak to this soupy recipe, this salmon belly simmered slowly in sinigang turns into soft, melt-in-your-mouth bites.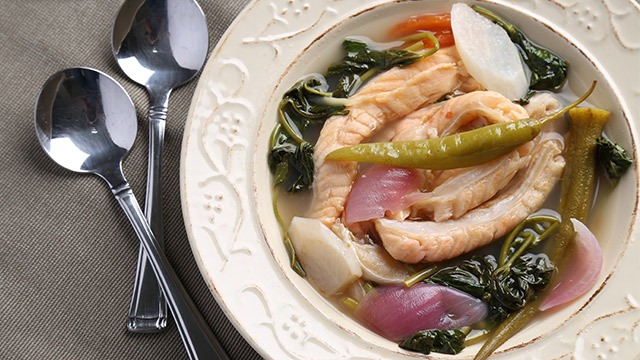 Salmon Belly Sinigang Recipe
Switch up your favorite sinigang recipe and throw in some soft salmon belly into the mix!
Ingredients
Salmon Belly Sinigang Ingredients
500

Grams

salmon

use belly

2

tablespoons

vegetable oil

1

tablespoon

Garlic

chopped

2

tablespoons

ginger

julienned

1/3

Cup

red onion

sliced into wedges

3

Small

tomatoes

sliced into wedges

2

tablespoons

fish sauce (patis)

1

liter

water

1/2

Cup

gabi (taro root)

peeled

2

pieces

finger chilies (siling pangsigang)

1

20-gram pack

sinigang mix

1/2

Cup

radish (labanos)

sliced

1

bunch

okra

trimmed

1

cip

string beans (sitaw)

sliced

1/2

Cup

eggplant

sliced

1

bunch

kangkong (water spinach) leaves

leaves only

Salt

to taste
Instructions
Heat oil in a pot over medium heat and sauté garlic, ginger, onions, tomatoes, and fish sauce.

Add water and gabi and allow to simmer for 6-8 minutes. Add green chilies and salmon belly. More water may be added, if necessary, then bring to a boil. Add sinigang mix and radish and mix well.

Bring back to a boil, then add okra, sitaw, and eggplant. Simmer further for about 3 minutes, and once salmon is cooked, add kangkong and cover the pot and let cook for another 1-2 minutes. Season to taste and serve while hot.