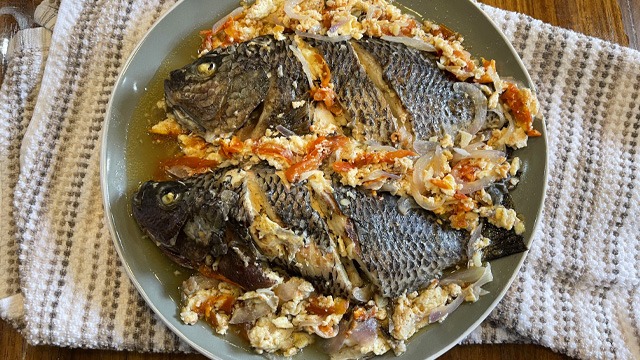 What Is 

Sarciadong Tilapia

?
Sarciadong tilapia is a fried fish dish that is stewed in a sauce made from the typical ginisa trio (garlic, onions, and tomatoes). It has a unique ingredient added that you might not see in other recipes: scrambled eggs. It's the scrambled eggs that make this fish recipe unique among the sarciadong recipe variations. 
How to Serve

Sarciadong Tilapia
This is ultimately an ulam recipe and thus, is best served with lots of steamed rice for everyday meals. 
If you're planning on serving this as a way to impress guests or for a party or buffet gathering, you should postpone pouring the sauce over the fried fish until the last minute. This way, the fried fish doesn't lose its crispness or become soggy before it's served. 
How To Cook

Sarciadong Tilapia
This fish recipe is an easy recipe that requires a sauce, so it is actually two recipes combined to make one delicious Filipino ulam recipe. 
To start, you need to prepare the fish. We use tilapia for this recipe since it's an easy and inexpensive fish to source almost anywhere in the country. This can be gutted and descaled at the palengke or supermarket by the fishmonger. Just remember to rinse the fish to remove any leftover scales that can still be stuck on the fish when prepared so quickly. 
Once rinsed, pat it dry with a kitchen towel or paper towels. You want your fish as dry as possible since these will be fried in hot oil, so this menial task will minimize the dreaded talsik or oil splatter. Fry these in hot oil and set aside. 
The sauce is a simple stir fried mixture of the classic trinity of Filipino cooking: garlic, onion, and tomatoes. Water and then beaten eggs are whisked into the trio mix to create a sauce. When mixed into the water,  you will create both fine egg strands as you whisk with a fork and egg chunks from the mixture you don't get to mix very well. 
Return the fish back to the pan so it can simmer slightly in the sauce to absorb some of its flavor into the fish. This is then ready to serve. 
Tips To Make Easy

Sarciadong Tilapia
1 Use small tilapia. 
This is a whole fish recipe and thus, the smaller the tilapia, the more likely it will fit your pan whole. No need to cut the fish in half just to fit into your pan so it can simmer in your sauce. 
2 Make egg-drop-like sauce. 
Want to really impress your family and friends when they dine at your home? Treat the sauce like egg drop soup, and you'll get super fine egg strands that will make your sauce more sophisticated.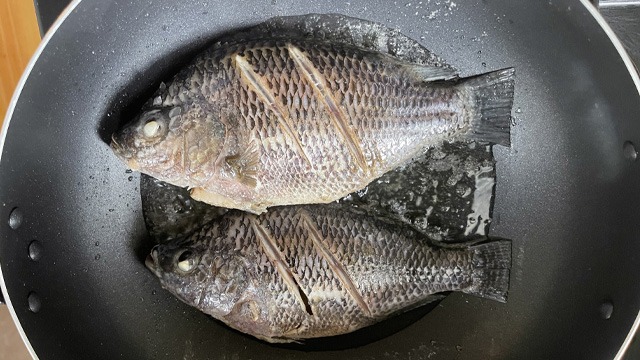 Sarciadong Tilapia

Storage Tips
1 Separate the fish from the sauce if storing in the refrigerator. 
Fried food is best stored without any sauce. This prevents the sauce from making your fried food soggy. If however you already added the sauce to the fish, it's still okay to store in the refrigerator as is in a container with a lid. 
ADVERTISEMENT - CONTINUE READING BELOW
Recommended Videos
2 You can freeze this ulam dish! 
Unlike some food, this is a dish that you can store in the freezer. However, this is also best done if the fish is separate from the sauce but you can also treat it just like you would if you were storing this in the refrigerator: sealed in a container with a lid.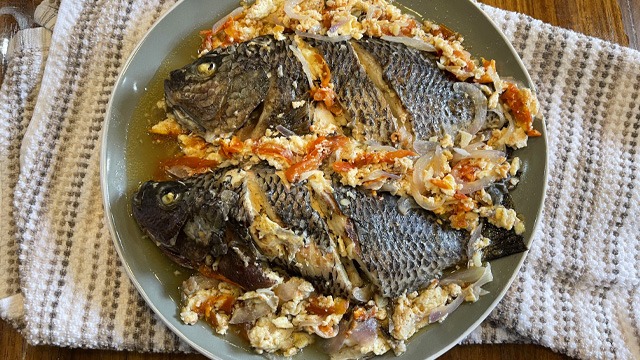 Sarciadong Tilapia Recipe
This easy fish recipe has scrambled eggs as part of the sauce!
Ingredients
2

medium

tilapia

cleaned and gutted

1

cup

cooking oil

5

pieces

garlic cloves

sliced

2

medium

red onions

sliced

2

medium

ripe tomatoes

sliced

2

medium

eggs

Salt

to taste

ground black pepper

to taste

1

cup

water
Instructions
Cut 2 slits on either side of the fish. Season with salt and pepper on both sides and inside the fish.

In a preheated pan with oil, fry the fish on both sides until golden brown, about 3 to 5 minutes on each side.

Once the fish is cooked, remove the fish and set aside. Remove enough oil from the pan to leave about 2 to 3 tablespoons for sautéing the rest of the ingredients.

Saute garlic and onions until fragrant. Add the tomatoes.

Beat the eggs in a separate bowl. Season with salt and pepper then add to the pan with the tomatoes and onions.

Once the eggs are cooked, add 1 cup of water and season with salt and pepper. Return the cooked fish to the pan. Let it simmer for 5 minutes.

Arrange the fish on a serving plate and spoon some of the egg mixture over the fish. Serve while hot.
Try These Other Yummy Recipes: