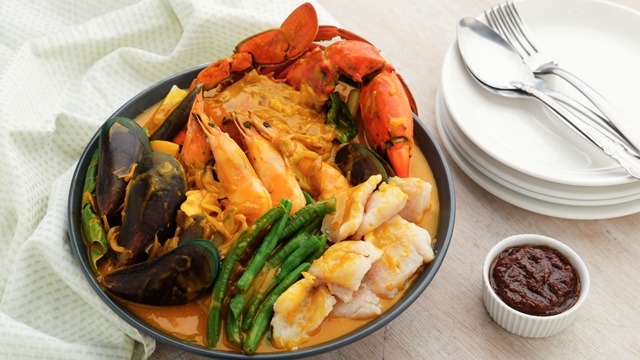 Kare-kare is the ultimate Filipino stew! It's hearty, thick, and amazingly enough, easy to make. What's fantastic about it that the savory and nutty kare-kare sauce can be used with almost anything, and so of course we're adding in seafood to make seafood kare-kare!
Learning how to cook seafood kare-kare allows you to celebrate the abundance that the Philippine islands can provide. Different kinds of seafood can be used in this recipe but crabs, prawns, fish, and tahong are just some of the different kinds of seafood you can add to this indulgent seafood kare-kare recipe.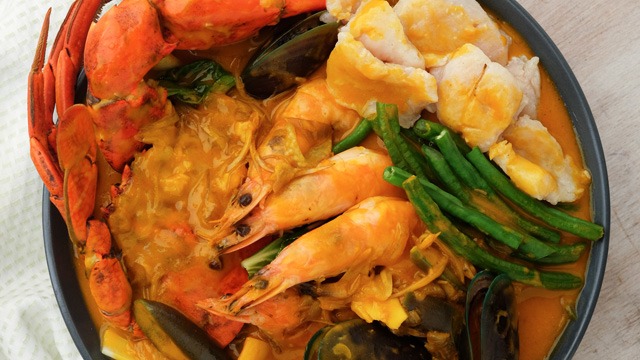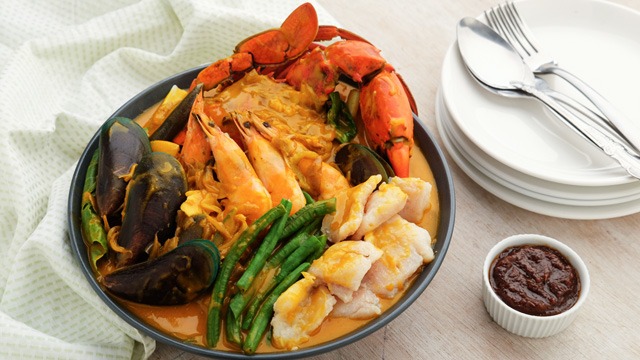 Seafood Kare-Kare Recipe
This creamy peanut sauce goes with anything!
Ingredients
Seafood Kare-Kare Ingredients
6

cups

water

2

pieces

mud crabs (alimango)

4

pieces

Prawns (Sugpo)

8

pieces

green mussels (tahong)

1

piece

cream dory fillet

2

tablespoons

cooking oil

1

tablespoon

atsuete seeds

1

medium

red onion

chopped

6

cloves

Garlic

crushed

1/4

Cup

peanut butter

sweet and creamy

1

tablespoon

cornstarch dissolved in 2 teaspoons water

1

bundle

sitaw (string beans)

1

piece

banana blossom (Puso ng saging)

sliced diagonally

1

medium

eggplant

sliced diagonally

1

bundle

pechay

Salt

to taste

ground black pepper

to taste

shrimp paste (bagoong)

to serve
Instructions
In a large pot with a steamer insert over medium heat, bring the water to a boil. Season with salt and pepper. Steam the seafood. Once cooked, cut the crabs in half. Slice the cream dory into big cubes. Set aside. Reserve the steaming liquid.

Meanwhile, heat oil in a large pot then saute the annato seeds for 2 minutes until the oil acquires a deep reddish-orange color. Strain out seeds. Saute onions and garlic until onions are translucent. Add water or steaming liquid.

Stir in peanut butter, salt, and pepper to taste. If using, mix cornstarch and water together then add to the pot to thicken. Stir and cook until thickened.

Add the string beans, banana heart, and eggplants, and simmer until these are half cooked. Add the steamed seafood except for cream dory. Simmer for 5 minutes.

Add the cream dory and pechay. Simmer for another 5 minutes. Serve with bagoong (shrimp paste) on the side.