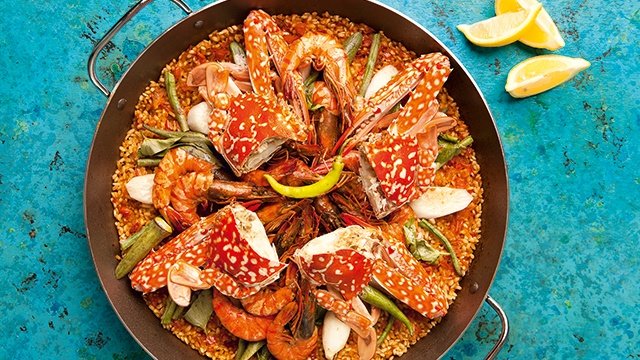 This seafood paella has everything you want in it: fresh seafood, lots of fluffy rice, nutritious vegetables, and a sour sinigang stock to tie everything together. Serve it on special occasions or Sunday lunches with the family!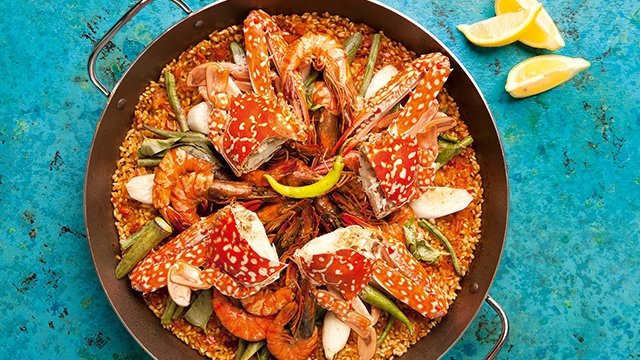 Seafood Sinigang Paella Recipe
This seafood paella is made with sour sinigang stock!
Ingredients
Seafood Sinigang Paella Ingredients
2

tablespoons

olive oil

prawns

heads only, crushed

1/2

Cup

tomato

sliced into wedges

1/4

Cup

red onion

cut into wedges

2

cloves

Garlic

crushed

2

20-gram packs

sinigang sa sampaloc mix

300 to 400

Grams

blue crabs (alimasag)

1

tablespoon

Fish sauce

1

siling pansigang

Salt

to taste

ground black pepper

to taste

1/3

Cup

radish

sliced

1/4

Cup

string beans

sliced

1/3

Cup

okra

sliced

1/2

Cup

kangkong leaves

1

green finger chili (siling pangsigang)

500

Grams

prawns

cleaned and trimmed, reserve heads of half the prawns

1/4

Cup

olive oil

2

tablespoons

red onions

chopped

1

tablespoon

Garlic

1

Cup

tomatoes

chopped

2

cups

paella rice
Instructions
Make the sinigang stock: Heat oil in a pot over medium-high heat. Sauté prawn heads, tomatoes, onions, garlic, and sinigang mix. Add 5 cups water; bring to a boil. Add crabs; cook for 10 minutes. Season with patis, finger chili, salt, and pepper. Remove crabs from pot and set crabs aside.

Blanch vegetables in sinigang stock for 2 minutes. Remove vegetables from pot and set aside.

Lightly season prawns with salt and pepper. Heat olive oil in a 16-inch paellera pan. Cook prawns for 1 to 2 minutes per side. Remove prawns and set aside.

In the same pan, sauté onions, garlic, and tomatoes until tomatoes have broken down into a paste, about 3 to 5 minutes. Add rice; stir until grains are well coated with oil. 

Add 3 cups sinigang stock. Spread rice evenly on pan. Bring to a slow boil then cover with foil. Lower heat and simmer until rice is al dente, about 18 to 20 minutes. Add more stock, ¼ cup at a time, if rice needs to cook longer. 

Arrange prawns and vegetables on top of rice, cover with foil, and cook for 2 minutes. For a toasted crust on the bottom of the pan, increase heat to high and cook for 30 seconds. Turn off heat. Place crabs on top.