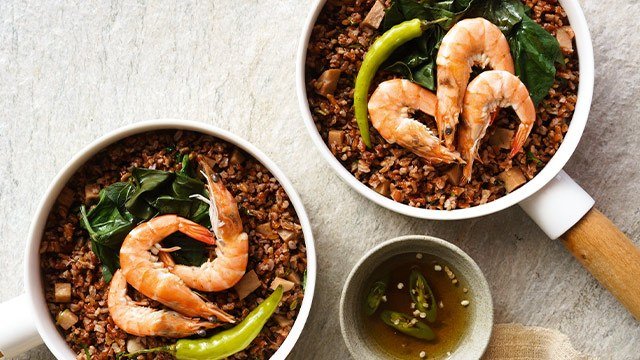 Here's a dish for sinigang lovers! Make sinigang rice with a simple cooking hack. Instead of cooking rice in water, boil it in tamarind stock to give it a distinct sour flavor.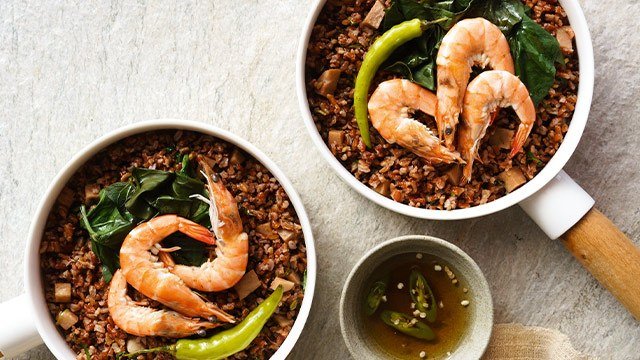 Shrimp Sinigang Rice Recipe
Have you tried cooking your rice in sinigang broth?
Ingredients
Shrimp Sinigang Rice Ingredients
650

Grams

Tamarind (Sampalok)

fresh, unripe, washed

fish sauce (patis)

150

Grams

Shrimp

medium, trimmed

2

tablespoons

Butter

1

medium

red onion

minced

2

cups

red rice

uncooked

1

Cup

taro (gabi)

peeled and diced

2

ripe

native tomatoes

diced

2

cups

kangkong leaves

sliced into thin strips; plus more leaves, blanced

1

green finger chili (siling pangsigang)

minced, plus more for garnish (optional)
Instructions
Make the tamarind stock: Boil tamarind in 4 cups water. Lower heat and simmer for 30 to 40 minutes. Strain using a sieve, pressing tamarind to extract juice, into a saucepan. Add 3½ cups water to tamarind juice. Season to taste with fish sauce. Bring to a simmer over medium heat. (You should have about 4½ cups stock.)

Poach shrimp in tamarind stock until cooked through, about 2 to 3 minutes. Set aside.

Make the pilaf: Melt butter in a saucepan. Sauté onions until translucent. Add red rice and stir to coat in butter.

Add tamarind stock, taro, and tomatoes. Simmer, covered, until rice is tender, about 40 minutes.

Add kangkong and chilies; toss to mix well.

Transfer rice to a serving platter or individual bowls. Top with shrimp, blanched kangkong leaves, and chilies.