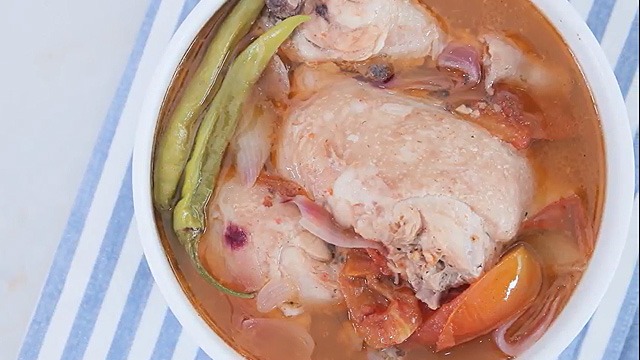 You may think that sinigang na manok is basically sinigang sa sampaloc with chicken but in reality, it can be made with other souring ingredients. Many people forget that "sinigang" is a method of cooking rather than the name of the dish. Its root word "sigang" basically means "to simmer in a liquid" whether it's broth or a sauce.
So, sinampalukang manok is actually more accurately named for a dish you know as sinigang na manok!
What Is Sinampalukang Manok with Fresh Sampaloc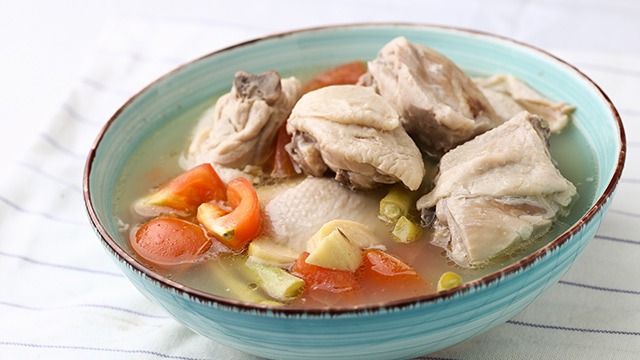 Sinampukang manok is a chicken soup with local vegetables flavored with sampaloc or tamarind. What makes this recipe different from a sinigang is very little other than the change of meat from the popular baboy to manok. This recipe also uses fresh sampaloc to give it a fresher tamarind taste than one that relies solely on the flavor from a mix.
This recipe also doesn't use kang kong or water spinach leaves! Instead, this is basically a boiled chicken in a super flavorful and sour soup.
How To Serve Sinampalukang Manok with Fresh Sampaloc
The best way to serve this is immediately and with lots of rice so both the soup and chicken can be scooped with it! Ladle the soup and vegetables into bowls and provide little saucers of patis, sili, and calamansi as desired.
How To Make Sinampalukang Manok with Fresh Sampaloc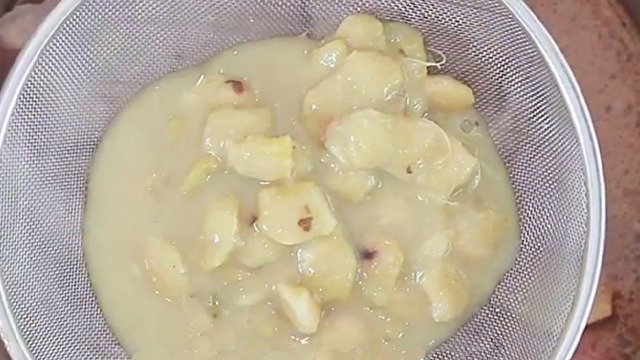 This version of the sour soup flavored with what we know as sampaloc starts with simmering the sampaloc until the pulp is tender. This is strained to remove the seeds and any other pieces from the sampaloc.
The aromatics (garlic onions, and ginger) are sautéed in oil and the chicken is seared a little in the hot oil. Broth or plain water is added to the pot along with tomatoes, and the sinigang mix to bolster the sampaloc taste. This is allowed to simmer until the chicken is cooked through.
ADVERTISEMENT - CONTINUE READING BELOW
Recommended Videos
Seasonings in the form of patis (fish sauce), ground pepper, green fingerling chili or siling pangsigang, and finally, the pulp from the fresh sampaloc are added. Once this is simmering again until heated through and tasty, it's ready to serve!
Tips To Make Delicious Sinampalukang Manok with Fresh Sampaloc
1 Use all fresh sampaloc.
It may prove to be more laborious than relying on a sachet of sinigang sa sampaloc mix but the resulting soup is incredibly different. The freshness of the sampaloc shines through with every sip and you'll finally understand why this soup became so special. You'll also understand why that  sachet is such a convenient (and precious!) kitchen ingredient for all things sour!
2 Sear the chicken!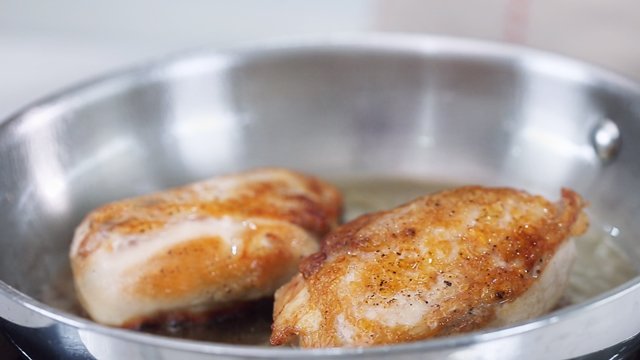 It's not always a requirement with chicken soup but searing the chicken really does deliver a taste that is different and more flavorful than merely boiling the meat in water. The browned bits of the chicken, known as the fond, make a more flavorful soup, one that has more depth and savoriness, than one without it.
To do this, simply sear the chicken in some oil before you start the recipe. You can release the fond from the bottom of the pot with the garlic, onions, and ginger you add to the pot. It can also dissolve in the broth you add to the pot later, so no matter what you do, you will get a more delicious and aromatic soup with every sip!
How To Store Sinampalukang Manok with Fresh Sampaloc
Most soups are best refrigerated or even frozen when it comes to storing but one aspect many forget to do is to simmer the soup a good five minutes prior to storing. Simmering the soup ensures that you kill off any bacteria that may cause your soup to turn bad before you realize it. It's much more difficult to tell when your soup tastes sour!
One way to tell if your soup has gone bad is to observe the top of the soup after thawing or even while simmering it again. If you notice bubbles on the surface of the soup or bubbles are created as it simmers, your soup has gone bad.
Watch: Sinampalukang Manok Recipe with Fresh Sampaloc
Sinampalukang Manok Recipe with Fresh Sampaloc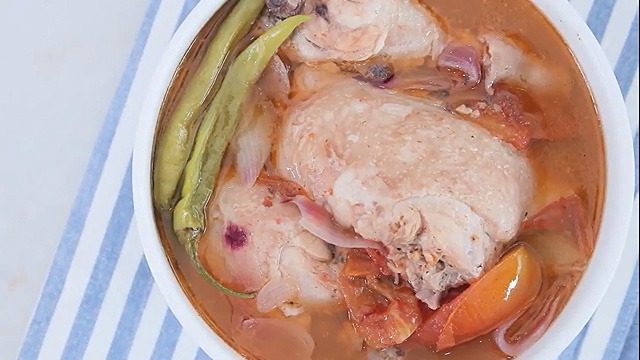 Sinampalukang Manok Recipe with Fresh Sampaloc
It's the fresh tamarind that makes this so good!
Ingredients
Sinampalukang Manok Ingredients with Fresh Sampaloc
2

tablespoons

cooking oil

2

cloves

Garlic

chopped

1

medium

red onion

sliced

1

1-inch piece

ginger

sliced

3

pieces

ripe tomatoes

sliced

1

kilo

whole chicken

cut into piecse

5

cups

water

1

22-gram pack

sinigang sa sampaloc mix

1

tablespoon

fish sauce (patis)

3

pieces

green chili fingers (siling pang-sigang)

250

Grams

fresh unripe tamarind (sampalok)

with skin on, boiled in 3 cups water

ground pepper

to taste

Salt

to taste
Instructions
In a pot over medium heat, boil sampaloc in 3 cups water and set aside.

In a separate pot over medium heat, heat oil. Saute garlic, onions, and ginger. Add tomatoes. Add chicken and cook, until juices run clear. Let it cook for 5 minutes.

Add water, fish sauce, sampaloc mix, and strained boiled sampaloc juice and pulp. Add green chilies and season with pepper and salt. Lower heat, cover, and simmer until chicken is cooked through. Serve warm.