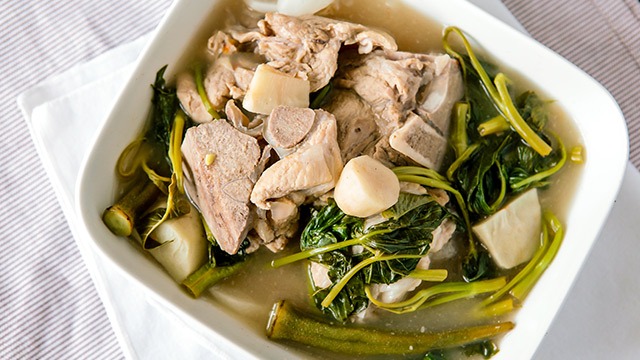 Sinigang, a Filipino pork stew, is the ultimate comfort dish! This easy-to-follow recipe can guide you through the cooking process if you are a first-timer. 
What makes this sinigang na baboy recipe so easy that even newbie cooks can make it?
It's a basic sinigang na baboy recipe. There's no need to make a simple dinner recipe more complicated. It has all the essential ingredients to make it delicious. 
Sinigang recipes don't even need sampaloc or tamarind to make it sour. There are quite a number of ingredients – kamias, tomatoes, and yes, green mangoes – that can lend its sourness to the broth, too, and make it lip-smackingly delicious. This makes it highly versatile when shopping. 
There are many ways to make a pork sinigang recipe delicious, but even we have to admit that this basic sinigang recipe will always be a well-loved version.
READ THESE: MORE SINIGANG RECIPES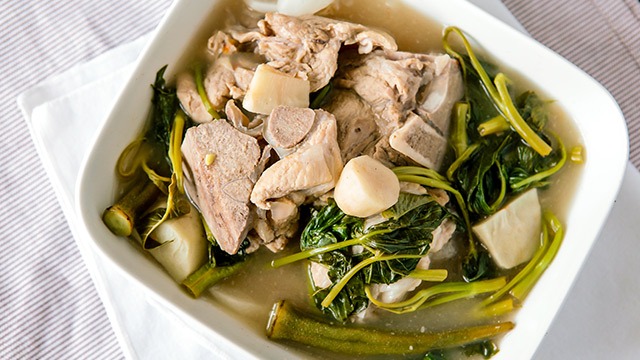 Sinigang na Baboy Recipe
Here's an easy-to-follow recipe for the ultimate favorite Filipino pork stew.
Ingredients
Sinigang na Baboy Ingredients
500

Grams

pork

sinigang cut (large chunks)

water

for boiling

1

medium

tomatoes

quartered

1

Small

onion

quartered

1

Cup

gabi (taro root)

cubed

3 to 4

tablespoons

Sinigang Na Gabi Mix

1

piece

green chili (siling tagalog)

1 to 2

tablespoons

fish sauce (patis)

1/2

Cup

green beans (sitaw)

sliced into 2-inch sticks

1/4

Cup

radish (labanos)

sliced

1/2

Cup

okra

2

cups

kangkong (water spinach) leaves

washed and trimmed

Salt

to taste
Instructions
Place pork, tomatoes, and onions in a pot with enough water to cover pork, bring to a boil then lower the heat to simmer for 1-1 ½ hours or until pork is tender. Skim top from time to time to get rid of impurities. More water may be added if necessary.

After 30 minutes of cooking pork, add the gabi cubes. Once pork is tender, add sinigang mix, and green sili and simmer for 5 minutes. Add the sitaw, radish and okra then simmer for another 5 minutes.

Season to taste with patis then add the kangkong leaves and simmer for 2-3 minutes. Adjust seasoning according to your taste. Serve while hot. READ THESE: MORE SINIGANG RECIPES Sinigang Na Baboy Sa Gabi Recipe Sinigang Na Baboy Sa Miso Recipe