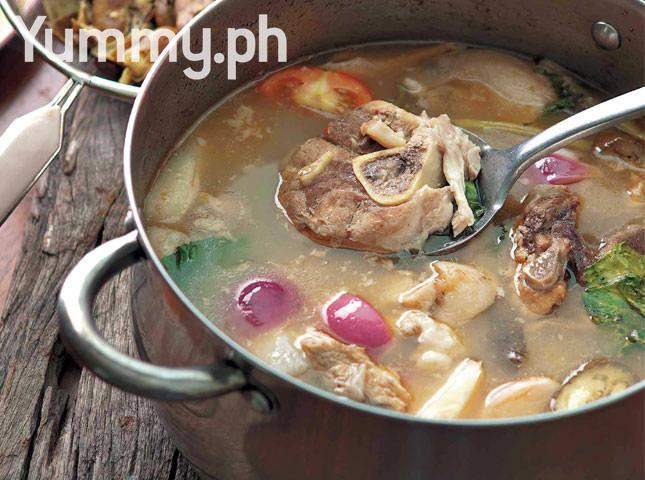 Using fresh unripe sampalok would require more work, but it's definitely worth the effort as it lends a deep sour deliciousness to this dish that instant sinigang packets cannot give. At the table, provide individual bowls for each person so they can have their own serving and slurp the sour broth as they please. Make this Sinigang na baboy sa sampalok recipe in three easy steps!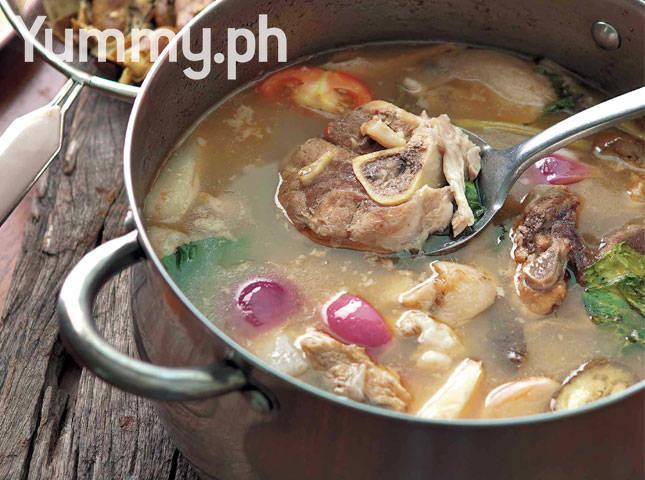 Sinigang na Baboy sa Sampalok
Using sampalok lends a deep sour deliciousness to this dish that instant sinigang packets can't give.
Ingredients
Sinigang na Baboy sa Sampalok
8 to 10

cups

water

1

large

red onion

quartered

4

medium

tomatoes

halved

4

tablespoons

fish sauce (patis)

1

kilo

Pork Leg

sliced

4

pieces

taro (gabi)

peeled and quartered

3

cupsugar

Tamarind (Sampalok)

2

pieces

radish (labanos)

peeled and sliced

1

bunch

string beans (sitaw)

cut into 1-inch long pieces

6 to 8

pieces

okra

2

eggplant

sliced

1

bunch

kangkong (water spinach) leaves

tender stems pinched off

4 to 5

slices

green chili (siling tagalog)
Instructions
In a large pot, pour water. Add red onion, tomatoes, and fish sauce. Add pork. Before it reaches boiling point, spoon out impurities and dark brown foam and discard. Boil pork for 25 minutes. Lower heat and simmer for another 15 minutes or until meat is tender.

Add taro or gabi and cook for 5 minutes or until tender. Add tamarind and cook for about 5 minutes. Scoop out tamarind. Transfer to a bowl and mash. Strain juice and pulp through a stainless steel strainer and add to the broth.

Add the vegetables: Put radish and string beans or sitaw and cook for a few minutes. Then add okra, eggplants, water spinach, and green chili. Simmer for 5 minutes more. Meaty tip: For this recipe, we used pre-cut leg (pata) slices. But you can also use belly (liempo), country-style pork, or spareribs.