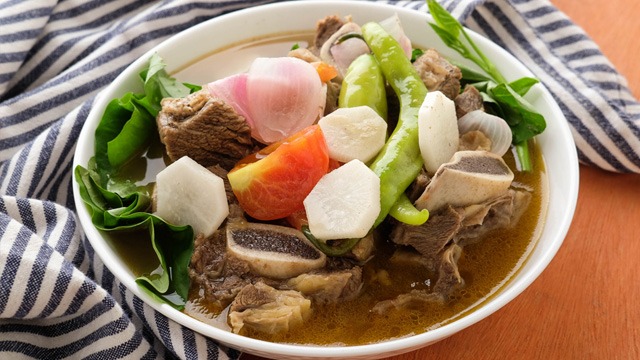 When you think Filipino food, sinigang and nilaga are just two classics one can think of. So, can you just imagine if the two were put together into one delicious dish? That's what you get when you cook sinigang na baka or beef sinigang. 
All the delicious flavors you would get in sinigang – the sourness of sampaloc, the fresh okra, kangkong, labanos, and tomatoes – is added to the heartiness of tender beef rib chunks that you'd normally get in a nilaga recipe. 
This recipe the Filipino ulam mashup you're going to want to slurp and eat with a heaping bowl of freshly steamed rice!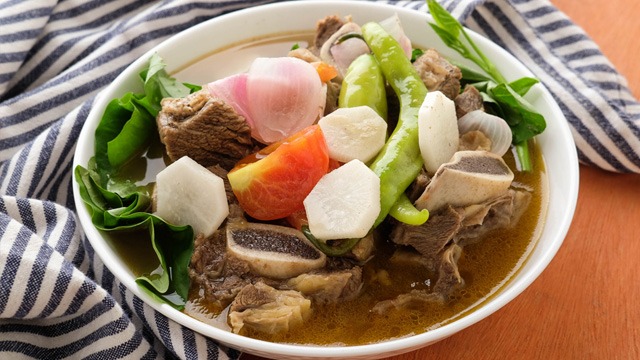 Sinigang na Baka Recipe
Use beef in sinigang, and you get the best of sinigang and nilaga in one delicious dish!
Ingredients
Sinigang na Baka Ingredients
10

cups

water

1

kilogram

beef short ribs

3-inches long each

1

medium

red onion

quartered

2

medium

tomatoes

chopped

1

40-gram sachet

sinigang mix

1

tablespoon

Fish sauce

1/2

Cup

radish (labanos)

thinly sliced

2

pieces

green chilies (siling pangsigang)

Salt

to taste

ground black pepper

to taste

1

bunch

kangkong leaves
Instructions
Place water and beef in a large pot, bring water to a boil. Add onion and simmer for 1 hour. Make sure to skim off the impurities of the meat.

Add tomatoes, and simmer for another 30 minutes or until meat is tender.

Add the sinigang mix, fish sauce, radish, and green chilies. Let simmer until radish is cooked through. Season with salt and pepper. Remove from heat.

Add in the kangkong leaves, cover with a lid, and let cook for another 1 to 2 minutes. Serve hot.