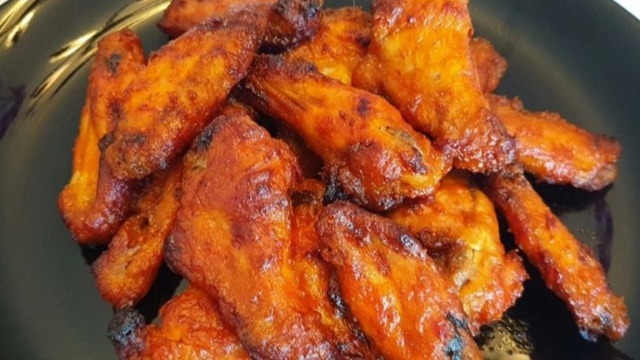 Frying wings is messy, so baking the chicken is easier. To make sure this can be served in time for lunch, give yourself plenty of time! Depending on the size of the wings, this needs around 50 to 60 minutes in the oven before you put the sauce. Once wings become crispy, they get tossed in the buffalo seasoning and go back into the oven, under the broiler, until caramelized.
Here are the 3 unique and secret steps that make this recipe different from other recipes:
1. Sauce – What is in buffalo sauce? In other recipes, it is a simple mixture of melted butter and hot sauce. Any brand of hot sauce is fine, but in this recipe, we use Sriracha hot chili sauce and we will add a touch of honey, too.
2. Crispiness – The key to perfect crispness is putting the wings on a wire rack on top of a rimmed baking sheet. The rack allows air to circulate underneath the wings and allows for even cooking.
3. Baking Powder (secret ingredient) – Adding baking powder draws moisture to the surface of the chicken skin and helps it become crispy. You won't even taste the baking powder at all!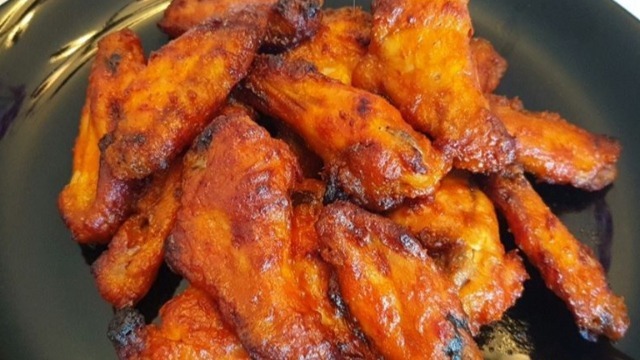 Sizzling Hot Buffalo Wings Recipe
It's a buffalo wings recipe unlike any other!
Ingredients
Sizzling Hot Buffalo Wings Ingredients
1

kilogram

chicken wings

2

tablespoons

vegetable oil

a pinch of

Salt

to taste

Pepper

to taste

2

tablespoons

baking powder

1/2

Cup

sriracha chili sauce

4

tablespoons

salted butter

2

tablespoons

honey
Instructions
Lay the wings on a rack on a rimmed baking tray and let them dry, uncovered, in the refrigerator overnight. (This will make the skin drier).

Pat the chicken wings dry using a paper towel. (Make sure that the skin is not wet anymore.) 

In a bowl, toss chicken wings with oil and season with garlic powder, salt, pepper, and baking powder.

Preheat oven to 400 degrees F (205 degrees C) and place a wire rack on a baking sheet.

Transfer chicken wings to prepared baking sheet.

Bake it for 20 minutes, flip the wings, and put it back in the oven for another 20 minutes or until chicken is golden and skin is crispy. (You need to check it from time to time, because cooking time also depends on the size of the chicken wings you are using.) 

While waiting for wings to bake, in a small saucepan, whisk together Sriracha hot sauce and honey. Bring to simmer then stir in butter. Cook until butter is melted and the mixture has thickened, about 3 minutes.

Reduce heat of broiler to Low. Transfer baked wings to a bowl and toss with buffalo sauce until completely coated.

Return wings to rack and broil. Watch it carefully, around 3 minutes, until the sauce caramelizes. Serve with ranch dressing and vegetables.