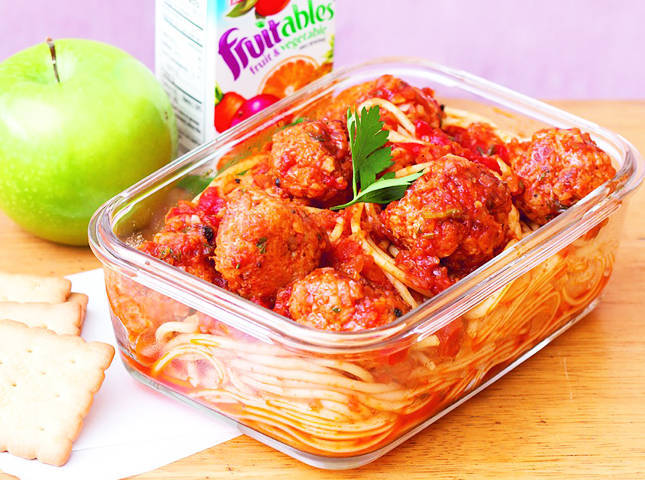 To make sure the spaghetti doesn't get soggy by lunchtime, pack the pasta and sauce in different containers. Prepare this recipe of Spaghetti with Carrot Meatballs in 3-easy-steps. Try it!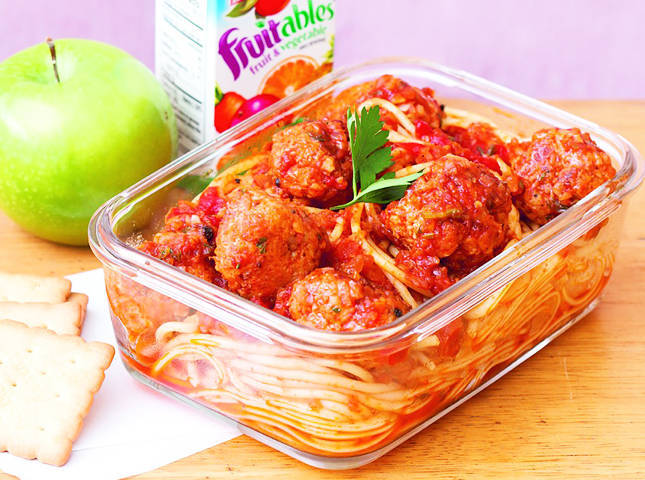 Spaghetti with Carrot Meatballs
Here's an easy way to add veggies to your favorite spaghetti dish!
Ingredients
Spaghetti with Carrot Meatballs
1//2

kilo

pork

use ground pork

1/2

kilo

carrot

shredded

1/4

Cup

all-purpose flour

plus more for dusting

2

teaspoons

Salt

2

teaspoons

black pepper

canola oil

1

tablespoon

olive oil

1/4

Cup

onion

1

tablespoon

Garlic

250

Grams

canned tomatoes

1

tablespoon

sugar

Pepper

1/4

Cup

parsley sprigs

chopped

200

Grams

spaghetti noodles

cooked according to package directions
Instructions
Make the meatballs: Mix together ground pork, carrot, all-purpose flour, salt, and black pepper in a bowl. Take a small amount of the mixture and form it into a ball. Dust with a little flour, then set aside on a baking sheet or tray. Repeat with remaining ingredients. Refrigerate meatballs for 10 minutes to let them set before frying.

Heat oil in a shallow pan. Pan-fry meatballs until golden brown on all sides. Drain on paper towels. Set aside.

In a separate pan, make the sauce. Heat olive oil; sauté onions and garlic until translucent.

Add canned tomatoes and sugar. Season with salt and pepper. Let the sauce simmer for about 2 minutes. Taste and adjust sweetness, if needed.

Add meatballs to the sauce and simmer for about 10 minutes. Sprinkle with chopped parsley. Toss in cooked spaghetti and mix well. Serve warm.