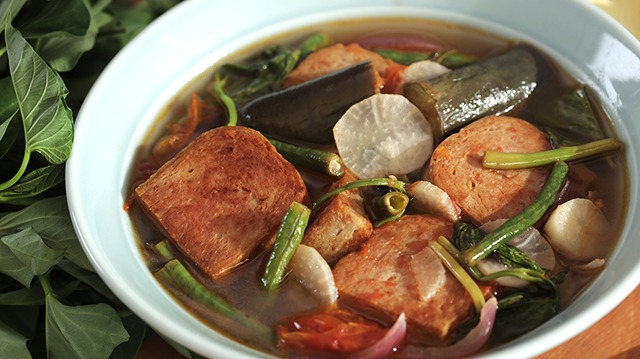 Yes! You can make sinigang anytime even if there's no meat in your freezer! All you need is SPAM in your pantry and you're good to go! Can't believe it? You have to try it!
What Is SPAM Sinigang? 
Sinigang is known as a soup or stew chockful of vegetables and meat in a sampaloc- or tamarind-infused soup. The sampaloc is one of the most commonly used souring agents for sinigang but despite this, making the broth from scratch is a time-invested activity.
Here's where the ingenious sinigang mix comes in to save every cook and delight every sinigang lover. The powerfully infused powder is intense in its sampaloc flavor and makes making sinigang sa sampaloc super easy. Just open the packet, dump into water, and simmer until dissolved and delicious!
The meat can be any kind of meat, and arguably the most popular variant is pork sinigang or sinigang na baboy. However, with the high price of pork plus the time necessary to tenderize the meat, budget and time constraints can limit how often you can make this favorite Filipno ulam recipe.
SPAM is ready-to-eat luncheon meat straight from the can, and the good news is that it's super tasty! Imagine the super tasty (read: salty) SPAM slices and steaming rice, and we're sure you are salivating just at that thought! Now envision it with sinigang soup and you get the idea behind this brilliant recipe.
How To Serve SPAM Sinigang
Just like any sinigang, this SPAM sinigang is excellent with steamed rice so the rice can soak up the sour soup. Have a small bowl near you so you can not only double dip to sip the soup with your spoon but also hold enough of the veggies to complete your meal.
How To Cook SPAM Sinigang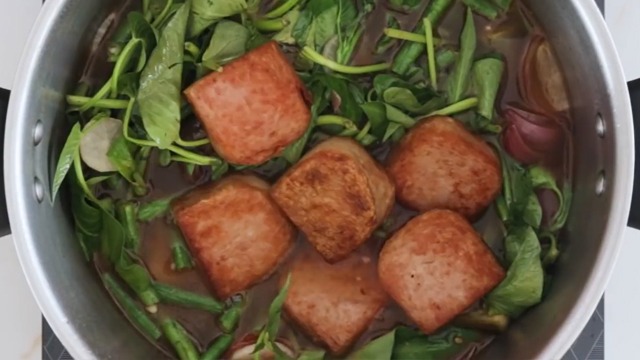 SPAM may be ready to eat but many of us love browning it in the pan. We suggest you do exactly that so the SPAM cubes become extra flavorful before you add it to the soup pot.
The soup is easier than normal since there is no meat you need to cook in it. Simply dissolve a packet (or use two!) of sinigang mix in water, bring it to a simmer, then add the veggies to cook. Once the veggies are tender, add the SPAM so it can infuse the soup with its tasty meaty flavors and heat up as well. It should be ready to go as soon as the kang kong leaves are wilted just enough to be tender.
This SPAM sinigang is the not only way to use SPAM and sinigang sa sampaloc mix! You can use the mix to season the rice or the SPAM itself to create a delicious paella-like meal or chicken nugget meal with a punch of tamarind.
ADVERTISEMENT - CONTINUE READING BELOW
Recommended Videos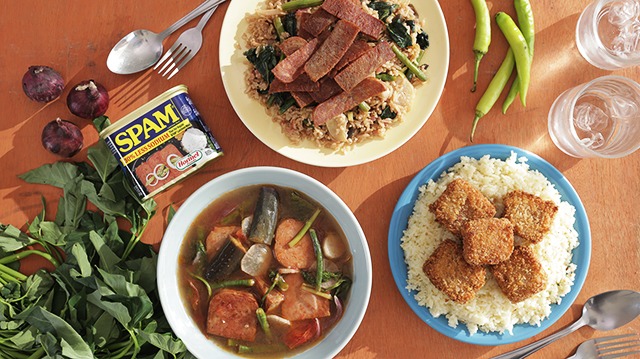 Tips To Make The Tastiest SPAM Sinigang
1 Use more sinigang mix.
Some of us love the tangy sampaloc flavor that only a sinigang pack can deliver and this is one good reason to use more than one packet in your sinigang! While one pack of sinigang mix is normally pretty tamarind-forward tasting already, we see no reason to add another half pack (or the entire pack!) to make the sabaw even more delicious and appetizing for those who love that kinilig feeling after sipping the sour soup.
2 Add more SPAM.
We only use two cans of SPAM in this recipe and this assumes that you'll be satisfied with about two  slices of salty SPAM. If you're not and there is still some sinigang soup left, feel free to add add more SPAM slices in the soup so you can get the most out of your sinigang!
How To Store SPAM Sinigang
Sinigang keeps well, but since it usually has a lot of vegetables, it's best to refrigerate it right away to prevent the vegetables from spoiling too fast and making the broth go bad. Simply let the sinigang cool to room temperature and refrigerate, and it will be good to eat for up to four days.
Watch: SPAM Sinigang Recipe
SPAM Sinigang Recipe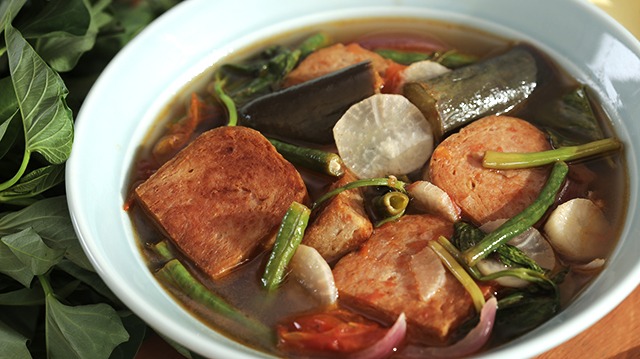 SPAM Sinigang Recipe
This is your sinigang made extra meaty and tasty!!
Ingredients
SPAM Sinigang Ingredients
3

tablespoons

canola oil

for frying

2

340-gram cans

Spam

low sodium, cut into 8 large cubes

1

40-gram pack

sinigang sa sampaloc mix

1

Small

red onion

quartered

1

Small

radish (labanos)

peeled, cut into rounds

2

medium

native tomatoes

quartered

3

cups

water

or as needed

2

medium

talong (eggplant)

halved, cut into 3-inch lengths

1/2

bundle

long beans (sitaw)

cut into 2-inch lengths

1

bunch

kangkong (water spinach)

tender stalks and leaves only
Instructions
In a medium pot over medium heat, heat oil. Add SPAM cubes and fry until lightly browned on all sides. Remove SPAM from the heat and set aside.

Place sinigang mix, onions, labanos, tomatoes, and enough water in the pot to just cover the vegetables. Bring to a boil, lower heat to a simmer, then cook until labanos is tender, about 10 minutes.

When labanos is tender, add talong, sitaw, and tender stems of kang kong. Cook until tender. Return SPAM cubes back into the pot. Bring back to a simmer or until SPAM is heated through about 1 minute.

When ready to serve, stir in kang kong leaves and let cook until just wilted. Remove pot from the heat, and serve hot with steamed white rice.