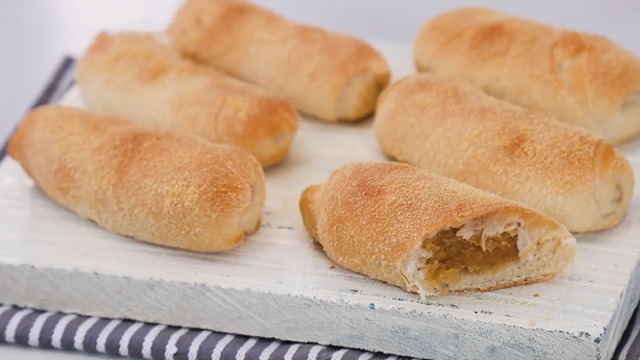 What Is Spanish Bread?
Spanish bread is a Filipino yeasted bread filled with a lightly sweet mix of butter and sugar. The bread is shaped into logs and rolled in bread crumbs, then baked until fluffy and golden brown.
How to Serve Spanish Bread
Bread in the morning is a classic way to enjoy it the best. That's because it's usually freshly baked! Here are delicious ways to enjoy this bread in the morning and at any other time of the day:
Pair it with any hot beverage: Coffee will commonly be the best pairing for Spanish bread but so is hot chocolate and tea! While you may not want to dunk your bread into your chosen beverage, we do think it does something incredible when you do. 
Spread on the butter: This bread has a filling so you may not think of spreading on some butter but while it's still hot, we suggest you do it anyway. Melted butter with the filling is akin to spreading jam on top of your buttered toast, and the resulting bite is delicious.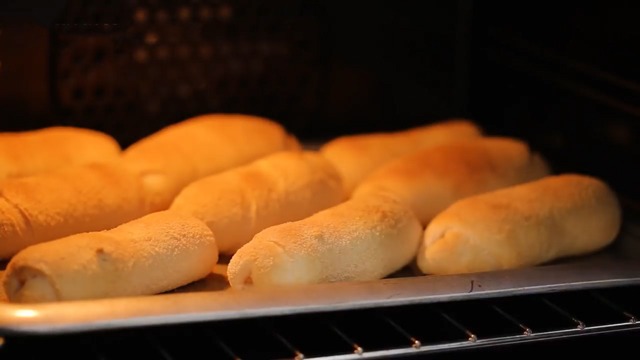 How To Make Spanish Bread
Many bread recipes have a long list of steps, and this is normal. Bread not only takes effort to make but also time.  (You might need a review of some bread-baking tips to help  you through this recipe if you haven't baked bread in a while.) However, this particular bread has even more than the usual since it has a  filling that you need to create, too. 
You can start off by making the dough instead of the filling because there are a number of times when you need to set the dough aside to proof. Since the filling takes minutes to create and only requires mixing, it can be done during one of these times so you avoid any idle time.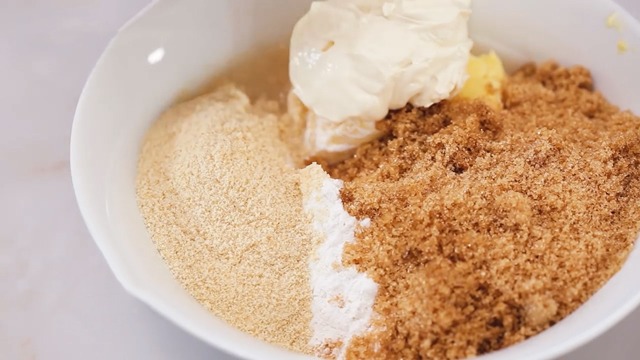 Mix the dough ingredients together to create a rough dough, and then knead it on your kitchen counter. Feel free to do all this in a stand mixer which takes on the heavy-duty work of mixing and kneading easily.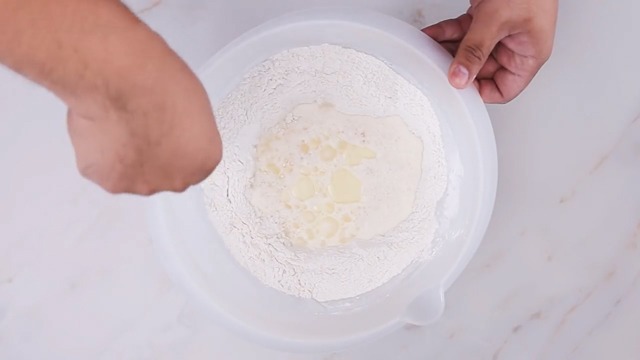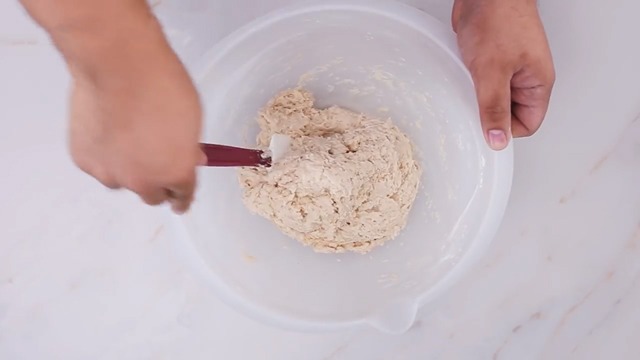 Once you have done the dough window test to ensure you have a well-kneaded dough, you should let this rest to do its first proof. This is when you mix the filling ingredients together if you haven't yet already. The next couple of steps need the filing prepared and ready.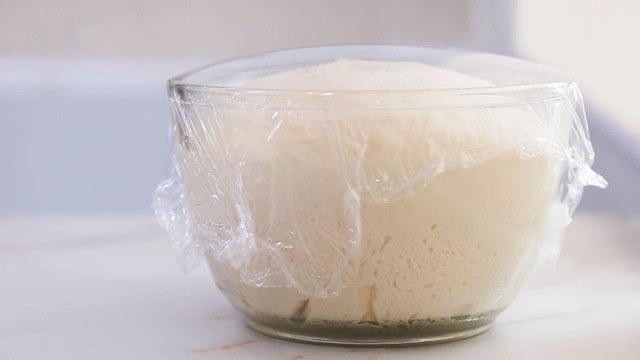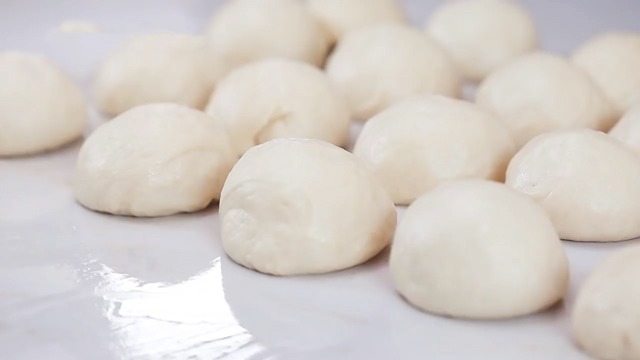 The dough once proofed should be portioned and formed into balls. You'll then roll these dough balls out and fill them with the prepared filling. Pinch and tuck all loose ends to seal the filling well in their little rolls before tossing them into some dry breadcrumbs. The breadcrumbs will not only make these easy to move around but adds to the authentic look of these panaderya tinapay offerings. 
ADVERTISEMENT - CONTINUE READING BELOW
Recommended Videos
These are then set aside to proof again for its last rise before being baked in a preheated oven. These are ready to pull out of the oven when puffed and golden brown on the outside.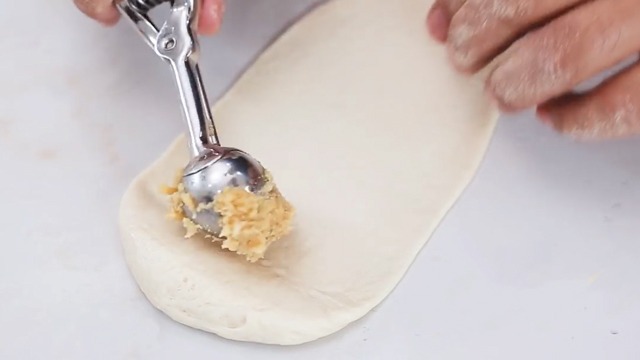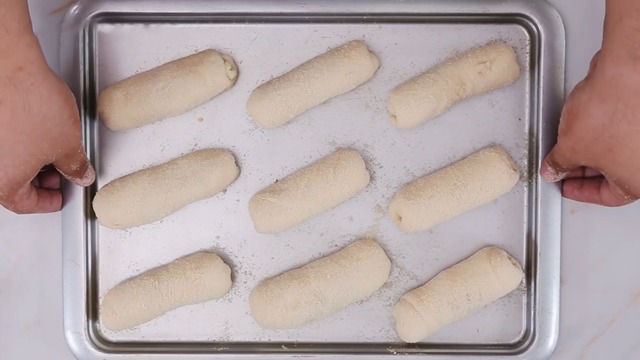 Tips To Make Easy Spanish Bread
1 Always test your yeast.
The biggest mistake any baker does is not test their active ingredients before using. This normally means checking the baking powder, baking soda, and for most bread recipes, the yeast.
Whether you are using active dry yeast, instant yeast, or fresh yeast, you need to know that the yeast is still alive to use before using it in any recipe. 
2 Follow visual cues. 
Not all flour are the same, especially if you swapped out bread flour for all-purpose flour. So, if your dough needs more kneading because it's still sticky, you need to notice what the dough you're kneading is telling you, not the recipe instructions. 
3 Just knead it. 
Sticky dough doesn't always mean you need to add more flour. A sticky dough is also an indicator that you need to knead the dough even more because it hasn't reached that point that it can be window pan tested. 
4 Don't over-proof your dough. 
You can shorten the proofing time as stated in the recipe, especially if you have a very warm kitchen, but don't let time pass it by! This is because there is such a thing as over-proofing your dough.
Over proofing means the bubbles your yeast have created have already popped. You can tell the dough has over proofed when you poke the risen dough and it doesn't spring back. To remedy this, you can knead, shape, and proof the dough again.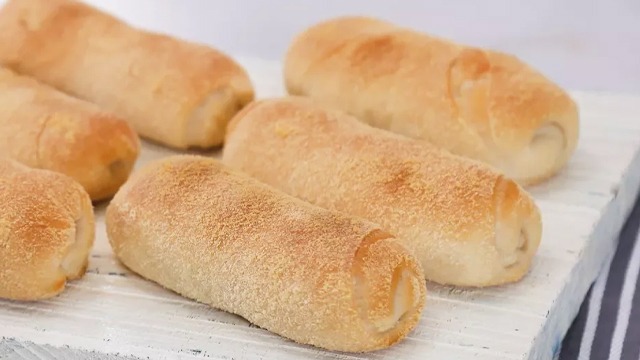 Spanish Bread Storage Tips
1 Bread can be refrigerated. 
Bread are best eaten with a few days and these are especially fantastic as soon as baked. 
Store bread on your kitchen counter or in a bread box, but if you need a longer storage time, keep them, wrapped tightly in plastic wrap, in the refrigerator for a few days or up to a week. 
Just note that refrigerating bread can make these become stale faster since moisture is lost. 
2 Bread can also be frozen. 
Do you need even more time to store your bread? Then the freezer is your friend. Wrap your bread in plastic wrap and store in the freezer.
3 Consume immediately after thawing. 
Whether refrigerated or frozen, thaw the bread as needed when ready to reheat and be ready to consume these within the day. These will be more stale than when it was placed in storage and are best eaten immediately. 
Watch: How to Make Spanish Bread Recipe Video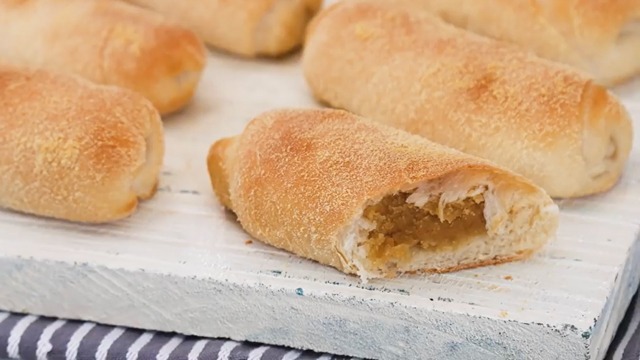 Filipino Spanish Bread Recipe
Sweet filling, fluffy bread, and a crisp outer crust? Delicious!
Ingredients
To make the dough:

4

cups

all-purpose flour

1 1/2

cups

full cream milk

2

teaspoons

instant yeast

1

teaspoon

salt

2/3

cup

light brown sugar

4

tablespoons

canola oil

To make the Spanish bread filling:

2/3

cup

all-purpose flour

¼

cup

breadcrumbs

1/3

cup

unsalted butter

softened

2/3

cup

light brown sugar

3

tablespoons

all-purpose cream

2

tablespoons

water

For the coating:

2

cups

dry breadcrumbs
Instructions
Make the filling: Combine the flour, bread crumbs, butter, light brown sugar, all-purpose cream, and water in a medium-sized bowl. Cover with cling wrap and refrigerate until needed.

Make the dough: In a clean bowl, combine all the dry ingredients and make a well in the center. Add the milk and canola oil and slowly mix together until all the ingredients are incorporated.

Once everything comes together, transfer only a lightly floured surface and knead for 10 minutes or until the dough is smooth and shiny. Alternatively, mix a low speed in a stand mixer fitted with the dough hook attachment until the dough is smooth and shiny.

Place the dough in a lightly oiled bowl and cover with a kitchen towel or cling wrap and let rise in a warm spot for 60 minutes or until the dough has doubled in size.

Once the dough has sufficiently risen, punch out the air and divide the dough into 20 equal pieces. Shape each piece into a round ball. Cover the dough with a damp towel and let rest for 15 minutes.

To shape the Spanish bread: take one piece and gently stretch the dough lengthwise and place on a lightly oiled surface.

Take a lightly oiled rolling pin and flatten the lower half of the dough, forming a head on top and flat tail at the bottom.

Place around 1 to 2 tablespoons of Spanish bread filling right below the head of the dough.

Form a wing by stretching the sides of the head and then wrap it around the filling. Starting with the head, roll the dough tightly down towards the tail until it forms a cylinder. Make sure that you pinch the seams together or else the opening could burst open once it bakes.

Tuck in the sides of the cylinder by pressing or poking the dough inwards.

Place all the rolled pieces of Spanish bread into a bowl of bread crumbs and lightly toss to coat.

Arrange the pieces on a lightly oiled baking tray and cover with a damp towel. Set the bread aside to proof for 60 to 90 minutes, or until the bread has doubled in size.

Preheat the oven to 350°F. Bake the Spanish bread for 10 to 15 minutes or until golden brown.
Try These Other Yummy Recipes: