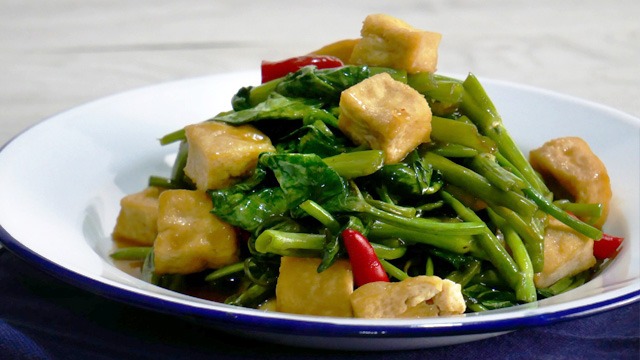 Tofu or tokwa is a great ingredient in vegetable dishes. It adds a delicious, meaty component that absorbs flavors well and pairs wonderfully with any vegetable. Try this sweet, spicy, and savory easy stir fry that combines tofu and kangkong in a delicious sauce.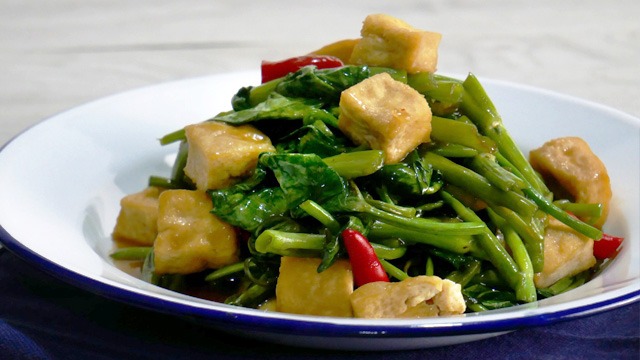 Spicy Kangkong And Tofu Stir Fry Recipe
This stir fried dish is a little sweet, spicy, and very tasty!
Ingredients
Spicy Kangkong And Tofu Stir Fry Ingredients
1

500-gram pack

firm tofu (tokwa)

drained

3

bunches

kangkong

1/4

Cup

Oil

for frying tofu

2

tablespoons

Oil

for sauteing

6

large cloves

Garlic

minced

3

pieces

birds eye chili (siling labuyo)

chopped

2

tablespoons

oyster sauce

1

tablespoon

Soy Sauce

1

teaspoon

cornstarch

dissolved in 1/2 cup water

1

teaspoon

brown sugar
Instructions
Cut the tofu into squares and set aside. Separate the leaves from the tender stalks of the kangkong. Cut stems in half. Wash well. Set aside.

Heat oil for frying the tokwa in a pan over medium heat. Fry tofu until golden brown. Set aside.

Meanwhile, in another pan, heat oil for sauteing over high heat. Add garlic and bird's eye chilies, and sauté until fragrant. Lower heat to Medium. Add oyster sauce, soy sauce, water/cornstarch mixture, and brown sugar. Cook until slightly thick.

Add kangkong leaves and stems, mix with the sauce until slightly wilted. Add the fried tofu. Cook for 2 minutes. Take the pan off from the heat immediately so as not to overcook the kangkong. Serve.