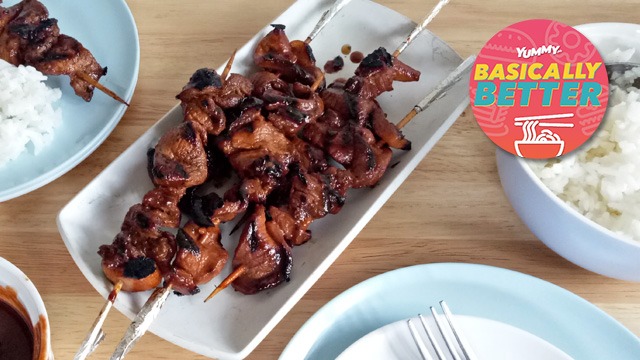 The Filipino pork barbecue is classic party food but it doesn't need to always be present only when there's something to celebrate! The Pinoy-style pork barbecue recipe has a marinade that is super delicious which can and should be enjoyed whenever you want some comfort food. 
To amp up the flavorful status of this barbecue, make it a spicy version that's just two ingredients better than your favorite Pinoy-style pork barbecue recipe.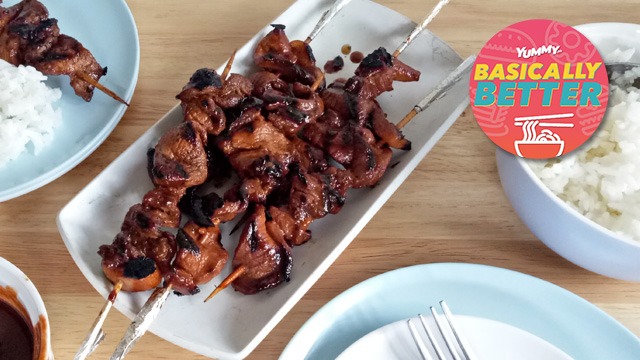 Spicy Pork Barbecue Recipe
This Pinoy pork bbq gets a spicy marinade.
Ingredients
Spicy Pork Barbecue Ingredients
1/4

Cup

lime-flavored soda (Sprite or 7up)

1/3

Cup

brown sugar

1/3

Cup

banana ketchup

1/4

Cup

sriracha hot sauce

1/4

Cup

Soy Sauce

3

cloves

Garlic

chopped

1

piece

bird's eye chili (siling labuyo)

more to taste

ground black pepper

to taste

1/2

kilogram

pork kasim with fat

cubed and sliced thinly
Instructions
Combine lime soda, sugar, banana ketchup, hot sauce, soy sauce, garlic, and siling labuyo in a bowl. Season with ground black pepper. Mix well. Reserve 1/2 cup marinade for basting and serving on the side.

Add pork to the marinade, making sure each is coated, and cover. Let marinate overnight or up to two days. Soak bamboo sticks in water overnight.

When ready to grill, prepare a charcoal grill, or use a grill pan. Thread marinated pork onto the bamboo skewers, adding first a piece of pork fat before the meatier cuts.

Grill skewers until charred. Flip, brush the cooked side with the reserved marinade, and grill until cooked through. Serve while hot and with extra marinade on the side.