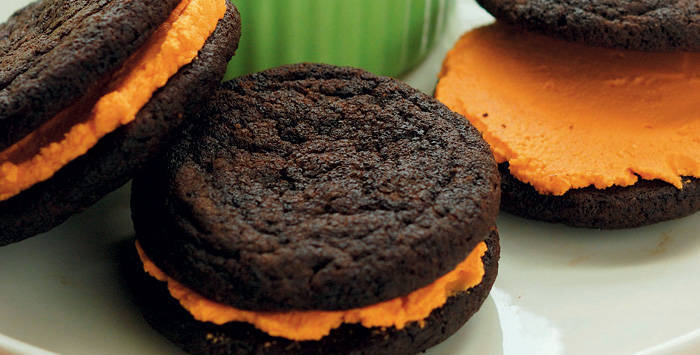 Need ideas on what to give the kids for trick or treat? Why don't you prepare something special and serve them these delicious Spooky Cookie Sandwich specially made for Halloween? 
How To Make Spooky Cookie Sandwich 
These chocolate cookies make great sandwich cookies! These are basic chocolate cookies using cocoa powder so it's easy to put together just by raiding your kitchen cabinets and refrigerator for ingredients. 
To make these cookies, just mix the dry ingredients in one bowl and the wet ingredients in another. Combine the two by adding the dry to the wet to create the cookie dough. Form and bake to make the cookies. 
While the cookies cool down, you can make the vanilla filling. These can be made with your choice of colors and even flavors using extracts and food coloring! We choose orange because black and orange are classic Halloween colors. Smear the filling onto one cooled cookie, top with another cookie, and you've got a spooky cookie sandwich to bite into. 
How To Store Spooky Cookie Sandwich 
Cookies are easy to store and the storage container can be a simple jar with a lid or any container that you can close. Airtight is always the preferred form of lid closure but classic cookie jars allow airflow so that your cookies can absorb some moisture to become softer. If you're a crispy cookie kind of person, air-tight is the way to store these Halloween-themed treats. 
Spooky Cookie Sandwich Recipe
Spooky Cookie Sandwich
Serve these cute Spooky Cookie Sandwiches, especially made for Halloween!
Ingredients
Spooky Cookie Sandwich
1

Cup

all-purpose flour

1/3

Cup

cocoa powder

1/2

teaspoon

Baking soda

1/2

teaspoon

Salt

2/3

Cup

Butter

1

Cup

sugar

1

Egg

Extra Cocoa Powder

1/2

Cup

Butter

cubed, at room temperature

1/2

Cup

vegetable shortening

3 1/2

cups

confectioners sugar

1

tablespoon

vanilla extract

2 to 3

orange food coloring
Instructions
Preheat oven to 350ºF.

Make the cookies: Sift together the flour, cocoa powder, baking soda, and salt into a bowl. Set aside.

Cream butter and sugar until light and fluffy. Add egg and mix until combined. Add flour mixture and mix until well combined.

Scoop the cookie dough using a small ice cream scoop and roll the dough in cocoa powder. Place in baking trays spaced 1 1/2 to 2 inches apart.

Bake for 10 to 12 minutes rotating halfway through.

Transfer cookies to a wire rack and cool completely before filling and assembling into sandwiches.

Make the filling: Place butter and shortening in a mixing bowl, and mix on medium speed until well combined.

Change mixer speed to low speed and gradually add confectioners' sugar. Continue beating until light and fluffy, about 4 minutes. Add vanilla extract and orange food coloring. Use as filling for the cooled cookies.