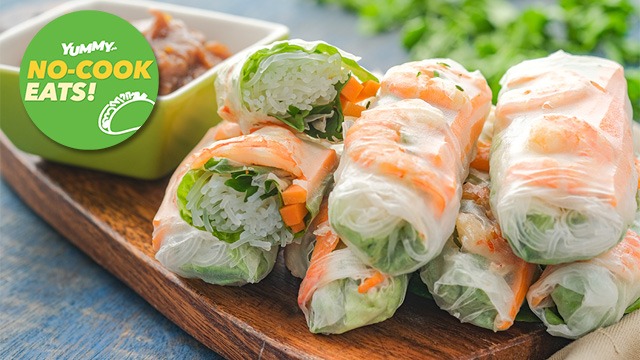 This lumpia recipe doesn't need to be cooked! 
If you've never used rice paper before, you'll be amazed at how it's used. All you have to do to use it is to soak the stiff, round, and semi-opaque rice sheets in hot water. The stiff rice sheet is instantly pliable and sticky enough to use as a lumpia wrapper. These may be found in most groceries. If you don't see it in the chilled section, look for it in the international section. 
However, once these fresh lumpia wrappers are softened, you need to work fast! These wrappers get super sticky so line up your favorite filling on the softened sheets and roll it up quick! This particular recipe is from Vietnam so you'll enjoy the fresh ingredients. You'll also love the fact that you don't even need to cook these once wrapped! 
Just prepare your favorite dipping sauce then dunk with abandon.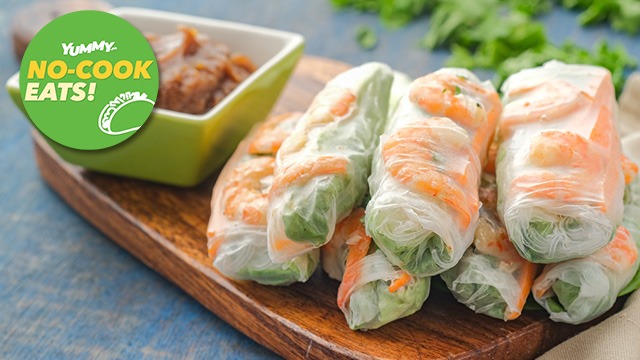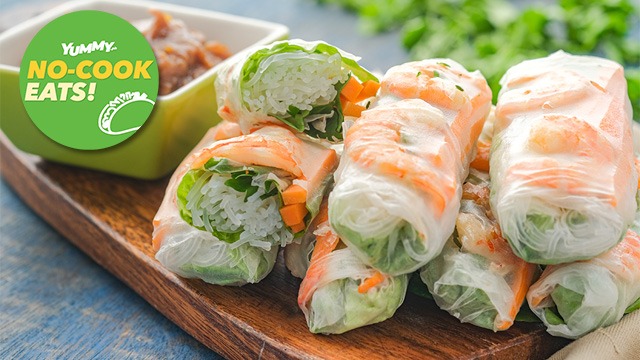 Vietnamese Spring Roll Recipe
This fresh lumpia recipe uses rice paper. It's a no-cook recipe!
Ingredients
Vietnamese Spring Roll Ingredients
12

pieces

rice paper

1/2

small head

Lettuce

sliced thinly

3

ounces

vermicelli noodles (sotanghon)

cooked according to package directions

1/4

Cup

cilantro leaves and stems (wansoy)

1

medium

carrot

sliced julienned

12

medium

shrimps

cooked, sliced in half lengthwise

hot water

as needed

1/2

up

Creamy peanut butter

2

tablespoons

hoisin sauce

2

tablespoons

mirin (Japanese rice wine)

1

teaspoon

patis (fish sauce)

1/4

Cup

water
Instructions
Prepare rice paper, lettuce, sotanghon, cilantro, carrot, and shrimps around a chopping board. Place a shallow dish with about 2 cups hot water or enough to dunk and submerge the rice paper in the water.

Dip a sheet of rice paper in the hot water for 2 seconds or until completely softened. Lay softened wrapper flat on a chopping board or plate.

Pile the filling ingredients on top of the softened rice paper: lettuce, a little cilantro, a little vermicelli, a little carrot, and two pieces of shrimp. (Do not overstuff.) Roll the rice paper, rolling away from you, until closed. (It will seal itself.) Repeat with remaining rice paper and filling ingredients. Set aside.

Make the peanut sauce: Combine peanut butter, hoisin, mirin, patis (fish sauce), and water in a saucepan. Bring to a boil, and simmer, stirring, until thick.

Serve spring rolls immediately with the peanut sauce.
ADVERTISEMENT - CONTINUE READING BELOW
Recommended Videos