Breakfast and brunch can be extra special with these squash pancakes! Make a sweet peanut butter drizzle to go with the pancakes.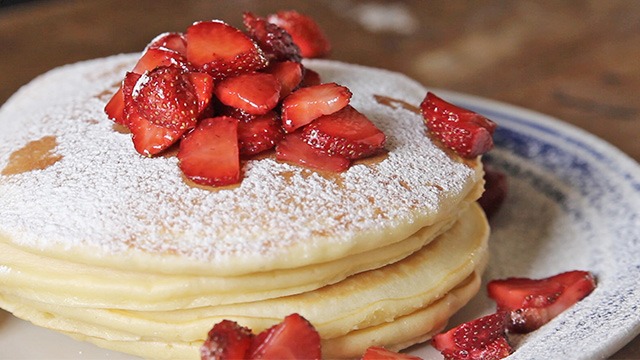 WATCH: How to Make Pancakes from Scratch
Posted in:
Cooking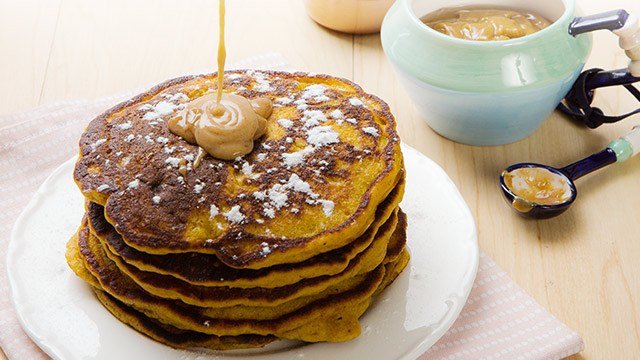 Squash Pancakes with Peanut Butter Drizzle Recipe
These pancakes have crisp edges! Make them for breakfast.
Ingredients
Squash Pancakes with Peanut Butter Drizzle Ingredients
1/4

Cup

Butter

2

cups

pumpkin

or squash, cut into small cubes

1

200-gram pack

pancake mix

1

teaspoon

ground cinnamon

1/4

teaspoon

ground nutmeg

1/4

teaspoon

ground cloves

1/2

teaspoon

ground allspice

1

medium

Egg

2

tablespoons

Oil

1/2

Cup

milk

Salt

to taste

Butter

for frying and serving
Instructions
Melt butter in a large nonstick frying pan. Lightly season pumpkin chunks with salt. Add to the pan, and cook until tender, stirring regularly. Mash. Transfer to a bowl, and let cool. Wipe pan clean. Set aside.

Whisk the pancake mix and spices in a large bowl.

Beat egg, oil, milk, and pumpkin in the bowl of a food processor until pumpkin is mixed in. Dump pancake mixture into the food processor, and process until the mixture is just combined. Mixture will be thick.

Reheat the frying pan over medium heat. Brush pan surface with butter. Pour 1/2 cup batter onto the pan. Cook until pancake s surface bubbles and the bottom is firm. Flip, and cook until golden brown on both sides. Repeat with remaining batter.

Serve pancakes with butter and peanut butter drizzle. Recipe originally published in the November 2015 issue of Good Housekeeping Philippines.