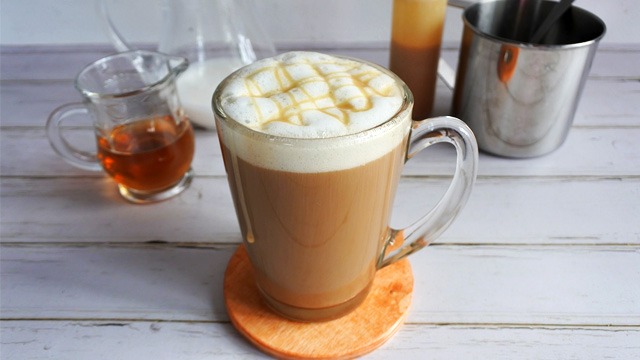 Drop by any Starbucks coffee shop branch, and you're likely to hear this common order: the caramel macchiato. In fact, it might even be one of your favorites! If you find that your addiction for this decadently delicious custom-made coffee beverage is taking its toll on your wallet, don't worry: you can actually make it at home!
What Is A Starbucks Caramel Macchiato?
At Starbucks, the caramel macchiato is a custom-made drink that has become so popular, it has become a coffee shop menu staple. It is described as an espresso-based steamed milk beverage with vanilla-flavored syrup that has steamed milk foam on top and drizzled with caramel sauce just before serving. A grande order of this coffee drink, according to the US menu, has got two shots of espresso and three pumps of the vanilla-flavored syrup. It's sweet and slightly nutty from the caramel, which is delicious contrast to the bitter espresso and rich smoothness of the milk.
It's one of those drinks that seem deceptively hard to make since there are a few parts to the drink. There are four parts to the caramel macchiato in total, but each part is actually easy to do! You just need to devote time and effort into creating the beverage so you don't have to spend time in line at the coffee shop and money that you can spend on ingredients instead.
How To Serve Starbucks-Style Caramel Macchiato
Make it hot: This beverage is rich and decadent as is: freshly made and steaming hot. It's the perfect companion on cold, rainy days, or if you just need a warm and comforting picker-upper.
Make a cold version: You can also make ice-cold caramel macchiato! Simply add ice to it or chuck it in a blender with ice to make an ice-blended coffee drink. To make a cold caramel macchiato, replace the milk foam with a big dollop (or squeeze) of whipped cream instead. This is what you'll drizzle with the caramel syrup before serving.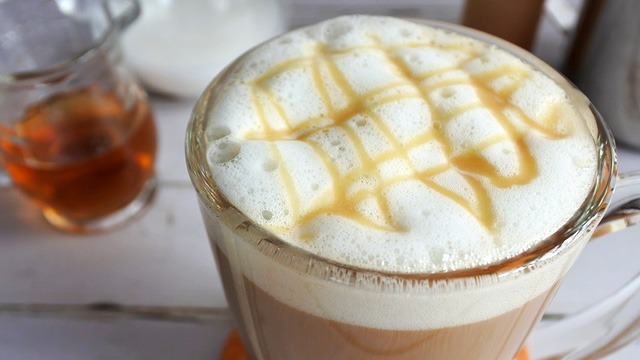 How To Make Starbucks Caramel Macchiato Hack
If you're ready to feed your caramel and caffeine fix at home, here are four components of the drink to make it happen:
espresso
vanilla syrup
steamed milk and froth
caramel syrup
You need to make and prepare each of these components first before you can put it together to create the signature beverage.
Here are all the ingredients, the process, and plus a few tips on how to make this coffee drink at home, step by step.
How To Make Vanilla Syrup
First, you need to make each of the syrups. The vanilla syrup is really just sugar and water simmered together and flavored with vanilla. You can use real vanilla beans but a vanilla flavoring will do the trick. Once made, transfer the syrup into a container and let cool completely.
ADVERTISEMENT - CONTINUE READING BELOW
Recommended Videos
How To Make Caramel
The second syrup is caramel and this requires more cooking than the vanilla syrup. You'll need to dissolve sugar in butter and then simmer it. Off the heat, you'll add cream while stirring carefully until you get a delicious caramel syrup.
You might think that this is not caramel but butterscotch, and you're right. While it is technically butterscotch that is added to the drink, it's called "caramel" since it does contain dairy.
How to Make Frothy Milk
The frothy milk that you get from steaming milk is probably the hardest part of making the macchiato. The froth easily dissipates if it's not frothed enough. This is easy to do if you have a milk frother from when you indulged your dalgona coffee fix or have invested in an espresso maker with a frother.
However, even if you don't have a frother, you can still make it. You can just shake warmed milk in a jar or, to ensure you achieve maximum froth that's more stable, you can whisk it, too. Just heat fresh milk then grab a whisk and a large bowl. Transfer the hot milk to the bowl, then start whisking until you have frothy milk.
This frothy milk, along with the espresso shot are the two components of this drink that can't be done in advance, so be coffee smart and make the vanilla syrup and the caramel ahead of time. Your coffee-loving self will thank you later.
How To Assemble The Starbucks-Style Caramel Macchiato 
Once you have your vanilla syrup, caramel, and created the frothy milk, you're ready to assemble the entire drink. Add vanilla syrup, the hot milk, and then the espresso into a mug. Scoop the milk froth on top, drizzle caramel from all over the top of the milk froth and enjoy!
Want to make this into an iced coffee beverage? Make it without the milk froth and substitute it with whipped cream on top.
Tips To Make Delicious Starbucks-Style Caramel Macchiato 
1 Froth warm milk.
Frothy milk is best achieved when the milk is hot. You'll get smaller, denser bubbles in your froth, so heat up the milk either in a saucepan or the microwave. Just don't let it get too hot or it will scald and taste burnt.
2 Caramel too thick? Thin it down with more cream or water!
If you simmer the sugar too long when making caramel, it can be too thick to drizzle easily once cooled. Thin it down with 1 to 2 tablespoons more heated cream or even water to reach drizzling consistency.
Starbucks-Style Caramel Macchiato Storage Tips
1 It's best to consume the caramel macchiato right away.
Whether you wanted your Starbucks-style caramel macchiato cold or hot, it's best to drink it right away so you can enjoy it in the temperature you want! While the drink can keep well in the refrigerator for up to 2 days, it tastes the best when it's freshly made.
2 The caramel and the vanilla syrup can be made ahead.
You can store both the caramel and vanilla syrup indefinitely in the refrigerator for quite a long time (upwards of 2 weeks), so both these components can be made ahead and stocked so you can whip them out whenever you feel like making a Starbucks-style caramel macchiato at home. They take the longest to make too, out of all the components, so this is an efficient way of making sure you can always whip up a cup of your favorite Starbucks drink when you feel like it.
3 Make the espresso and the frothed milk or whipped cream fresh.
If you're looking to use the Starbucks-style caramel macchiato as a picker-upper, espresso is at its most potent when it's freshly made. Plus, it tends to go sour and lose its original flavor when it's stored for a long time. On the other hand, frothed milk and whipped cream are both made by incorporating air into milk, so storing them will deflate all the things that make them light and fluffy. Plus, milk spoils relatively fast compared to all the other components of this drink!
Starbucks-Style Caramel Macchiato
This delicious coffee order is easy to make at home if you're willing to put in the effort.
Ingredients
For the Vanilla Syrup
1/4

cup

water

1/4

cup

sugar

1

teaspoon

vanilla extract
For the Caramel
1/3

cup

sugar

2

tablespoons

salted butter
For the Caramel Macchiato
1

espresso shot

1/4

cup

all-purpose cream

(if making iced caramel macchiato)

1

cup

fresh milk

(if making hot caramel macchiato)
Instructions
How to Make Vanilla Syrup
Bring water and sugar to a boil. Simmer for 1 minute.

Remove from heat and set aside to let cool slightly, about 5 minutes.

Add and stir in vanilla extract. Transfer to a container and let cool completely.
How to Make Caramel
In a small saucepan over medium heat, dissolve sugar in salted butter, occasionally stirring with a silicone spatula, until the sugar is melted.

Let simmer without stirring until the small, fast-forming bubbles turn into large, slow-forming bubbles. Swirl as needed to prevent any one spot from turning too dark.

Remove from heat. Pour in all-purpose cream, then stir, being careful of the steam.

Once mixed and homogenous, transfer to a squeeze bottle and set aside to cool completely. Makes about 1/3 cup caramel syrup.
How to Make Hot Caramel Macchiato
Make an espresso shot (about 2 tablespoons) or strong brewed coffee. Set aside.

Froth hot milk. Set aside.

Then, pour about 1 tablespoon vanilla syrup into the bottom of a mug.

Fill the mug with the frothed hot milk. Scoop the milk froth gently and place it on top of the mug using a spoon.

Pour the espresso shot into the mug through the froth. Alternatively, you can add the espresso shot before adding the milk froth on top.

Drizzle caramel all over the top of the milk froth. Enjoy! 
Notes
To make iced caramel macchiato: omit the milk froth, add ice, and top with whipped cream before drizzling the caramel on top.