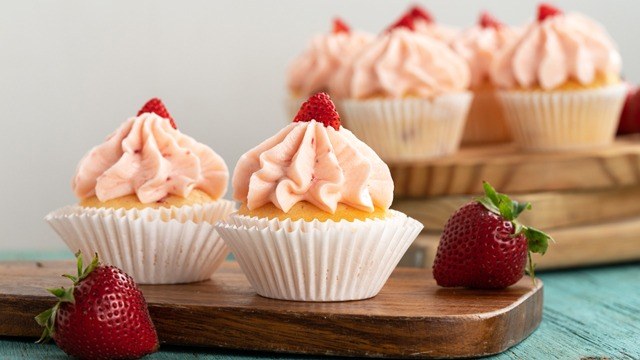 These strawberry cupcakes have real strawberries! The fresh fruit makes these sweet and oh-so-good! Since real strawberries are used, a portion is chopped and stirred right into the cupcake batter leaving bits interspersed throughout the cupcake while the frosting gets a boost of flavor and color from the mashed fruit. 
Strawberry Cupcakes Recipe
Real strawberries give these otherwise vanilla cupcakes an addictive aroma and flavor.
Ingredients
Strawberry Cupcakes Ingredients
1/2

Cup

fresh milk

1/2

tablespoon

Vinegar

1 1/2

cups

all-purpose flour

1

tablespoon

cornstarch

2

teaspoons

baking powder

1/2

teaspoon

Salt

2

large

eggs

1

Cup

sugar

1/2

Cup

Oil

any flavorless oil

1

teaspoon

vanilla extract

1/3

Cup

fresh strawberries

chopped

red food coloring

Optional

1

Cup

unsalted butter

room temperature

4 1/2

cups

Powdered SUgar

1/2

teaspoon

vanilla extract

1/8

Cup

fresh strawberries

mashed

fresh milk

as needed
Instructions
Preheat oven to 350 degrees Fahrenheit (175 degrees Celsius). Line cupcake trays with cupcake liners. Make homemade buttermilk by combining fresh milk with vinegar. Allow mixture to sit for 5 minutes before using.

In a large bowl, combine flour, cornstarch, baking powder, and salt using a strainer to remove lumps.

In a mixing bowl using an electric hand mixer, beat eggs, buttermilk, oil, vanilla extract, and chopped strawberries. Add sugar and mix until homogenous. Add 1 drop of red food coloring for a pink hue.

Slowly add flour mixture to wet ingredients, making sure to mix slow on Low to combine. Do not overmix.

Using an ice cream scoop, portion batter into the prepared cupcake tray, only filling up each liner until 2/3 full.

Bake for 19 to 24 minutes or until a toothpick inserted into the center comes out clean. Once done, remove cupcakes from oven and allow to cool thoroughly before frosting.

Meanwhile, make buttercream frosting: beat butter on Medium speed for 3 minutes. Add powdered sugar 1/4 cup at a time on Low speed until a thick but spreadable consistency is achieved. Add vanilla extract and mashed strawberries. (Thin out the frosting by adding milk as needed or thicken the frosting by adding more powdered sugar until the desired consistency is achieved.) Color the frosting pink by adding 1 drop red food coloring if using.

Transfer frosting into a piping bag fitted with a piping tip and frost cupcakes once each are entirely cool. Top each with a piece of chopped strawberries before serving.